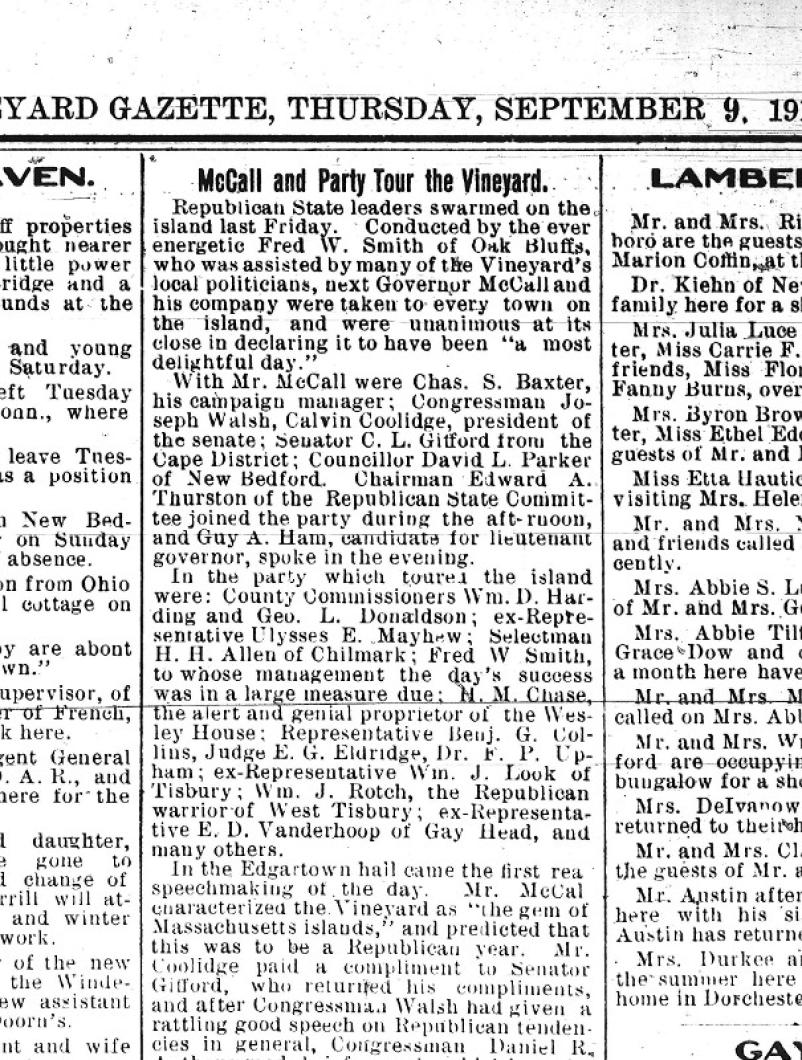 Republican State leaders swarmed on the island last Friday. Conducted by the ever energetic Fred. W. Smith of Oak Bluffs, who was assisted by many of the Vineyard's local politicians, next Governor McCall and his company were taken to every town on the island, and were unanimous at its close in declaring it to have been "a most delightful day."
With Mr. McCall were Chas. S. Baxter, his campaign manager; Congressman Joseph Walsh, Calvin Coolidge, president of the senate; Senator C. L. Gifford from the Cape District; Councillor David L. Parker of New Bedford. Chairman Edward A. Thurston of the Republican State Committee joined the party during the aft-moon, and Guy A. Ham, candidate for lieutenant governor, spoke in the evening.
In the party which toured the island were: County Commissioners Wm. D. Harding and Geo. L. Donaldson; ex-Representative Ulysses E. Mayhew; Selectman H. H. Allen of Chilmark; Fred W. Smith, to whose management the day's success was in a large measure die; H. H. Chase, the alert and genial proprietor of the Wesley House; Representative Benj. G, Collins, Judge E. G. Eldridge, Dr. F. P. Upham; ex-representative Wm. J. Look of Tisbury, Wm. J. Look of Tisbury; Wm. J. Rotch, the Republican warrior of West Tisbury; ex.-Representative E. D. Vanderhoop of Gay Head, and many others.
In Edgartown hail came the first real speachmaking of the day. Mr. McCal characterized the Vineyard as "the gem of Massachusetts islands," and predicted that this was to be a Republican year. Mr. Coolidge paid a compliment to Senator Gifford, who returned his compliments, and after Congressman Walsh had given a rattling good speech of Republican tendencies in general, Congressman Daniel R. Anthony made brief remarks which brought much joy into the McCall camp. Mr. Anthony said in part:
"If I was asked to pick the most scholarly, able, brainy and conscientious member of congress I have served with during six terms at Washington, I would name my friend, Samuel W. McCall."
The smile on Charles S. Baxter's face broadened. The crowd in the town hall clapped briskly. As the Standard report said: Congressman Anthony's tribute to ex-Congressman McCall was the big incident of a busy day which the aspirant for the Republican nomination for governor spent on Martha's Vineyard. It came spontaneously, almost by accident, and the circumstances made it sound all the better. Every McCall man was tickled to death. "It was worth the trip to the Vineyard," said Senator Baxter.
At Oak Bluffs in the evening a grand illumination of the Tabernacle grounds was made, Manager Chase of the Wesley House gave a fine banquet to Mr. McCall and a large company of invited guests, and at the Tabernacle able speeches were made by the visiting leaders and others to a large gathering of people.