It is the kind of sunny spring day that lures young minds out through classroom windows onto the playground, but the seventh and eighth graders in Jonah Maidoff's social studies class at the Martha's Vineyard Public Charter School are decidedly focused on the issue at hand.
"Can anyone tell me what ethnic stereotyping is?" asks Mr. Maidoff. Half a dozen hands shoot into the air.
"It's like when someone thinks a person should act a certain way or be something they are not, because that's how they thought they should act," answers Augusta Dillon, carefully choosing her words. "It's judging someone before you know them because of how they look."
"Can you think of any groups that might be stereotyped?" Mr. Maidoff asks. More hands go up.
"Brazilians, because people think they are just here to work, but they don't really know them," says Jess Dupon. "And tourists, because people think they are stupid," she adds.
"Ah, but we were tourists when we went to Italy, were we not?" the teacher counters, referring to a recent school-sponsored trip to Europe. He watches heads nod as a few chuckles dissipate. "Are we stupid?"
The room falls silent.
For the students in Mr. Maidoff's class, this is an ordinary discussion on an ordinary morning. But for the educators, administrators and founders of the charter school, it is an example of how far the school has come since its inception. The school that began in 1996 as an experiment in a makeshift building now educates 160 students in grades K through 12 from every Island town, including one from Falmouth, with another 100 on the waiting list.
Last month, the school charter was renewed by the Massachusetts Department of Education for another five years. The state commended the school for the quality of its teaching as well as overall management, citing improved financial condition and improvements in MCAS scores.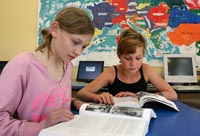 All proof positive that the little school in the woods of West Tisbury is working.
"I don't think the charter school is proof that the Vineyard needs more schools or better schools, but proof that our community needs choices and supports education," says assistant director Claudia Ewing, who is also a founding member. "The charter school was really born out of the notion that we deserve choices in educating our kids, and I think it has developed into another positive extension of the Island community," she adds.
"We believe that children should have a voice in their education, and I think this has grown into a place where those voices are heard," says school director Robert Moore. "We believe in small classrooms, individual attention to students and that they have a choice in their curriculums. It might not be for everyone, but we feel there is a real need for this place, this type of learning on the Island."
Public schools that are allowed to operate using taxpayer money, but free from most of the governmental strictures of other public schools, charter schools were considered an innovation in education and gained popularity about ten years ago.
The Vineyard charter school was among the first in the commonwealth. The school's guiding philosophy calls for students and teachers to work together to form individual programs through project-based learning. From the start students are actively involved in choosing areas of study and setting goals and objectives for the school year. Each child has a personal education plan created with parents and teachers that is updated throughout the school year.
Mr. Moore calls the plans a partnership in learning.
"From kindergarten, the students are part of the decision-making process regarding their education, and that creates a high level of trust with both their parents and their teachers," he says. "We ask the kids to make choices, and when they start to realize their strengths and what really excites them, that's when they become a learner."
Augusta Dillon and Jess Dupon, who both started at the charter school in first grade, are good ambassadors for the program - articulate, precocious and confident.
"It's more of a hands-on school, which is better for my education," says Jess, a seventh-grader from Oak Bluffs. "I'm an independent person, and I like how it is more independent based learning."
Augusta, an eighth-grader from Vineyard Haven, agrees. "It lets you figure out what works best for you," she says. "I feel like I have a lot of say in what I want to study."
Both like mathematics and social studies and are active in the community outside the charter school. They play youth soccer, perform at the Vineyard Playhouse and socialize with other kids from around the Island. But the two girls also say they expect to leave these cherished academic halls and attend the Martha's Vineyard Regional High School when they reach ninth grade.
This is something charter school administrators have come to accept.
"We do lose some of our best and brightest to the regional high school, but it's a decision the students make knowing they have a strong academic foundation in place," Mrs. Ewing says. "And they represent us well," she adds.
"I think there is a place on this Island for a small high school that addresses individual passions and individual goals," Mr. Moore says. "If we can get a group of 30 to 40 kids who want to be in a smaller environment, I think that's fine. We are happy to provide that environment."
With all that has gone right for the school, Mr. Moore is also quick to acknowledge the areas that need improvement. Weaknesses cited by the state review include the lack of a comprehensive curriculum, something Mr. Moore admitted is a work in progress.
"We know this and are working towards that goal, but there is no textbook way to do it," he says. "I think each class that comes into the school brings a new set of skills, and we want our teachers to be as flexible as possible in what they teach."
To show a true sense of what a charter school education is all about, Mr. Moore shifts the conversation to morning meeting, the daily ritual when the whole school gathers in the entrance hall (known as Main street) to share stories, make announcements and begin the day with a song.
"Our school is a community, and morning meeting is a symbol of our belief in that," he says. "Whether it is a five-year-old reading her first book or a high school senior talking about his participation in an AIDS walk in Boston, it is a time where we can share our experiences. Everyone brings a skill and a passion to this community."
Mrs. Ewing agrees. "And we try to add to that as well," she says. "We want to show the kids that we are all lifelong learners in this building."
Pictures by Peter Simon