Sunday's moped accident that claimed the life of a 41-year-old New York city woman has reopened old wounds for Islanders who want to see stronger safety standards for the two-wheeled vehicles, and others who want them banned from the Vineyard altogether.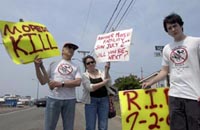 "I think they are dangerous and have no place on the Island, pure and simple. Hopefully this poor woman's death will not be in vain. It will reinvigorate people to take a closer look at the issue and get rid of these things once and for all," said Chilmark police chief Timothy Rich.
Zelijka Matutinovic was pronounced dead at the Martha's Vineyard Hospital after her rented moped veered off Edgartown-West Tisbury Road and slammed into a utility pole near Deep Bottom Pond.
Both the driver and her passenger, Josko Silobrcic, 46, of Swampscott, were wearing helmets at the time of the crash, according to police. As of Thursday afternoon, Mr. Silobrcic was still listed in serious condition in the intensive care unit of Beth Israel Deaconess Medical Center in Boston.
Sunday's accident was the first moped fatality since July 2001, when a 30-year-old Alexandria, Va. woman lost control of her moped while rounding a turn on Beach Road in Oak Bluffs. Four people have died in moped fatalities since 1996.
Following the last moped fatality in 2001, town leaders in Oak Bluffs - the location of all but one of the Vineyard's moped dealers - took decisive steps to cut back the fleet, revamp moped bylaws and step up enforcement of new regulations.
Around the same time, selectmen and public safety officials in several Island towns joined with Cape and Islands Rep. Eric T. Turkington to form a committee to examine moped safety. Mr. Turkington unsuccessfully lobbied for a bill that would have required moped operators to be licensed.
Another group, called Mopeds Are Dangerous has worked for years to limit or ban moped use on the Island. The group, headed by Chilmark resident Sam Feldman, was instrumental in reaching an accord with dealers in 2001 that resulted in a nine-point plan for improved safety.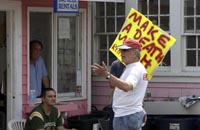 Part of the plan called for people to watch a safety video, read an inherent risk form and take the vehicles for an instructional drive while still at the dealership. It was left up to the dealers to put the new safety measures into effect.
But interest in the issue has waned over the past five years as studies showed that the overall number of moped accidents - and the number of mopeds being rented - steadily declined. Without a fatality, there has been no polarizing incident for public safety officials and anti-moped advocates to rally around.
But with Sunday's tragedy, the issue rocketed to the forefront of Island issues in the blink of an eye.
When he first learned of the fatality during a conversation with the Gazette on Monday, Mr. Feldman - one of the Island's most vocal advocates for moped safety - said he was deeply saddened, although not entirely surprised.
"This is horrible. Just a senseless tragedy, one that didn't need to happen. I just knew something like this was going to happen again if we didn't take steps to prevent it," he said.
On Tuesday, Mr. Feldman participated in an anti-moped demonstration in Oak Bluffs along with 15-year-old Daniel Cuff, and his mother Donna Bouchard. Mr. Cuff and his mother were among the first to come upon the scene of the fatal accident on Sunday.
Seeing Ms. Matutinovic and Mr. Silobrcic on the side of the road had a profound effect on Mr. Cuff, and he said he immediately felt the need to do something to prevent future moped accidents.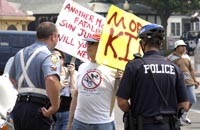 "I knew the girl was dead right away, and it got to me. These people weren't from here. They didn't know the Island or the roads, and they probably weren't that familiar with mopeds. That woman came here to have a fun day, and instead she was killed," he said.
Along with his mother and Mr. Feldman, Mr. Cuff started the demonstration near the Island Queen ferry dock, and then moved to the Island Hoppers and King Rentals moped dealerships next to Jim's Package Store. All three wore Mopeds Are Dangerous T-shirts, and held signs that read Mopeds Kill and Honk for No Mopeds.
Reaction to the cause was mixed. One man apparently mistook the demonstration for an anti-war rally, and shouted obscenities at Mr. Feldman. Others asked questions and expressed support for the cause.
After a brief discussion with an Oak Bluffs police officer, the trio relocated to a spot at the base of Circuit avenue, where the number of protestors swelled to over a dozen. Some motorists honked horns in support, and more than once moped drivers stopped for traffic inches away from the demonstration.
"Please be safe. Somebody died on a moped this weekend," shouted one of the teenaged protestors to a couple riding a moped.
When Mr. Feldman asked several employees at Island Hoppers if they had been showing the safety video, they appeared unfamiliar with it. An employee at King's Rental declined to comment, while an employee at Island Hoppers ignored a request for comment.
Later, Mr. Feldman and Mr. Cuff met with Don Gregory, the owner of Sun 'n Fun in Oak Bluffs, the place where the ill-fated couple rented their scooter on Sunday. Mr. Gregory expressed support for the protest, and said he has been in anguish over the accident.
"It's tearing me up on the inside. Everyone keeps telling me that it's not my fault, that they would have rented from somewhere else. But that's easy to say for someone not in my position. This has left me in a dark place," he said, his voice trembling with emotion.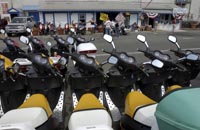 Mr. Gregory, who said he has been renting mopeds for 28 years and has been in the business longer than anyone on the Island, said his company discourages young people and people who appear reckless from renting his mopeds.
"You can tell the kind of people that are the real threats. They don't want to listen to the safety guidelines, and they just want to know how fast they can go," he said.
Mr. Gregory said he encourages most people to rent a Jeep instead of a moped (he also rents Jeeps). He said he would support getting rid of mopeds altogether, but it would be difficult for him while other dealerships still rent them.
"You could get rid of them all and I would be a happy man. But if we were to do it alone, the other places would put me out of business. Most of our customers come here to rent mopeds, and we wind up talking them into renting a Jeep," he said.
Mr. Gregory said his employees follow a strict safety training protocol that requires riders to take their mopeds out on the road, ride around the Flying Horses Carousel and back to the shop. He said none of his employees remember the couple.
West Tisbury police chief Beth Toomey, who is investigating the accident which took place in her town, said she visited Sun 'n Fun immediately following the crash and determined the couple went through the proper procedures before going out on the road.
Mr. Gregory said it appears that the number of accidents has decreased in recent years, although he worried that the number could increase this summer. He confirmed that more riders are taking rented mopeds up-Island, although the contracts forbid it.
"It's a whole different situation [with the up-Island towns], the roads are more narrow and winding and the shoulders are a mess. We tell them not to go up-Island, but a lot of them don't listen," he said.
Ms. Toomey said she has also seen larger groups of mopeds traveling up-Island.
"In the summertime, there are drivers who are impatient and they don't want to be stuck behind seven or eight mopeds. So they will try to pass the group, even though they know they shouldn't," the chief said.
Mr. Feldman said he worries there may be another fatality this summer, because the vigilance over moped safety has faded.
He singled out the Oak Bluffs selectmen, who approved a new bylaw in May of 2004 that requires all riders to wear proper foot gear and helmets, and prohibits children under 4'8" from riding on mopeds.
But Mr. Feldman said he routinely sees riders wearing flip-flops and small children riding on mopeds.
"It bothers me that it takes a death to energize people to stand up and take an interest in the things they were so passionate about just a few years ago, but I fear that is the case we have here," he said.