Julianne Vanderhoop's front yard in Aquinnah features a modest house and small pond fed by a Black Brook underground spring. The property is otherwise unremarkable — unless you count the 20,000-pound beehive-shaped bread oven, made of several thousand terra blanc tiles mined from a clay quarry in France.
The wood-fired oven produces 30 to 40 pieces of baked goods a day for The Orange Peel, Ms. Vanderhoop's new home bakery.
The Orange Peel bakery is both a business and a symbol of Ms. Vanderhoop's belief that breaking bread is an essential element for building a strong community.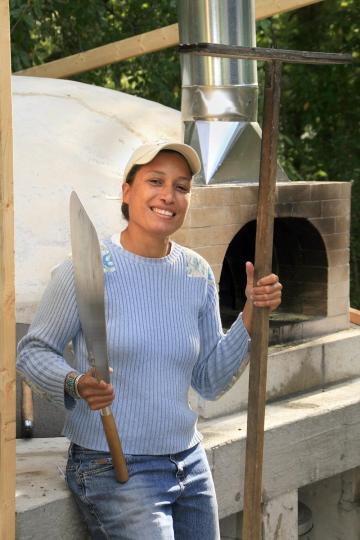 Returning to Aquinnah three years ago after spending seven years on Cape Cod, Ms. Vanderhoop said she felt drawn to rebuild the community she experienced growing up as a Wampanoag and Aquinnah native.
"When I returned, family and friends encouraged me to run for tribal council and to serve in town government as a way to contribute to community but it didn't feel right," she said. After stints in archaeology and shellfishing, Ms. Vanderhoop, also a licensed commercial pilot, found her answer in conversation with a German friend. "We've had an exchange program for years here with Germans, Italians and Czechs," she said. "One day my friend Sophie Geiger from Ulm, Germany said, 'This Island has everything, but it doesn't have enough great bread'," she recalled.
The two women began researching the business as partners. They found the oven, imported by a company in Maine.
This summer Ms. Vanderhoop and a mason built the oven, which is capable of maintaining 500-degree Fahrenheit heat for five hours at peak operation. She also traveled to the mainland to study bread making with Ciril Hitz, a Johnson & Wales professor whom she described as a bread artist. He taught her his secrets, including how to bake great rustic breads.
Next summer she will pass on what she has learned to her German partner's 15-year-old brother, Moritz Geiger, who will be her apprentice. "I've been baking and cooking all my life. This feels natural to me," she said. Ms. Vanderhoop and her brother Cully gained Island fame for their breakfast fish cakes at The Aquinnah Shop, now operated by Mr. Vanderhoop.
The Orange Peel sells retail baked goods daily. A family heirloom glass case stands by the edge of State Road, wafting fresh baked aromas from baguettes and rolls. Wheat berry and apricot sage bread are two of her specialties. The breads are inexpensive and sold on the honor system. Ms. Vanderhoop said she remembered the glass case as a child from the local store. "There it was, in my mother's house, waiting for me," she said.
She is also navigating town regulations as they might apply to seven-foot-square beehive wood ovens, not common to Aquinnah. "This is new territory for them and for me," Ms. Vanderhoop laughed, adding "I will comply in every way required."
She has already begun to see the seeds of her mission sprout with her weekly pizza night, which has begun to attract people from Aquinnah and beyond. "I get up early to make and roll the pizza dough. People bring food and we share a meal," she said, adding: "Brian O'Gorman brings his guitar and Aaron Jackson has an accordion. Everyone is welcome."
On a recent Wednesday night a woman came who was so intrigued about The Orange Peel that she hosted a brainstorming dinner party the next day to discuss ways to promote the business.
As Ms. Vanderhoop greeted her daughter Ella, 12 and son Emerson, 10, hopping off the school bus, she talked of the generational wisdom passed down to her from her stepfather Luther Madison and other old Gay Headers.
"We need to relearn the old ways. We need to share our table," she said.