Christmas lights illuminate the yellow upstairs room filled with squashy armchairs, each of which contains at least one sprawling teenager. Up front, two boys fool around with a microphone, testing their amplified voices, revelling in the leisurely atmosphere — that is, until the real show begins.
There's an edgy ambiance at the Alexandra Gagnon Teen Center. It is one reason the place attracts Island youth, said the center's 43-year-old director, Eric Adams, but not the only reason. "It gives kids a safe place to be and connect with kids their own age who also want to make positive decisions," he said on Friday as he looked over the crowd of several dozen teens gathered inside the Cottager's Corner building in Oak Bluffs for the third, increasingly popular open mike night.
The open mike session started slowly, with small breaks between acts as performers had to be cajoled up on stage. It soon gained momentum as more kids learned about the event via text messages and quick cell phone maneuverings by their friends.
The acts ranged from spoken word poetry, to raps, to soul singing, lasting for about two hours following the 8 o'clock kick off.
"We have had a new demand for a musical outlet recently," said Mr. Adams. So, in addition to the abundant moral support he provides, in February he put in a production studio so the kids can produce their own music. There is now digital programming, an eight-channel mixer, keyboard and audio enhancer at the center.
Such opportunities for self-expression are another reason for kids to frequent the center. Tony Lombardi is the center's weekend supervisor. A special education teacher, he has been with the teen center since 2006. "Our work depends upon understanding the culture of kids and what resonates with them," Mr. Lombardi said. "I love my time there."
Established in 2004, in memory of Island teen Alexandra Gagnon, the teen center has always been what its patrons make of it. On any given night, you can go there to find anything from a sit-down roast beef dinner, to a video game tournament, to a dance-off contest. It is run by the YMCA of Martha's Vineyard and funded by the Gagnon Foundation in the service of Island youth. Whether teens want to hang out on the couches with friends or the ever-present staff members, challenge someone to a game of pool, or take advantage of the big screen television, kids are always welcome at the center, in exchange for only their names and their times of arrival and departure in the log book.
Brother and sister tag-team Elsie and Thomas Fantasia, both students at Martha's Vineyard Regional High School, went up to perform for their first time ever early in the evening. Elsie belted out Respect, by Aretha Franklin; Thomas backed her up with the chorus and a steady stream of beat-boxing, a mouth-popping vocal replication of a drum set.
"At first, I got really nervous," said Elsie. "But it made me feel really good that I had the courage to stand up in front of people and entertain them."
A more experienced pair, seniors Micah Thanhauser and Ben Williams, free-styled back and forth with lyrics that ranged from existential themes to comments on humanity: "Women and children first/But what defines a man?/If adulthood means no lifeboat/Then I'll stay where I am," came Ben's words. Although the pair has performed on WVVY radio and participated in poetry slams, both appreciate the opportunity the teen center provides at open mike night.
"It is a noble goal for them to provide this, because expression and listening to what people have to say to us on any level of talent is so much more important than drugs or alcohol," said Ben. "It is unique to be able to present to a community of artists, which is a very important thing for a closed Island such as ours."
While many Island teens go to the teen center, more could. Some staff members at the center fear it is an image problem that keeps some teens away. "The biggest challenge is an issue of perception," said Mr. Adams. "It is seen as something not cool, or too adult supervised."
The center supervisor, Jeanne Rogers, has other ideas about impressions held by the public and youth about the center. "The word out there is that it is for troubled kids, and it is hard to get that out of people's heads. But of course, that is ridiculous, and eventually, in time, we will overcome it."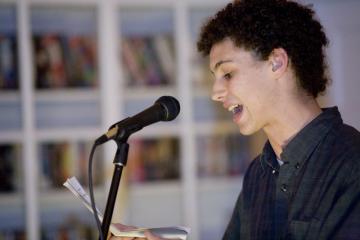 Margaret (Peg) Regan, principal at the high school, doesn't think that the turnout should be such an issue. "It would be hasty to believe that in just a few years we would create something where there was nothing for so long," Mrs. Regan said.
Attendance was not a problem for the teen center when it was first created in 2004. Megan Klein, a current staff member and teen outreach representative who graduated from the high school in 2006, said, "When I used to go with all of my friends, it was a really popular place to be, and it was always really crowded and buzzing with kids."
However, sometimes it is hard to keep enthusiasm up, even among the teen center's loyal participants. "I used to go when I was a freshman," said Thomas Fantasia, now a junior at the high school. "Then I stopped going for a while because not a lot of kids were going. Enough of my friends were showing up, but we weren't seeing nearly enough new faces as we should have."
Thomas decided to attend Friday night to support his sister, Elsie, who was singing at the event. Thomas said he feels good about the atmosphere that he and Elsie, a freshman, have found there. "It's a break from peer pressure at the high school, which is a relief," he said. "I want my sister to go to the teen center because it is a place for her to make friends and gain self-confidence in a safe environment."
The center's administrators and staff work hard to foster the right environment there. "We try not to be too intrusive, because if you don't give them freedom, then they won't come," said Mrs. Rogers. "I feel like a mother figure to the kids, and I would like to be a role model as well. We are here to be friends to them, because some of these kids have empty houses to go home to."
Mr. Adams would like to incorporate younger adults and former center members who've outgrown their teenage years into leadership positions at the center, as the kids might relate to them better than they would to the more experienced staff. "You don't want someone so young that they are friends, but you want individuals who are more of their peers," said Mr. Adams. For this purpose, he is trying to develop new positions for the young adults involved in the Youth Steering Committee.
He pointed to Megan Klein as a perfect example. Ms. Klein also works at Windemere, and she loves the contrast between her two jobs. "They are two separate worlds, but it's a circle between youth and age, and basically the same process; you feed them, clothe them, teach them to walk. . . it all comes down to the same thing," said Ms. Klein.
This gentle guidance is both well received and appreciated by the regulars of the teen center, as are the opportunities the building provides. "It gives me an opportunity to be spontaneous and express myself," said Elsie. "I don't quite see it as a second home, but definitely a comforting place to be with all of my friends."
Mr. Lombardi said he began working at the teen center to further his relationships with the kids on the Island. "My interest has always been to help kids find their way through the maze of life by hopefully being an example and touchstone for them."
The reason Mr. Lombardi spends his hundreds of hours at the teen center is his belief in its mission. "The role of the center in the community is not only to provide a choice for kids, but also offers kids the chance to reach out beyond our walls and make a difference in the greater community."
The participants at the teen center, young and old, said they were proud of what Cottager's Corner has become. "There was a party tonight, and all of these kids decided to come here," said Mrs. Rogers. "If we can provide a function to keep the kids away from drinking and drugs, then we are doing our jobs."
Tyler Pelletier is a sophomore at the high school and regular at the teen center. "It gives people the heart to go out and do things, preparing them for something bigger in life," he said.
Adolescence offers many temptations; the teens who give the teen center a try usually end up coming back. "The thing about the teen center is that it gives me more confidence to know people are there for me, won't put me down, and will actually listen," said Elsie, summing up, it seemed, what all Island teens really need.