An Island man was killed last Thursday after he reportedly drove his vehicle off a 50-foot cliff along East Chop in Oak Bluffs into the shallow ocean water below.
The body of Benjamin Viera, 35, was recovered two days later after a passenger aboard a Steamship Authority ferry spotted the body inside the Vineyard Haven harbor breakwater.
Police this week declined to comment on how Mr. Viera's vehicle went over the cliff, although there were indications that the incident may have been a suicide.
The search for Mr. Viera began late Thursday after family members contacted Edgartown police to report they had received a disturbing message from him and were concerned about his safety. A call then went out to all Island police departments to be on the lookout for Mr. Viera's 2004 Chevy Silverado pickup truck.
While on patrol, Oak Bluffs officer Chris Oteri noticed a broken concrete railing along East Chop Drive near the intersection of Harrison avenue around 2 a.m. Friday, and tire marks going over the side of the bluff. The tracks indicated that a vehicle had traveled north along Harrison avenue and along East Chop Drive before crashing through the single concrete barrier and over the cliff.
Officer Oteri contacted Sgt. George Fisher, who contacted the town fire department and U.S. Coast Guard, which dispatched a 41-foot motor lifeboat and rescue helicopter.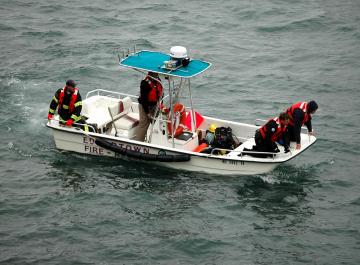 Sergeant Fisher used the town police boat to search both the shore and water while a high-powered light from a fire truck illuminated the area below the cliff. Emergency personnel then located the vehicle, which had cleared the rocks and landed in about 15 feet of water. No driver was inside.
Using a Coast Guard computer, emergency workers calculated drift patterns to aid their search. Later on Friday, a heavy-duty tow truck from JWL Transport used a hydraulic wench and approximately 200-feet of cable to pull the truck up the side of the cliff.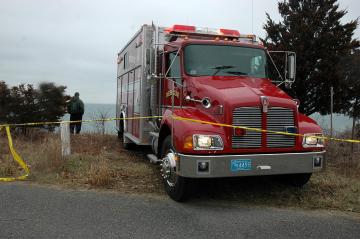 Oak Bluffs Lieut. Timothy Williamson said the search was suspended for a short time early Friday morning so rescue workers could get warm and take a rest. Many of the rescue personnel stayed up all night and into the morning to search for Mr. Viera, he said.
The search continued throughout Friday afternoon. Oak Bluffs and Edgartown fire department divers joined the search. The search was suspended again late Friday afternoon when the sunlight began to fade and the weather turned windy and cold.
The rescue team, including a helicopter from the state police, were preparing to resume their search early Saturday morning when police were contacted by a Steamship Authority employee who reported that a passenger had spotted a man's body inside the breakwater of Vineyard Haven harbor.
Police located Mr. Viera's body around 8:30 a.m.
Mr. Viera, whose family is from Edgartown, is believed to have recently lived in Oak Bluffs.
Bouquets of flowers now decorate the flattened concrete barrier on East Chop Drive where Mr. Viera's vehicle went over the cliff.