As many as 100 ceramic works of art were heated in the Featherstone Center for the Arts's kiln over the past week. After days of cooling, the works came out into the daylight yesterday for display at the Oak Bluffs gallery.
Scott Campbell, art teacher at the regional high school, orchestrated the 12th annual kiln firing.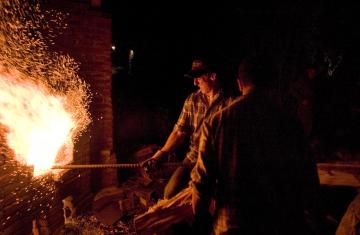 He and some 40 students set the fire on Wednesday, May 28, and kept it burning day and night into the weekend to achieve the necessary temperature of 2,300 degrees Fahrenheit.
They went through four cords of pine donated by Vineyard Gardens.