Rationing, blackouts, prisoners of war and air raid drills — all were very real facts of life for Islanders during World War II. In an ongoing exhibit the Martha's Vineyard Museum has captured some of the many recollections of Vineyarders from those years, both at home and abroad. Titled Those Who Serve — Martha's Vineyard and World War II, the exhibit features oral histories, photographs, film footage and artifacts. The exhibit will be expanded into a second part on Memorial Day weekend. What follows is an edited version of the recollections of Elizabeth (Betty) Honey recorded by oral historian Linsey Lee and included in the exhibit. Ms. Honey died on April 10 at the age of 89.
We would listen to the radio. The one that's right there. My mother would always sit in that rocking chair there and crochet and listen to the Philharmonic. That's what she was doing when they told us about Pearl Harbor. She was in that chair, listening to that concert. And I'm standing, there, listening to this program, with the dish towel full of silver, wiping it and putting it away in the drawers from the Sunday dinner. When they had the big announcement about Pearl Harbor, that's what I was doing. It was a total shock to everybody. We didn't know Japan even felt like that about us.
We didn't expect anything to happen here, really. But immediately you knew that something would change. War was declared. There would be people who would have to go. And that changed everything. And then we got really into it, you know? They had all the rationing and blackouts and air raid wardens — I was one.
We had training from a Miss Lee and a Miss Grey. They ran those classes because Miss Grey had been in England, and they had classes during the blitz and she brought all that information here. She taught us how to be air raid wardens, and we had first aid classes.
We had blackout curtains and all that. They would do drills every once in a while. The fire alarm would go off at 3 a.m., or sometime in the middle of the night, with a certain signal, and you would have to get up and report in to the headquarters to be sent out to pass around every single house in town at 3:30 in the morning. All of a sudden you'd be aroused by "Zoom, zoom, zoom, zoom!" and you would go up there. Me, still in school, I am out there with an armband, going around every house, looking for light. Then I'd make a chart out and report back in. After a certain length of time there'd be an all-clear and I could go home. It was pitch black everywhere, and I had a flashlight with a piece of cardboard and a pinhole in it.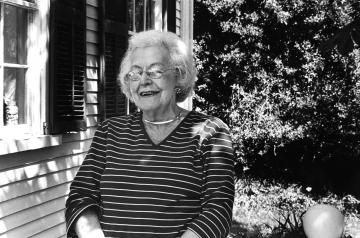 My mother worked at the headquarters, and she had various other tours of duty. They would go over to East Chop Light and they would watch for aircraft. If anything went by, they would record it. They'd go to Gay Head and people did this all over the Island. And the ferries were painted battleship gray. And they didn't show lights as they went back and forth! And the streetlights were all shaded.
I was working at the school in the superintendent's office. He was the director of rationing for the entire Island, and I was his secretary, and he and I made out the sugar, meat and gas and clothing rationing for the entire Island.
Butter was not available. We had margarine, which we'd never heard of before. It came like lard in a big cube. It had a little thing of orange coloring and you had to mush this stuff down and put the coloring in it and make it look like butter.
When I was still working at the school, the Civil Service was knocking at the door. They wanted people to work, clerical people to work. So I went to Edgartown above the post office to a government office where they were giving tests. A typing test to get you into Civil Service. And I had to provide my own typewriter. We had an ancient typewriter which I don't have now, but it would bring a very good price.
So the results went in and before I knew it, they were ordering me to Camp Edwards to take a job. Like two days later. They were hard up for people.
My mother and Carrie Tilton — Carrie Osborn Tilton Reynolds Seacord, she and my mother went with me to Camp Edwards. I was interviewed there and then we came home, to await the results. The very next day they told me to come over and start work. I had no place to stay. I had no money. So my mother and I went down to the bank and I borrowed $100, and I was to pay it back $10 a week from my tremendous salary, which was $40 a week. The choir members from Grace Church gave me a send-off the night before I left for Camp Edwards. And they gave me a blue suitcase.
I was assigned to the dental clinic. And that was quite an experience. There were two big clinics there . . . they were in these long, long barracks-type buildings. And we had dentists who were lieutenants, captains, colonels and so forth. And they had lay people as hygienists doing cleaning and all that. They also had WACs and they were assistants. There was a big prisoner of war camp at Camp Edwards. This is not generally known by people, but there was. As time went on, we had a POW, prisoner of war assigned, to work with our dental unit. He was a young, 19-year-old, blond German boy. We felt friendly toward him. We didn't know how to hate him. We had coffee with him every day. And he had kind of a wicked sense of humor. He learned some English. And we couldn't get up a hate. Because we didn't see, we didn't know what was going on in Europe.
He escaped. This is instructions from the Nazis; that they must escape. Wherever they were, they must escape. So one day he just walked out. We didn't even know he was gone. He got rid of his jacket that said POW on the back and he put on one of the white doctors' coats. And he thumbed a ride to the Cape Cod Canal. He was going to swim across, but you can't; there's a whirlpool. It's still there. Every time I've been to Boston since I look down from the bus and see that same whirlpool.
So the word went out that he was missing. They picked him up and brought him back. He was never seen at our place again.
When you ate over at the Camp you had real butter. There was no rationing there at all. That's where it went, to the troops. That's why we ate there. Because we had very good food. To be sure it was on trays, piled up, and the ice cream was thrown on top of the spinach, or whatever, you know? So we went down the line just like M.A.S.H., if you ever watched that.
The USO in Falmouth was big, big time. They had dances, with name bands, like Benny Goodman. And all kinds of wonderful orchestras. I went a couple of times a week.
They used to have prize waltzes. There would be 100 couples dancing. And I remember the highlight of my time there was when this big, really tall and heavy Texan, asked me to dance. He was an old-fashioned dancer. We waltzed all over the place. They eliminated couples right and left, and we were the two who won. I thought that was terrific. We got a two-pound box of Fanny Farmer chocolates, which were unheard of, because we couldn't have those things, you know? I'll never forget it.
I even had a picture of myself in the Falmouth Enterprise, which is a sort of sister to the Gazette. It was at the time run by another Hough over there. I had a white taffeta dress which had rhinestones, if you can believe it. It's still upstairs in my closet.
Camp Edwards was a place of distribution, I guess you might call it. People would come on a hospital ship from Europe where they had been terribly wounded. They'd come into Boston. And I remember this one time, it was winter with heavy snow. These were the returning ones who were severely injured. And they were hustled into those army ambulances which are just like they have today — with the Red Cross on them. They got them down from Boston to Camp Edwards, a rough ride down there. They appeared and they were assigned to all the barracks. Because of the storm the electricity went off. There was no heat and no light anywhere. And here were all these severely wounded people with bloody bandages, and they were going to have all this taken care of before they went to wherever they were supposed to go — to a hospital that could take care of their injuries.
I worked until four in the morning registering them with a single bulb in a barracks with 40 or 50 men. This bed here and that bed there, head to toe, all the way on both sides. I went to every single bed and interviewed the person as to what their injuries were. Then a doctor — one doctor — would come in and check all that stuff. And in the meantime you have voluminous papers, tons of them. All the information that would have to be typed up and sent quickly to the new place where they were going to go.
And these boys were very cheerful. They were so tickled to be home even though they were half dead. They had terrible injuries . . . some with one leg, some with no legs.
We went from one to another to another, all night long and got all this information. We went from barrack to barrack. I registered hundreds of men. And they had not eaten. The kitchen couldn't do anything because they had no heat and no electricity, so they made cold ham sandwiches, and a chocolate-vanilla-strawberry block of ice cream on top of a cold sandwich. That's what they got for supper. I would go back to my clinic, my typewriter, and I would type all this stuff up as fast as I could. And that would be sent off to the next place so they'd know who is coming. It had to be done that night, right then. At four in the morning they allowed us to go to the nurses' quarters and stretch out, and then I had to be at work at 7 o'clock.
We did that for quite a few times. And we did get some kind of commendation, as I remember, but no extra pay or anything like that.
I had a friend that I worked with there, Lucy Swenson. She was in the WACs. She got out of the WACs and she married this man, and I and another friend went to the wedding. It was in a very poor area in Dorchester. We went on the train to get there. And we got dressed up, white gloves and so forth.
When they were going to leave and go on their honeymoon — one night in Boston on the train — we were told to go down to the kitchen where we were given boxes of puffed rice which we threw at the bride, and off they went.
I didn't see her again for quite awhile. And then there was an article in the paper about an axe murder [about] a veteran who took an axe and he smashed in his wife's head and that of their child. This was the guy she had married.
She knew he needed mental health help and she took him again and again and again to the veterans administration, and they sent him home. I remember this from the wedding. And that was too often what happened in those days to veterans. So now they are talking about trying to do something; to get veterans the psychological help they need as soon as they come home. So that is one good thing.