The Vineyard was in a state of emergency and high alert at nightfall yesterday as Hurricane Earl crawled up the Eastern Seaboard, a category three storm packing winds up to 111 miles per hour with drenching rains, its huge eye pointed straight at eastern Cape Cod, the Vineyard and Nantucket.
"Although the maximum winds in the core have decreased . . . Earl continues to be a large and powerful hurricane," the National Hurricane Center reported at 5 p.m. Thursday. At 8 p.m. last night the hurricane was located 160 miles south-southeast of Cape Hatteras. The storm was moving north at 18 miles per hour, and is expected to reach the Cape and Islands sometime tonight. The Vineyard remained under a hurricane warning at press time last night.
Emergency preparations have been under way for much of the week, as hundreds of boats were pulled from Island harbors, NStar moved in extra crews and utility trucks, ferries, airlines and buses issued travel advisories and planned for suspended service, and town storm shelters were readied for occupancy. Grocery, hardware and lumber stores saw a run on bottled water, batteries, candles, flashlights and plywood, and shipyards worked overtime hauling boats at the outset of the busy Labor Day weekend, ordinarily filled with tourists and late-summer visitors.
Instead, by last night harbors were mostly empty and downtown centers were quiet; the Island had experienced a small exodus as the threat of a hurricane became real.
"We have a perfect track forecast. Nantucket, the Vineyard, probably the eastern half of the Cape will experience hurricane-force winds," said National Hurricane Center director Bill Read in a media conference call on Thursday afternoon.
A state of emergency was declared by Gov. Deval Patrick late yesterday; all roads and business will be closed by 2 p.m. today. Storm shelters will be opened in Island towns beginning at noon today; people needing shelter are advised to call their town number (listed separately on this page) for information. A new county Code Red system — a reverse 911 phone call where information is given out through recorded telephone messages — is in effect. Residents who are not receiving the messages may go to the county Web site (dukescounty.org) to sign up. The system does not work for unlisted telephone numbers and phones with no answering service.
In a travel advisory issued late Thursday afternoon, the Steamship Authority said it would suspend ferry service as the hurricane neared, probably by early afternoon today. "Ferries operating between Woods Hole and Martha's Vineyard will continue to operate for as long as possible, and it is safe to do so, on Friday but we are likely to see service being suspended by early or mid afternoon," the advisory said. More updates are expected from the SSA this morning; the Gazette will post information on its Web site (mvgazette.com) as it becomes available and information will be broadcast on Island radio station WMVY, 92.7 FM.
Cape Air issued a similar advisory. "We will not fly in a hurricane; we are watching this storm closely and we do expect to shut down service by early afternoon," said Cape Air public affairs spokesman Michelle Haynes. She said most customers who have booked flights on Cape Air have been contacted; travelers may check capeair.com for updates.
Bus service on the Vineyard Transit Authority will run through the morning hours; updates about afternoon service will be provided this morning.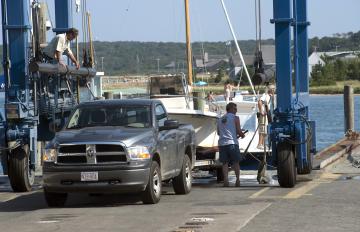 The Chappaquiddick Ferry will shut down service at noon today.
Access to the Martha's Vineyard Hospital is expected to be via County Road in the event that Beach Road is closed. Emergency generators are in place at the hospital and spokesman Rachel Vanderhoop said last night that hospital "absolutely" has enough clinical supplies, food, water and fuel for the storm and its aftermath. She said the hospital has a disaster plan and "will put it into play if we need to."
Falmouth and Cape Cod hospitals announced that outpatient services will be closed on Friday at noon, but that all scheduled surgeries will continue. Both hospitals had invoked their emergency management plans.
NStar spokesman Mike Durand said the utility company had brought extra trucks and crews to the Vineyard to be ready for the storm. And he said extra telephone staff will be on hand; the number to call to report a power outage is 1-800-592-2000. Customers are strongly advised to call; Mr. Durand said in addition to the extra staff, the telephone system is able to track the location of the number so that crews may be dispatched for speedy repairs. "The phone system is extremely sophisticated and designed to plot geographic locations; people will be able to speak to a person if they wish but should not be discouraged if they receive a recording," Mr. Durand said.
He said no power would be deliberately shut off except for reasons of safety — and people are reminded to stay away from downed power lines. "This is a coastal storm and it goes without saying that Martha's Vineyard is a coastal community and I would expect damage based on the forecast we are having," he said.
As of this morning all public beaches in Aquinnah are closed. In Chilmark, Lucy Vincent will be closed at 2 p.m., and Squibnocket will have no lifeguards. South Beach in Edgartown is heavily posted with warnings to discourage swimmers and a decision on closure will be made today. The Trustees of Reservations had not made a decision at press time whether to close beaches. The hurricane is expected to kick up extremely dangerous rip tides and surf conditions, and swimming is considered hazardous.
No areas of the Vineyard were expected to be evacuated although people are urged to use caution and common sense, staying off roads and out of harm's way during the storm. Island councils on aging are involved in assisting elderly people who need shelter.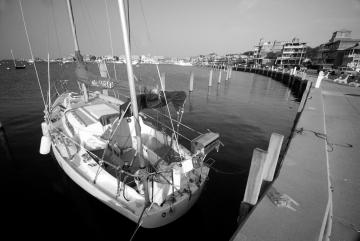 The Harbor View Hotel in Edgartown said it would evacuate all guests by 3 p.m. today for reasons of safety and security. "After we saw the last weather update . . . for the safety of our guests, we contacted all reservations made for today and tomorrow," said general manager Jim Cleary. "They can choose either to come or not to come, and if they are staying through Friday night they will be relocated to the local shelters."
Water customers in Oak Bluffs are advised to curb water use if the power is out because the town sewer system cannot function properly without electricity.
Meanwhile, the hard work went on into the evening in Island waters yesterday as owners of sailboats and motorboats of every description either hauled or moved their boats to safe harbors.
Edgartown harbor master Charlie Blair, who had hauled his own boat early in the week, had high praise for Philip Hale at the Martha's Vineyard Shipyard and Tony Chianese at Edgartown Marine. "These guys are pros and they have been doing incredible work," said Mr. Blair, who spent most of the week sending recreational boaters out of the harbor for the weekend.
In Oak Bluffs it was a similar scene.
"We just lost a whole weekend," said harbor master Todd Alexander, who by last night was in charge of an all-but empty town harbor.
For more public information, useful links include: MEMA, mass.gov; NOAA Hurricane Preparedness, nhc.noaa.gov; National Hurricane Center, nhc.noaa.gov.
Gazette reporters Mike Seccombe, Mark Lovewell, Peter Brannen, Remy Tumin and Lauren Martin contributed to this story.