This past week was one of those wonderful periods when every day brings new bird species. March, which devoured April this year, finally ended, and with the milder weather came a welcome influx of songbirds.
As noted in last week's column, Baltimore orioles have arrived. Patricia Ingalls reported the earliest one I've heard of, on Easter Sunday in Oak Bluffs. Nancy Hugger spotted one April 25 on Chappy, and Richard Regen received a delightful 72nd birthday present the next day, when an oriole visited Richard's feeder off Squibnocket Road. Tara Whiting noted an early-arriving female last Friday, and a notable influx of this gaudy species arrived Friday night. Kris and Skip Mayhew found one in Edgartown Saturday morning, and my own oriole burst abruptly into song at 5:50 a.m. that day. Debbie Dean, our neighbor around the corner, noticed what was probably the same bird just minutes later. We weren't the only ones paying attention: By 9:30 a.m., the local mockingbird had incorporated into his song not just a generic Baltimore oriole tune, but the specific song of the newly returned male.
Orioles generally arrive overnight, like many migrant songbirds, and they get right down to business with the morning light. Trying out various tree tops and branch ends as perches, they launch salvos of full song. Not so the catbird; On Saturday morning, Dan Waters noted the typical behavior of this circumspect species following its arrival: a little quiet song, a little discreet exploring, and a lot of quiet contemplation in a thicket. By Wednesday, to be sure, Dan's bird and its many colleagues had settled in and were singing enthusiastically all around the Island. But the catbird arrives without fanfare.
Lanny McDowell has had a female indigo bunting in his yard in West Tisbury, and Linsey Lee also spotted this species. Water Silva described a small blue bird on Middle Road last Thursday that could only have been an indigo bunting, and on Saturday, David Morris likewise described a small, all-blue finch from Lower Makonikey — all you need to suggest an adult male of this species. As both an early season vagrant and as a breeding bird, indigo buntings have grown more common here in recent years, a welcome addition to our avifauna.
Also growing more numerous here is the rose-breasted grosbeak, and this species was reported by Nancy Hugger, Linsey Lee and Sioux Eagle (via David Stanwood). On Sunday morning, ovenbirds were singing from several of the pine plantations in Correllus State Forest off of Barnes Road. A few prairie warblers sang from scrub oak, and an eastern kingbird perched, probably hunting tiger beetles, along a fire lane. Rob Culbert noted a great crested flycatcher in Oak Bluffs on Friday, and on Sunday one contributed its "wheep!" call and its big-headed silhouette to a tree in Vineyard Haven. Birding Waskosim's Rock, Catherine Colon, Carol Dell, Laurie Walker and Sally Anderson turned up black-and-white and blue-winged warblers, while on Tuesday Shirley Dewing noted a brown thrasher, no longer a common bird on the Vineyard, on Chappy.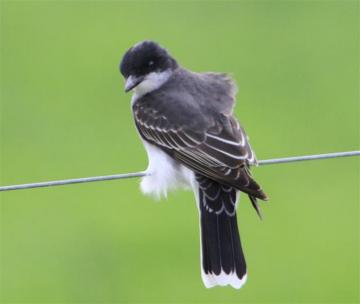 On Monday morning, a yellow warbler sang from the vacant lot across the street from my house in Oak Bluffs, and later, I found my first common terns of the season, a small flock roosting on the shore of Katama Bay. On Tuesday, an orchard oriole woke me up with its explosive song. The most unusual songbird reported this past week was a summer tanager, a rare but regular spring vagrant that turned up at Patricia Ingalls's Oak Bluffs feeder on April 28. One of my personal summertime favorites, chimney swift, was first reported by Rob Culbert on Monday, May 2 — on the early side for this strictly insectivorous bird.
We have an update on last week's update on the previous week's story about white zebra finches. It appears that a single bird was seen several times off of Old County Road, while another bird, eventually found dead, kicked around the Panhandle area. Last Wednesday, Lanny McDowell found what was probably the Old County bird seen previously at the Granary Gallery, dead at Nat's Farm. We have received no word of anyone missing two (or more) white zebra finches; I certainly hope the birds were not deliberately released, which would have been to consign these birds to death by hypothermia or starvation.
We received three interesting reports of raptors. Tara Whiting has been seeing a kestrel regularly at Quenames, where, with luck, it might nest. Ginny Jones found an adult bald eagle in Menemsha. And most notably, on Monday, Buddy Vanderhoop reported a Swainson's hawk on two occasions along Moshup Trail. I'm unaware of any previous Vineyard records, but Buddy is a reliable observer and this open-country hawk of the western U.S. is highly migratory and a regular vagrant to the East Coast. While it occurs most frequently in fall, there are well-documented spring records for the state, so Buddy's report is wholly plausible. Hawks are, though, deceptively hard to ID, with Swainson's regarded as among the trickiest, so confirming reports or photographs of this bird would be most welcome.
But enough reading. Go birding. It's May.
Please report your bird sightings to the Martha's Vineyard Bird Hotline at 508-645-2913 or e-mail to birds@mvgazette.com.