The past year has been a difficult one for Jared Meader. Caught at the center of some of the most pressing national issues of the day, the two-time Iraq war veteran has had to refinance his Vineyard Haven house to pay off medical bills from a brain tumor, and he now struggles to hold onto a mortgage while battling the psychological scars of combat. All while raising four children. For most people the burden of such a harrowing biography would be too much to bear, but Mr. Meader has the support of a community rallying to his aid.
Tomorrow at the VFW in Oak Bluffs friends and family will host a spaghetti dinner with a 50/50 raffle and silent auction for the benefit of the Meader family. The event begins at 5 p.m. Mr. Meader is wary of all the attention but he is grateful to the Island community.
"It's very humbling and it's a little embarrassing but it makes me feel like once I get out of this tightness I'm going to be spending the rest of my life as a volunteer trying to give back," he said in a telephone conversation with the Gazette yesterday.
After he returned from his first 14-month tour in Iraq in 2005 Mr. Meader, who graduated from the Martha's Vineyard Regional High School in 1993 and served as a sergeant in the Dukes County sheriff's department, learned that he had a brain tumor that needed removal. He is about to undergo his fifth annual MRI scan; if the results come back negative he is considered tumor-free. But the financial fallout from the disease has never left.
"The brain surgery incurred a lot of medical bills and I had to pay them off, so we had to refinance the house," he said. "We actually ended up going into a 40-year mortgage. Ideally I would have loved to stay in my old mortgage but that was just not an option — not with the amount of money I owed."
When he returned from his second tour of duty last June the struggle to adjust to life on the home front had become overwhelming. Twice Mr. Meader was hospitalized with symptoms of depression and post-traumatic stress disorder (PTSD) and this spring he had to leave his longtime job in the sheriff's department. He now goes to regular counseling and hopes that his story will encourage other veterans to seek the help they need.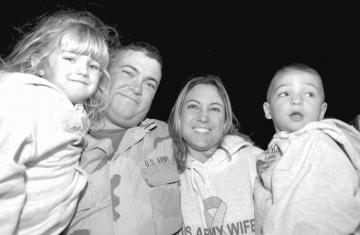 "I was lucky," he said. "I got pushed into getting my counseling early. I had a wife that basically pulled out every book in the world before I came home and read it — welcoming home your vet — and things like that that talked a lot about PTSD. So then when I came home and I was doing a lot of the classic things, short temper, walking out all the time, 'I don't need this crap,' that sort of thing, she was just like, 'You need to go see a counselor. You need to go, you need to go, you need to go.' "
At first a skeptical Mr. Meader would make appointments and skip them until he finally agreed to see Tom Bennett, the senior clinical advisor with the Island Counseling Center at Martha's Vineyard Community Services, and a veteran himself.
"It was probably the best decision I ever made in my life," Mr. Meader said. During weekly veterans meetings at the counseling center Mr. Meader has learned about the lifelong struggle with PTSD from other vets.
"Even since I've been there there's been guys who served in Viet Nam who have come in for their first meeting, so that shows you how long it takes, that it doesn't just go away overnight," he said.
Still, at first the idea of openly discussing the psychological trauma of combat didn't appeal to Mr. Meader.
"I remember sitting there after my first meeting thinking, this is crap. Guys from World War II didn't do this. They didn't need this type of help," he said. "Well they just called it something different, back then it was called shell shock."
Now Mr. Meader is learning that he is not alone.
"I thought PTSD was only a thing for the military and I'm learning how it's all over the place. It can happen to car accident survivors, cancer survivors, everybody can suffer from some form of it."
At one meeting Mr. Meader caught the attention of former Vineyard Navy Seal Tom Rancich when he described how his house was about to be foreclosed on if he did not meet a $5,000 mortgage payment that he had no ability to pay after leaving his job. Moved by the story, Mr. Rancich and fellow veteran Elliott Adler agreed to assist him with a loan.
Now as he struggles to negotiate restructuring his mortgage with Bank of America, Mr. Meader will enjoy a new shot of community support in the form of Wednesday's benefit dinner at the VFW — an event which has caught him completely by surprise.
In the coming months Mr. Meader hopes to qualify for individual unemployability which will give him a temporary 100 per cent disability rating with veterans affairs, a move that will allow him to continue to get counseling while he attends vocational rehab sessions in addition to the treatment he already receives for a combat-related shoulder injury. He knows that his former life in law enforcement is likely over.
"Because of the stress of that job, doctors basically told me it's not a good field for me," he said. His goal is to enter a career in locksmithing but for now he is trying his hand at an unexpected profession.
"I'm enjoying being a stay-at-home dad," he said as his youngest child, Silas, loudly protested his potty training in the background.
"But I didn't realize how much work it is," he added, laughing.
As Mr. Meader works to get back on more solid financial footing he does not take lightly the efforts of the community on his family's behalf.
"When this is all over I'm going to be owing a lot of people, even though I'm sure they're thinking I don't owe them nothing," he said. "What goes around comes around is the way I look at it."
The spaghetti dinner benefit for the Meader family begins at 5 p.m. tomorrow at the VFW in Oak Bluffs. Admission is $12 for adults, $6 for children. All are welcome.