Who can ask for more than to turn 100 looking better than ever, dancing into the next century with a bluegrass band crowd, plates filled high with cupcakes, and a happy crowd? We should all be so lucky. On Thursday night it was that kind of first-century birthday for the Vineyard Square Hotel and Suites, the Edgartown accommodations formerly known as the Colonial Inn.
Former owners Carol Fligor and her husband, Dick, were there — Carol's family built the Colonial Inn and she is still a neighbor. She was seen smiling with the Vineyard Square's general manager C.J. Rivard and one of the current owners, Tom McConnell.
The inn first opened in 1911 touting itself as "electrified," with hot and cold water baths and modern plumbing. Susan Sigel Goldsmith, who planned Thursday night's party, said the place was again electrified.
Party guests could tour the renovated rooms to see the fresh "beach modern" decor. They were among the first — but not the last — to be part of a 100-day celebration which includes giveaways such as free stays at the inn plus transportation to Hyannis and tickets to a Huey Lewis concert at the Cape Cod Melody Tent on July 17 — where the hoteliers certainly expect the 80s pop star to sing his hit single Hip to Be Square.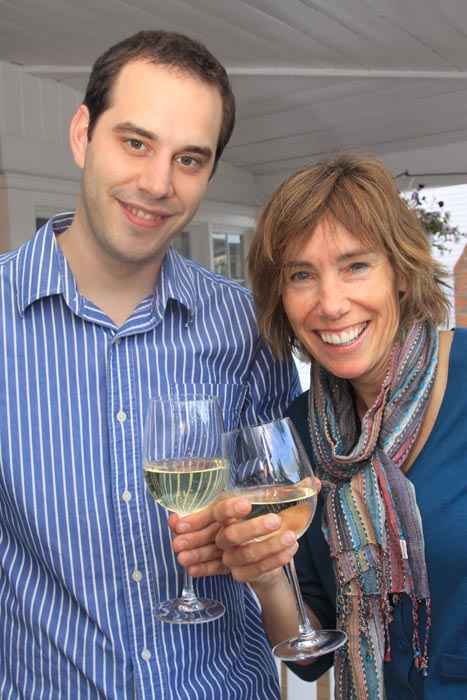 The new Sea Spa Salon, onsite at the hotel, offered party guests a bit of the relaxing massage and body treatments, and no doubt a hair styling appointment or two was made by perfectly coiffed guests planning ahead for their next party.
Of course, no 100-year-old would be happy without the laughter of children at their party, and so it was that kids boogied to the bluegrass grooves of the Island's own Ballywhooligans, a good-time band complete with banjo-beating, mandolin-mastering, bass-bopping, washboard-whopping fun with guitars and glorious vocals ringing out the short stretch to the Edgartown harbor.
Here's to 100, and many more.