Corey Kupersmith, the Connecticut-based developer who a decade ago waged a bitter public battle to build a golf course and a development on the largest tract of undeveloped forest in Oak Bluffs, now faces foreclosure on almost all of the property he owns in the Southern Woodlands.
Twenty of the 26 buildable lots that make up Mr. Kupersmith's unfinished luxury-home subdivision known as South Wood Farms face foreclosure by People's Bank, which has scheduled a public auction for 11 a.m. on April 19. A legal notice announcing the auction directed bidders to bring a certified check of $50,000 to the auction, to be held on the premises. Two more lots designated for open space are also up for auction.
The controversy over Mr. Kupersmith's attempts to build a golf course is still a raw subject for many Oak Bluffs residents and town officials who picked sides in one of the most divisive chapters in the Island's history. Proponents defended the proposed development as an economic driver, while others denounced it as yet another blow to the Island's rural character and an environmental threat.
Mr. Kupersmith's 18-hole golf course was rejected three times by the Martha's Vineyard Commission, most recently in 2004. Rebuffed, Mr. Kupersmith threatened to build a "maximum density" 366-home affordable housing project on the property but was again turned down by the commission. He then challenged the commission's ability to review affordable housing in court, but lost the case.
At one point, one of his associates, Brian Lafferty, threatened to clear cut 270 acres of trees on the property, challenging the commission to stop him. He cut about 250 pitch pines, and afterwards posed for pictures with a chainsaw surrounded by stumps before the state Natural Heritage Program issued a cease and desist order.
Some were surprised then, when Mr. Kupersmith agreed to what seemed a reasonable compromise in 2004, selling 190 acres of the property to the Martha's Vineyard Land Bank for just over $18 million and proposing to build an equestrian-themed, 26-luxury home subdivision known as South Wood Farms on the remaining 90 acres.
Construction began shortly thereafter on the subdivision, billed as an "exclusive, gated community that offers the privacy you want and the lifestyle you have learned," but was halted after only two model luxury homes were built.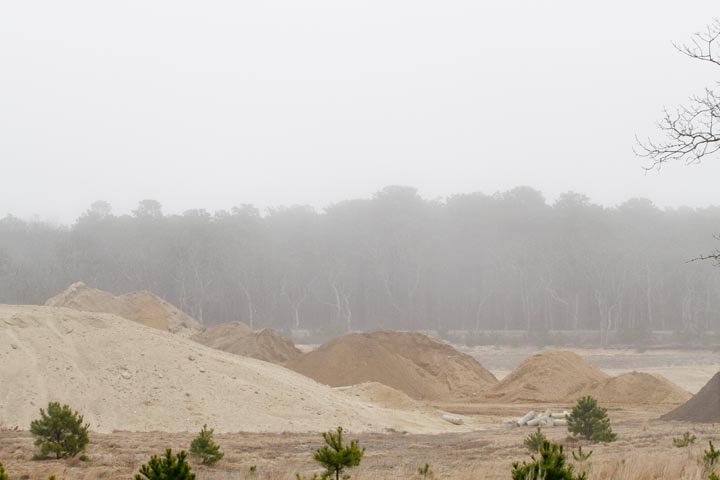 This week, one of those two model houses featured broken windows and tattered insulating plastic blowing in the wind, providing an easy metaphor for the developer's failed ambitions. A giant sand pit and a pile of logs greet visitors at the entrance to the subdivision where the equestrian grounds and a manmade pond were planned.
The foreclosure legal notice reflects the complexity of Mr. Kupersmith's land dealings, listing 78 deeds on two dozen lots. Much of the land that made up South Wood Farms was acquired through what are known as fractional interest deeds, a legal tool that allows the acquisition of land where ownership is muddy. In the case of much of the land, lot ownership had not been updated since the mid-1800s. Mr. Kupersmith's associates were able to acquire the land for a nominal amount after tracking down descendants of the lots' original owners.
The properties that face foreclosure are technically owned by the Delaware-based Farlap Development Corporation. Mr. Kupersmith is listed as Farlap's president and Keith Crocco as its treasurer. The Gazette was unable to locate a telephone number for Mr. Kupersmith or Farlap.
According to the Delaware Secretary of State's Division of Corporations, Farlap's status as a corporate entity is void, having not filed an annual report since 2008 and owing some $436 in taxes.
Another corporation, Millenium [sic] Par Holdings LLC, also run by Mr. Kupersmith and Mr. Crocco, still owns three lots in the subdivision not facing foreclosure in the current action. That corporation was dissolved by court order in April of last year. Mr. Crocco died in a motorcycle accident in Connecticut in May 2009.
Properties included in the South Wood Farms project were transferred between the two entities for reasons that are not clear. In 2006, Millenium conveyed to Farlap the properties currently facing foreclosure in exchange for $11,795,000. The same day Farlap executed two notes with People's Bank, a $4 million mortgage and a $7 million line of credit. In 2010, the line of credit was reduced to $3.5 million. People's Bank is now seeking to foreclose on their loan. It is not clear how much of the money is still owed.
Of the three remaining lots not included in the foreclosure, one was sold to Robert Natter of Ponte Vedra, Florida, and one was sold to Frederic Mascolo, owner of Trader Fred's. (The Gazette tried to call Mr. Mascolo, who lives on the Vineyard, but was unable to reach him.) A third lot was sold to Mr. Kupersmith and Mr. Crocco doing business as JKE Realty Trust of Greenwich, Conn. Besides the two unfinished model homes, both on lots facing foreclosure, none of the lots are developed.
It is unclear when any of the South Wood Farms properties were last actively marketed to potential homebuyers. None of the properties are listed in LINK, an online Vineyard real estate listing service, and a Web site that once advertised the development is no longer online.
A sign is still posted at the entrance to the development announcing South Wood Farms and asking interested parties to contact Dan McLaughlin of Daniel P. McLaughlin & Co. Auctioneers of Boston.
"I've got to take that sign down up there," Mr. McLaughlin said on Thursday when contacted at his office. "Every once in awhile I get phone calls and I just don't have anything to do with it anymore." Mr. McLaughlin, who was surprised to learn of the foreclosure when contacted by the Gazette, says that he has not spoken to Mr. Kupersmith in years.
But he says that if Mr. Kupersmith loses the lots, the equestrian dream of South Wood Farms is not necessarily dead.
"If it gets sold at foreclosure auction someone will come in," he said. "Maybe the bank will take it over, maybe somebody else will buy it. If and when it gets finished off, and the equestrian center gets built, and the homes are built it's going to be a beautiful neighborhood."
This article has been updated from the print edition to reflect that Keith Crocco died in a motorcycle accident in May 2009.