The white couch at Jesse Hayes' home office serves two purposes: business and therapy. It's okay, designer Mr. Hayes tells his clients as they settle into the large futon. It's going to be cool.
"We want to create a high quality product in a comfortable atmosphere," Mr. Hayes said at his office this week. Five guitars are stacked neatly in the corner, an antique typewriter sits on his desk, a fedora hangs on the door and a cool breeze drifts in from the porch.
"I want clients to feel like they can talk about things with me," he continued. "It's scary for a lot of people who are either starting a business or changing a business of 30 years. We're creating brands that need to be true to them. My goal is to find something that's right for the client and find a unique, original voice."
Mr. Hayes, 32, moved to the Vineyard from Cambridge three years ago with his wife Arielle and their two children. After establishing Hayes Design Studio, a design firm with clients across the country and Europe, the family was looking for a change of pace and decided that the Vineyard was a perfect fit for their lifestyle and business.
His "fresh yet familiar" aesthetic can be seen around the Island at the Martha's Vineyard Hospital and Cronig's, smaller businesses such as Martha's Vineyard Sea Salt and clothing store Slip 77, Whippoorwill Farm and the nonprofit Island Grown Initiative. The website he designed for the Oak Bluffs Public Library was recently awarded Best Library Website by the Massachusetts Library Association's Public Relations Committee. His clients in Europe include a film production business based in Ireland and a project for a popular United Kingdom teen novel series. On Monday, Mr. Hayes was busy redesigning the covers for the series' American release.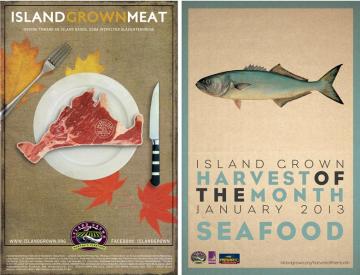 The journey to the Vineyard is a familiar story. Arielle had a long-time connection through summer visits with her family. Mr. Hayes's clients were spread out across the country and overseas so it wasn't essential that the couple stay in Cambridge. They considered Scotland and Toronto, but settled on the Vineyard.
"I thought I would get one or two local clients and be a part of the community . . . and then it just snowballed. It is such a small community . . . if you do good work for one person, they're going to recommend two other jobs."
Mr. Hayes quickly realized he and his company could fill a niche on the Island.
"We could offer something that wasn't being offered in a big way on the Island — full service design — or I like to call it holistic design," he said. "If someone comes to me and says, hey I want you to do a logo, that doesn't interest me as much as someone who says I have this new business or an old business that needs revamping."
The company does everything from websites, images, photography, fonts and branding "on a very fundamental level," he said.
Mr. Hayes grew up "all over." He was born in Massachusetts, raised in North Carolina and New Hampshire and eventually returned to Massachusetts, where he met his wife. The two have been together for 15 years.
"My wife and I were in the music industry and happened into graphic design for a record that I was producing for someone," Mr. Hayes recalled. "We got to the album package stage and we couldn't find what we were looking for and I said, I'll give it a whirl."
One client led to another and soon enough "it got to the point where it was a situation I could take care of my family based on it alone," he said.
Mr. Hayes's work evolved from working on jazz albums to branding for colleges and even a Nascar racing team, where he designed a Dukes of Hazzard paint theme for a new race car.
He had little experience in graphic design before designing his first album package for musician Oli Rockberger, but had always "been of the attitude of art is art."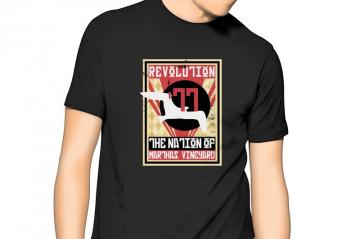 "I don't see lines when it comes to art," he said. His background ranges from songwriting and music production to music journalism, photography and architecture. "I've always loved art."
Mr. Hayes's entire team is linked through the music industry. The web developer is also an audio engineer and DJ, one photographer was Prince's former art director and another photographer wrote the Madonna hit Justify My Love.
Together they figure out how to maximize a brand. It's important to find aspects of the business owner's personality and find a way to distill them, Mr. Hayes said. "Concentrate them so they pack a little bit more punch."
On the Vineyard there is a smaller base that "embraces distinctiveness," he said.
"Something like a library website that on the mainland would have to be very generic and diluted and corporate in a blah sense can be really full of character here, because people want to show their character. There is an eagerness to embrace our Island identity."
So long as that identity doesn't include using the image of Martha's Vineyard itself, he added.
"It's fun as long as I don't have to slap the Island behind everything. It's such a default thing. I always challenge my clients. Can we do something a little bit cooler, more distinctive . . . there's so much more to the Island than the geography."
Mr. Hayes's latest design is for the new paper bags at Cronig's Market. There are images on all four sides of the bags, including a vintage pickup truck.
"It was an opportunity to pull those things together and start making a new aesthetic for Cronig's," he said. "I wanted to find a font and an image that play into the history of Cronig's. The truck is based on an old truck they used to use with Cronig's Brothers written on the side."
Mr. Hayes hesitated to describe his aesthetic as "classic," but said he likes "things that will look as good in 40 years as they will now."
"I like things that respect tradition but don't feel stale," he said. "I like that idea of something that's always been around but you still notice it."
Men's clothing store Sun Dog in Edgartown is one brand Mr. Hayes loves.
"It's simple — those window displays are so distinctive — to me it's a store you instantly recognize and you remember it," he said.
Newes from America is another restaurant that does it right.
"There's an atmosphere there — everybody knows your name."
But there's one project in particular he's dying to get his hands on.
"I would love to do the next Carly Simon album cover," he said. "We live on Martha's Vineyard and I'm a designer. What other gig can you dream of?"
For more information on Hayes Design Studio visit hayesdesignstudios.com.