Some are accomplished writers. Others are star athletes. Still others are artists. They have opinions and passions and disagreements among themselves. Their interests are so wide-ranging that even the students themselves are hard put to find a description for the class of 2013.
"It's a really interesting and eclectic group," said Julia Cooper, class president. "There are a lot of people with different personalities and different interests."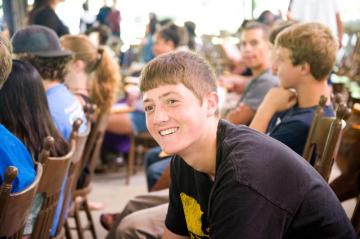 "They're feisty and indecisive, but everyone's [up for] a good time," said Sam Oslyn, student council president. Maddie Webster, the master of ceremonies, and Ms. Cooper giggled in agreement.
"Everyone is passionate and opinionated," added Ms. Webster. She explained that group decisions, like the class song or the theme for prom, could be difficult because everyone wanted to be involved and had an idea to share. "We might have differing opinions, but we always support each other," she said.
The 184 graduating seniors will walk across the stage at the Tabernacle in Oak Bluffs Sunday afternoon to collect their diplomas before an overflow crowd of family, friends and community well wishers. The ceremony begins at 1:30 p.m.
And while the members of the senior class sometimes march to the beats of their own drums, teachers, administrators and students agree that they share a sense of commitment to each other and to their community.
"This is probably one of the more giving groups that we've had," said regional high school principal Stephen Nixon. "They've really gone out of their way to get involved in the community."
Seniors played an integral role in Young Brothers to Men, a men's service organization that is known at the high school for its successful Thanksgiving food drive and winter coat drive.
"This is a group of kids that gets it," said Vineyard schools superintendent Dr. James H. Weiss. "They want to do something for their community."
According to senior class advisors Kate Holter and Cindy West, the class has been consistently well coordinated, organizing a wide variety of class events and fundraisers throughout their high school career. Last year the class was concerned that a lack of funds would force junior prom tickets to be significantly more expensive than usual. To raise the needed money to lower the cost of the tickets, the class organized a talent show that raised about $1,500 — on just two days' notice.
"It was their biggest achievement because they did it almost entirely on their own," said Ms. Holter.
"If you say you need help, they show up," said Ms. West.
"This is a group of students that's very involved in the community," she added.
Mr. McCarthy said academically, this is one of the more successful classes that the high school has seen. "They're very focused kids and they're very academically competitive," he said. Mr. McCarthy reported that 75 per cent of graduating seniors will attend one of more than 95 four-year colleges or universities across the country. Another nine per cent of the class will attend two-year programs and 13 per cent will go directly into the workforce. One per cent of seniors are still unsure as to their path next year and less than one per cent will enter the military.
"[The seniors] are creative in areas of writing, art and photography in ways that rival professionals," said Dan Sharkovitz, chairman of the high school English department. "They're that good. They're that focused."
Mr. Nixon agreed. "The balance that these kids have maintained for four years to be able to excel academically, excel in extracurriculars and give back to the community is just exceptional," he said.
"There is a huge sense of hopefulness and excitement they have about being out in the world," added Elaine Weintraub, chairman of the high school social studies department.
While there is no question that the seniors can work hard, they know how to play hard, too. For their senior prank, a high school tradition, about 50 members of the class of 2013 sneaked into the school, removed chairs and desks from classrooms and stacked them into a pyramid in the school courtyard. To make the prank more interesting (and inconvenient for the rest of the school), they tied the chairs and desks together. Other displays included a classroom set up on the roof and Class of 2013 spelled in desks and chairs in the gymnasium.
"That was probably the second most spirited we've ever been as a class," said Ms. Webster. The first time, she said was when the boys' varsity basketball team played in the Division Three state semifinals in Boston.
"We all piled into fan buses to see them play," said Ms. Webster. "The boat was packed — people were sitting in the aisles."
Overall, the seniors say they are excited to be graduating.
"I'm happy to be changing things up," said Charlie Ashmun, who will attend Rollins College in the fall.
"It feels kind of weird, like I'm in limbo," said Ms. Webster.
At graduation rehearsal Thursday morning, the sun poured through stained glass windows, birds flitted about the Tabernacle's metal bracing and squirrels dashed through the vacant rows. The choir rehearsed a few songs and teachers and students worked to hang purple and white banners on the stage. Students who had been relieved of their duties lounged in the sunshine, chatting in small groups or throwing a Frisbee on the lawn.
Graduation is Sunday, but summer break has already begun for the class of 2013.
Martha's Vineyard Regional High School graduation will take place Sunday at 1:30 p.m. at the Tabernacle in Oak Bluffs.