Deep in the woods of West Tisbury stands a small cottage soaking up the sun. It's situated in a clearing, and the 10 tall window panes that form its fourth wall face south. While the view of the garden in midsummer is reportedly breathtaking, the windows aren't there for decoration. Instead, they serve a practical purpose. The South Mountain company built the 900-square foot house more than 30 years ago as a passive solar structure, designed to heat itself with sunlight.
Over time, though, the house became inefficient as the windows aged and collected grime, along with other wear and tear on other parts of the house.
Each year, Cathy Weiss and her husband John Karalekas have worked on their home, bit by bit, putting in as much as they could afford each year.
"You have to maintain it," Mr. Karalekas said. "A little house has big problems too."
But a few years ago, they heard about West Tisbury's housing rehabilitation program, which administers loans to homeowners with limited financial resources who demonstrate a need for essential home repairs.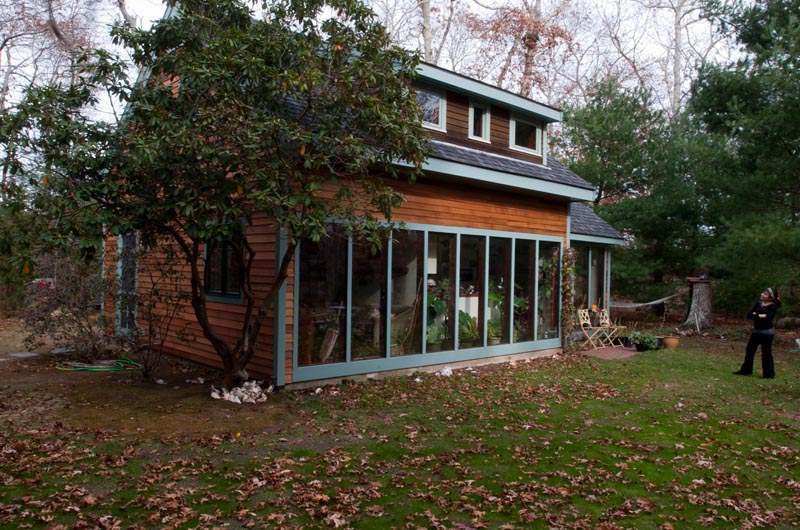 New windows were installed this summer with community development block grant funds, restoring the home's energy efficiency. On Nov. 15, the couple had not yet turned on their heat. The windows were again performing their original function.
Ms. Weiss was one of 46 recipients of the housing loan Islandwide last year who benefited from a total of $1 million in repairs. The money comes in the form of a 15-year deferred forgivable loan, which requires no payment if the homeowner maintains ownership of the home for 15 years following repairs. If the home is sold previous to that date, the homeowner owes a fraction of that loan back to the program income fund.
"We feel very blessed," Ms. Weiss said. "We hope other people are as fortunate as us."
The cottage was also a gift. Newly divorced in the 1970s, Ms. Weiss was looking for an affordable place to live on the Island, where she ran a small but steady sandwich business. She struggled to find housing, especially in the summer, that she could afford. One summer, she even lived in a tent. In the divorce, she received two and a half acres in West Tisbury, and a friend told her she could apply for a Federal Housing Administration grant to build a house. It was South Mountain's third house, and they built it just how she wanted it. She named the road that led to it Rebekah's way, for her daughter, who always got her way, she says.
West Tisbury wasn't awarded any community development block funding when Ms. Weiss first applied for the loan. Out of all the Island towns, the state ranks West Tisbury lowest on the need scale and the town receives grants only every other year. But when she applied again two years later, she was selected to receive $35,000 in loans. "We felt like we had won the lottery," Ms. Weiss said.
As the starting date approached for construction, the couple worried about inviting strangers into their home to work on the house, but their fears were quickly abated. The workers were friendly and efficient. "[The contractor] was fussy; he didn't cut any corners," Mr. Karalekas said.
Construction costs on the Island are significantly higher than the mainland. But Melissa Vincent, program manager of The Resource, Inc., a nonprofit organization that manages the housing rehabilitation program, says she knows how to get the most out of each dollar spent on a client's home.
She's firm with contractors, keeping close tabs on their progress. "I am clear that you are not going to make a million dollars and that you are going to give back to your community," she said. "I am going to beat you up every step of the way to get the most out of you."
The grant also funded the replacement of a septic system at Ms. Weiss's home, which had failed. Over time, woodpeckers had drilled golf-ball-sized holes into the clapboards, which were infested by carpenter bees that were compromising the integrity of the siding. Thanks to the grant money, those clapboards were replaced too. "Hopefully the bees don't like red cedar," Mr. Karalekas said.
Ms. Weiss retired from teaching last May, so she has time to enjoy the view of the birds and the garden through her new windows. "It's hard to leave the house because the view is so beautiful," she said.
"I used to think that you have a life, therefore you have a home. Then I thought you have a home, therefore you have a life. Having a home was everything then."
Sally Callahan, a teacher who lives in Vineyard Haven, also won a grant last year.
After a couple of months of construction last spring, Ms. Callahan's 35-year old Cape had a brand new roof, new siding, new shingles and new windows. "Since I am a single person not making a lot of money, it was like a gift because I never would have been able to save up the money to get what I needed," she said.
But when she spreads the gospel of the loan program, she's met with skepticism. "They don't believe it's for free," she said.
She wishes more people would apply for the public funds. The waiting list for grants currently includes 13 Islanders who will be the first to receive approval during this funding cycle, which begins in January. But many others do not know about the program, Mrs. Vincent says.
When houses fall into disrepair, many Vineyard homeowners tend to put off rehabilitation.
"It's a priority because you don't want it to fall apart any more, but there are other things you have to spend your money on. You have to pay your taxes and your bills," Ms. Callahan said.
Many tell Mrs. Vincent there are more deserving applicants, and they don't want to take away from them. "A lot of them say, there are other people who need it more than me," she said.
"It feels like a greedy thing to want free money, but what they don't understand is that this program is here for us," Mr. Karalekas said.
Ms. Vincent has approved nearly every application she's received since she began administering the grants eight years ago. The only applicants she's turned down have missed the income guidelines, which require that a family of two demonstrate an income below $54,000.
Often, though, families earning slightly more still do not have the means to perform even the most essential home improvements, which are especially costly on the Island.
"It's there and it's available," said Kathie Case, who also received a housing rehabilitation loan last year. "It doesn't hurt to ask, because all they can say is no."
The Resource accepts applications to the Housing Rehabilitation program year-round. More information is available at theresource.org.