Rev. Robert Hensley grew up on an Illinois poultry farm with 200 head of hogs. "Bacon and eggs," he said.
Illinois is a long way from Martha's Vineyard and Grace Episcopal Church's famous lobster rolls, a summer mainstay. Mr. Hensley has served as rector of Grace Church in Vineyard Haven since 2006 and on Sunday, Dec. 15, he'll celebrate his 30th anniversary of ordination to the priesthood with a special service at 10 a.m. with Rev. Canon Mally Lloyd coming from Boston to help celebrate.
When Mr. Hensley attended seminary 30 years ago in Evanston, Ill., there were so many enrolled that he had to live off-campus. Today, he said, there are too many seminaries and not enough students to fill them.
Mr. Hensley grew up in the Methodist church in a family where missing a Sunday service wasn't an option. But it was on a mission trip to Jamaica after high school graduation, where Mr. Hensley first witnessed what he describes as "absolute poverty," that his faith started to take shape.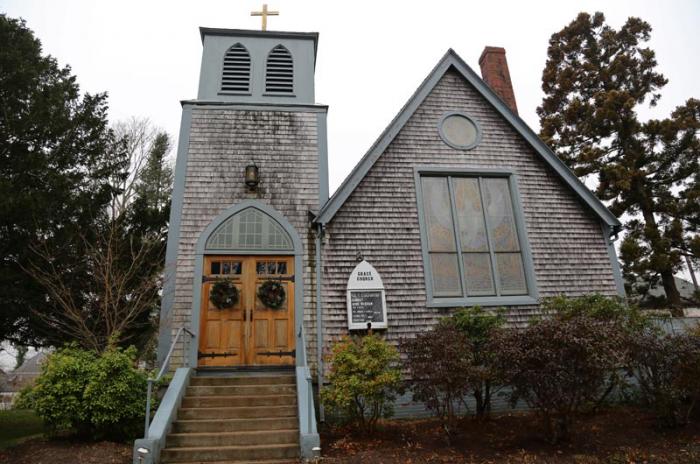 "It was a rude awakening," he said. "I was so impressed with their faith and resilience. Every family had one set of church clothes and they would get them all washed and dried for the next week."
But, like many young people, Mr. Hensley became disillusioned with religion once he left home for college at Western Illinois University. He graduated with a degree in vocal music and then went to graduate school for theatre arts. Eventually, he landed a position teaching at City Colleges in Chicago and a friend invited him to the Episcopal church.
"That is where I had a major conversion experience," he explained. "I felt like I had come home."
Mr. Hensley became what he calls "a sacristy rat," hanging around for services and helping out however he could. After discussions with the rector, he decided he wanted to apply to the seminary.
"It was just past the days of all the turmoil over women's ordination, so I was in that first wave of seminarians in school with women," he said.
Seminary doesn't completely prepare one for life as a pastor, Mr. Hensley said. "It's a place where you show up, shut up and listen — pretty much true for any job you go into." He excelled at liturgy, pastoral care and worship — theology, he said, "not so much." It was through chaplaincy internships and his first assignments as an assistant under a seasoned pastor that Rev. Hensley experienced what he called "on-the-job-training."
His first assignments after ordination were with inner-city ministries in Chicago. His mission trip to Jamaica had served him well.
After his work in the Chicago area, Mr. Hensley moved to Texas where he served as director of client services for the AIDS Interfaith Network. There he designed and implemented a volunteer program made up of more than 350 volunteers from more than 50 congregations. He received a 1991 Volunteer Action Award from President George H.W. Bush for his work.
Just before coming to the Vineyard, Mr. Hensley lived in the Washington, D.C., area where he continued his work with AIDS/HIV programs. He was project assistant and consultant with LTG Associates in Maryland and he served as associate rector and chaplain for Charlie's Place, a social services and bilingual ministry at St. Margaret's Church in Washington. No matter where Mr. Hensley was sent, a recurring theme for him has been helping the marginalized.
"The resounding theme then is the same as it is now — social problems, including the under-housed, homeless issues — they're below the surface [on the Vineyard], but the issues are the same," he said. "There are people here who are unable to budget enough money for winter; these struggles are universal."
He works closely with the Island Clergy Association to provide assistance to individuals and families on the Island who struggle with the high cost of living on the Vineyard. "It's a small collegial group of clergy and we keep each other grounded with Island issues," Mr. Hensley said. "We share common problems and look for solutions."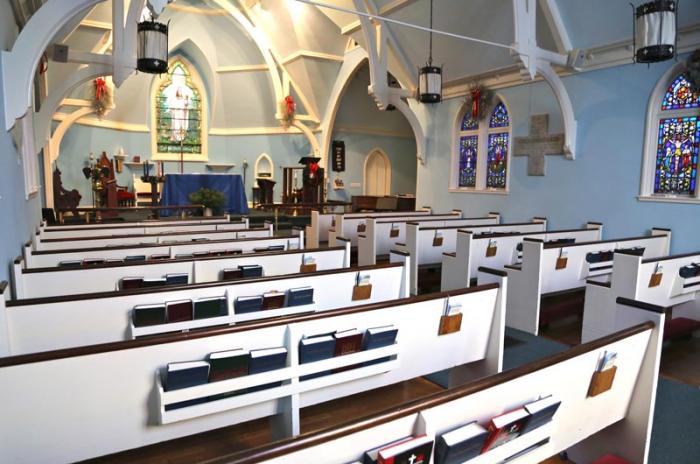 The group works closely with Connie Teixeira, Dukes County associate commissioner for the homeless, who evaluates the needs of the homeless on the Vineyard. There are motels on-Island that offer reduced rates for emergency situations. "There are a lot of single mothers with young children needing help and there are no social service agencies here, they're all on the Cape. You have to leave the Island for long-term help," Mr. Hensley said.
Grace Church provides much support for community outreach, but is perhaps best known for its Friday night lobster rolls served during the summer. Vacationers have been known to call from their cellphones on the ferry ride over to place their order.
"We have sold between 15,000 and 20,000 every year for the last eight years, so I think it safe to say we have seen over 100,000, easy, go out of here during my tenure. And yes, I do like lobster rolls," he admitted.
The money raised from the lobster rolls accounts for about 20 per cent of the church's budget and provides most of the financial support for Grace Church's community outreach.
Besides the social issues that remain challenging, Mr. Hensley has the added conundrum of keeping a church building over a hundred years old in good condition. Drive down Woodlawn avenue today and one finds workmen busy refurbishing the parish hall and the kitchen, repairing the stained glass windows and replacing the bell tower. Grace Church is in the middle of a capital project that is a few years in the making. The congregation stepped up to the task and will soon be able to see their contributions come to fruition. The church buildings and the rectory needed substantial work, including furnace and septic repairs. There are even plans to paint the weathered-shingled church white.
Recently Mr. Hensley took some sabbatical time to visit Israel and Palestine, a trip, he said, that helped him decide how he will spend the next few years now that he has reached retirement age.
"Wherever I went in Israel and Palestine the message was to keep on with what you are doing," he said. "I will be here to see the renovations through and I would not leave them unfinished. I'll be here for a while, as much as anyone can be in one place."
Mr. Hensley's parents struggle with health issues back home and his sisters could use his help, he said. His visits to the midwest can't take place in the summer due to the busy schedule at Grace Church but he and his husband Michael Helgert travel to Illinois as often as possible.
"Michael is retired from the Air Force so he is more available to help out," Mr. Hensley said.
The couple's marriage in 2007 came about in a unique way. They were moving to the Vineyard from Silver Spring, Md., to accept the position at Grace Church and it was the first time Mr. Hensley would be living in a rectory. His assistant bishop asked if they would be willing to marry since the church doesn't allow for clergy with a partner to reside in church housing without being married. The decision was not difficult for the longtime couple to make and they wed at the Unitarian Universalist Church in Vineyard Haven with a handful of guests in attendance. This year for the first time, Mr. Hensley said, they can file a joint federal income tax return.
Inclusiveness is a hallmark of Grace Church's mission and Mr. Hensley said he hopes members of the Island community take an opportunity to visit the church.
"I hope people would feel welcome to come here knowing they won't be forced to believe a certain way," he said. "We don't check for membership cards and it doesn't matter where you're coming from or where you're going or how many times you've been born. Everyone is welcome."
The parish hall at Grace Church will be in the middle of construction on Christmas Day, so the First Baptist Church in Vineyard Haven will host the noon dinner. The meal is Mr. Hensley's favorite Christmas tradition.
"That may sound odd, but it has been a part of the tradition at every parish or service agency I have served over the last 30 years."