The power company NStar resumed an herbicide spraying program last month, reigniting a debate about threats to the environment.
NStar began spraying again on the Cape and Vineyard on Nov. 18 after receiving approval for its 2013 yearly operational plan from the state Department of Agricultural Resources. NStar spokesmen said they plan to continue selective application of herbicides in 2014. The action ends a four-year moratorium on spraying, which the company voluntarily imposed in 2009.
Toward the end of November, herbicides approved by the state for use in environmentally-sensitive areas were applied to vegetation along some of the right-of-way territories the company maintains beneath power lines in Oak Bluffs and Tisbury.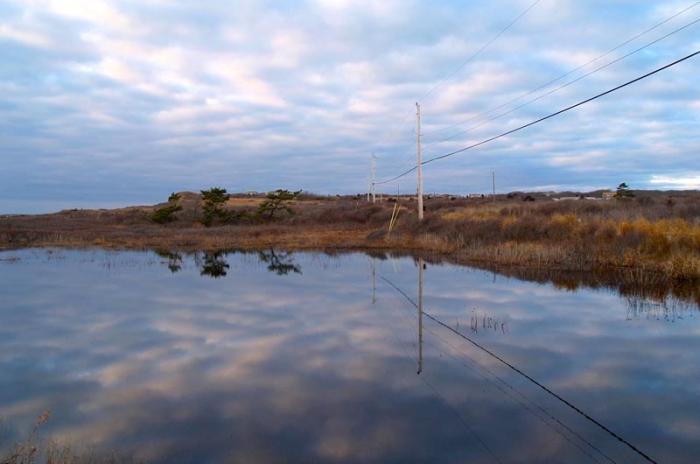 NStar's actions and the state's approval of the plan have drawn concern from Cape and Island residents who fear that the chemicals approved for use may be harmful to the environment, especially in private wells, ponds and streams.
On Tuesday an NStar arborist will appear at the Tisbury board of health meeting to discuss the integrated vegetation management program.
During a 90-day extended public comment period, the state agency received more than 500 public comment letters on the issue of herbicide use.
A spokesman for the state Department of Agricultural Resources declined repeated requests from the Gazette for a telephone interview this week.
"MDAR reviewed the comments to determine if there were any that demonstrated NStar's plan was not compliant with the requirements set forth," spokesman Mary-Leah Assad wrote in email. She would not provide information about the content of the comments, which are only accepted in hard copy, via mail.
Some of the letters were submitted by affiliates of Green Cape, a regional nonprofit which is involved in a campaign to pressure NStar to return to mechanical control of vegetation under power lines. Like Islanders, Cape residents are served by a single source aquifer, which Green Cape says is threatened by the use of herbicides.
Last week, 30 parties affiliated with Green Cape took formal action to appeal the department of agriculture's approval of the 2013 plan, but said they have not yet heard back from the agency. In the interim, the agency is expected to consider the various complaints filed.
NStar maintains that the use of herbicides is essential to their vegetation management plan.
"Our integrative vegetation management program has proven time and again to be the most effective way to maintain electric service reliability and promote self-sustaining low-growing meadowlands," said spokesman Michael Durand.
The plan outlines a multi-part management system, which includes mechanical controls, such as hand cutting, trimming and mowing and chemical controls.
When undesirable vegetation is controlled in this way, over time, less and less human intervention is necessary, Mr. Durand said.
The plan explains that controlling vegetation using mechanical methods is a short-term solution and can increase the density of the vegetation. In the four years where chemical spraying was not practiced, plants have grown much higher than what would have been desirable, Mr. Durand said.
Chemical spraying in Oak Bluffs, Tisbury and Edgartown is also included in the company's 2014 yearly operational plan, which is currently under review by state agriculture officials, but Mr. Durand said the Vineyard schedule was not yet set.
"It is possible that once we do finalize our schedule, we may or may not be in those towns," he said.
The moratorium, self-imposed by the company in 2009, allowed the Cape Cod Commission to map private wells on the Cape, locations of which were previously unknown to NStar.
"The Cape Cod Commission asked us to hold off so they could look further into the mapping of wells and further research into testing of wells," Mr. Durand said.
But that moratorium expired this year, and now the concerns of residents who abut the right of ways have surfaced again.
"Our health is at risk," said Tisbury resident Jaime Hamlin. "You can't tell me that it's not toxic to our groundwater . . . if it's killing conifers, it's also going to get [in] your groundwater."
James Kozak, a Tisbury resident who owns the Martha's Vineyard Honey Company, has joined Green Cape to speak out against NStar's use of herbicides on the Vineyard. He lives on Vincent's Way and keeps more than 80 beehives. He's concerned about the effect of the herbicides on the drinking water he uses from a nearby well, which is located close to Lake Tashmoo, as well as the potential threat to his bees.
"This isn't vegetation management, this is poison spraying," Mr. Kozak said. "I don't think anyone could look at this and not call it poison spraying because it is poisonous to those trees."
He worries that his bees will mistake the glue-like herbicide for nectar and bring it back with them to the hives, eventually compromising the central nervous system and reproductive capabilities of the queen.
While the active ingredients in the tank mixes may be registered with the EPA, Mr. Kozak said little is known about the vast majority of these substances. He said there is not enough research to prove that the inactive or "other" ingredients in herbicides are not harmful.
"When NStar says that this is perfectly harmless when applied properly, maybe the one per cent is, but there is so much that is unknown that people would be fooling themselves to believe what they are told," he said.
Sue Phelan, executive director of Green Cape, goes further to question the safety of even the active ingredients in the herbicides deemed appropriate for environmentally sensitive areas. She said when many of the chemicals were registered with the Environmental Protection Agency decades ago, very few studies had been conducted to assess their environmental impact.
She speculates that NStar may be resuming chemical spraying to increase profits, a presumption shared by Cape and Islands state Sen. Daniel Wolf, who published an opinion piece denouncing NStar's practices in the Cape Cod Times last week.
"While the company has never released a cost analysis of spraying compared to other methods (despite numerous requests), it's likely they are convinced that spraying is the cheapest alternative," Mr. Wolf wrote. He criticized the company for ignoring the concerns of Cape community officials and residents who have opposed spraying in their towns.
Ms. Phelan said many other Islanders had reached out to her with their own concerns. "It seems to me that people were getting more informed and not happy with the way things were going," she said. But she warned that the issue has a steep learning curve, due to all the state and federal regulations involved.
Meanwhile, the department of agriculture is accepting public comment about NStar's 2014 yearly operational plan for the Cape and Islands. Comments can be mailed to commissioner Greg Watson at the Massachusetts Department of Agricultural Resources, 251 Causeway Street, Suite 500 Boston, MA 02114-2151. Comments must be received by Jan. 5.