A planned bowling alley and restaurant in Oak Bluffs was unanimously approved with conditions Thursday night by the Martha's Vineyard Commission.
Reid (Sam) Dunn's Cottage City Bowling now goes to the town where it needs approvals at the local level.
The architect wants to redevelop four lots on Uncas avenue into a 13,500-square-foot building with 10 bowling lanes, a 44-seat restaurant, 18-seat bar, game room and event room. Two affordable apartments and a 32-car parking lot are also planned.
The plan has been the focus of much discussion in town and at the commission, which received a large volume of letters from people both for and against the project. Noise, intrusion on a residential neighborhood and the plan to have a full bar were all points of concern.
Mr. Dunn has agreed to keep noise levels down by keeping to a 62-decibel sound limit, and he will install an advanced de-nitrification system for wastewater. He said the business will generally be open daily year-round, and last call for food, alcohol and bowling will be 10:30 p.m. Sunday through Thursday and 11:30 p.m. on Friday and Saturday. The closing time will be set by the Oak Bluffs selectmen.
The issue of full-service bar versus beer and wine was raised during public hearings and again during deliberations on Thursday, but in the end the commission decided it is a matter for the town to decide.
"We have not actually been presented with any studies, statistics or information to demonstrate that people are more rowdy after drinking hard drinks than they are after drinking large quantities of beer," said commissioner Linda Sibley, adding that the issue was "clearly the responsibility of the town."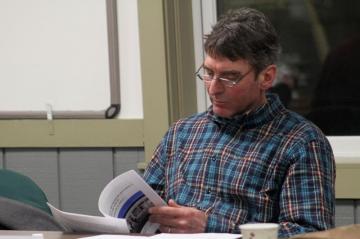 Commissioners said the benefits of the project outweighed the detriments, and acknowledged concerns from the residents who live in the surrounding neighborhood. Commission chairman Fred Hancock said the benefits included improving derelict buildings and providing year-round recreation.
"A model project," said commissioner John Breckenridge.
Mrs. Sibley said the commission's review of the project as a development of regional impact is a balancing act that tips toward the town when it comes to mitigation. "This is the kind of thing that comes before us where the benefits are regional and the detriments are local," she said. "Our job is to weigh the benefits versus the detriments, but also the job of mitigating the local issues lies largely with the town, and they seem to have many powers to deal with this."
Nine commissioners voted in favor of the project: Clarence A. (Trip) Barnes 3rd, John Breckenridge, Christina Brown, Madeline Fisher, Josh Goldstein, Fred Hancock, Joan Malkin, Kathy Newman and Linda Sibley. Commissioner Doug Sederholm recused himself, and commissioners W. Karl McLaurin, Brian Smith and Jim Vercruysse were at the meeting but ineligible to vote because they missed public hearings.