A Menemsha-based business will fill one of several vacancies on Circuit avenue with a hybrid coffeehouse and bar, to open in May.
Beetlebung owners Renee and John Molinari, the newest holders of a seasonal all-alcohol license in Oak Bluffs, plan to cater to a different audience than the typical bar.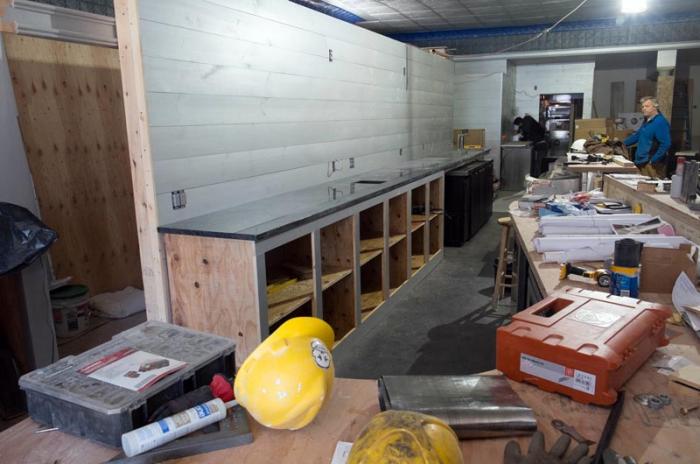 "We are hearing from residents that Oak Bluffs is missing what people are referring to as an adult oasis," said owner Renee Molinari by phone Wednesday. "The lounge is going to offer that."
The space, which formerly housed Deon's Restaurant and has been extensively renovated, will double as a coffeehouse and retail store during daylight hours.
The cafe will open at 7 a.m., serving espresso drinks, smoothies and iced tea. At 5 p.m., the lights will shift, signaling the opening of the evening lounge. The business will also serve as a retail space.
"We have been looking for a way to expand into the evening, but as a coffeehouse, that is hard to do," Mrs. Molinari said.
To make it happen, they'll employ an evening chef and mixologist. The new menu will feature cocktails like the Speakeasy Coffee Milk, the A&P and the Thai Blackberry Lemonade, and small plates prepared by chef Jerry Marano.
The building, which has high ceilings and wood floors, historically housed the A&P Grocery Company and Papa's Pizza.
The Beetlebung coffeehouse opened in Vineyard Haven in 2005, but moved to Menemsha to join the retail store when that lease expired two years ago.
Mrs. Molinari said she and her husband fell in love with the upper section of Circuit avenue when they first acquired the property one and a half years ago. "We thought it was an ideal location," she said.
Mrs. Molinari said Beetlebung was chosen as a name for the business about nine years ago because it's fun to say.
"We hear people walking by our sign and saying it out loud," she said.