Edgartown voters who gathered Tuesday night for the annual town meeting easily approved all but one spending measure, focusing debate instead on whether new fertilizer regulations should apply to farmers and whether the town clerk should be appointed or elected.
Just three hours after moderator Philip J. Norton Jr. convened a brief special town meeting in advance of the annual meeting, voters had approved a $30.7 million operating budget and agreed to spend Community Preservation Act funds for a range of projects, including $350,000 to renovate the interior of the town hall.
The lone item rejected on the 66-article warrant was a request by the affordable housing committee for $250,000 for a housing project on Meshacket Road, which had received $250,000 last year from the town. The 86-68 no vote came at the urging of Jim Athearn, who said the housing group had not presented a plan that preserved open space, nor sought adequate public input as required by the town.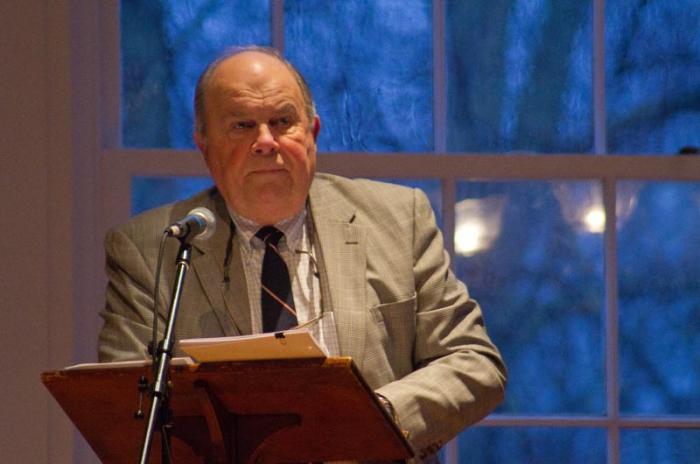 Several articles of regional interest were approved without debate: an appropriation of $27,765 to support the community education program ACE-MV and $149,704 in funds to help relocate the Gay Head Light, in imminent danger from erosion. In addition, voters agreed to give $50,000 to Martha's Vineyard Little League for a baseball field in Oak Bluffs.
A proposed Islandwide fertilizer regulation that is on the agenda in all six Island towns also won approval, but only after selectman Michael Donaroma successfully amended it to remove an exemption for agriculture and horticulture.
"I think this article is a great article. I just don't feel agricultural and horticultural people like myself should be exempt from it," said Mr. Donaroma, who owns a gardening and landscaping business. "I think this town could lead on this," he said. Since the rules are part of a pending Islandwide district of critical planning concern, the effect of the amendment was not immediately clear.
Held in the Old Whaling Church, Edgartown's annual gathering of voters is steeped in tradition. The evening opened with a Boy Scout color guard and poet laureate Steve Ewing reading a poem he composed for the occasion called Town Memories, which called up images of town characters past and present. The reading drew laughs and applause.
For many of the 190 voters who attended, it was the first chance to see the Whaling Church fully decorated with trompe l'oeil murals painted by artist Margot Datz. The centerpiece of the project, the mural on the front wall, was unveiled last year, but the final three walls of murals have just been completed.
The meeting got off to a lively start with the first item of business, whether to change the position of town clerk from an elected to an appointed office. Wanda Williams, who has been town clerk for 27 years, spoke in favor of the
change, which must be approved by the state legislature before it takes effect.
"If you let someone come into the office with no knowledge of what goes on there, then they aren't going to know what to do," she said.
After several residents questioned whether the change would take power away from the voters, selectman Arthur Smadbeck said the main goal of the change was to ensure the town had qualified people in the future to do an increasingly complex job.
"We did this to open up a wider pool of possible candidates that would have the necessary knowledge," he said. "When Wanda retires, if there is no one in Edgartown who can do the job, we're really stuck, because only Edgartown residents can run."
Voters agreed 83-66 to make the position appointed.
Mr. Norton took voters quickly through the town budget, up about three per cent over last year, which was approved with little discussion. Although the town finance committee had recommended the town not approve its $384,000 assessment from the Martha's Vineyard Commission, the item sailed through with no discussion.
Voters also approved a long list of capital improvements, many of which will be funded by Community Preservation Act money. The town approved spending $400,000 in free cash to rebuild and resurface various streets, $150,000 to repair sidewalks, bike paths and storm draining systems, $85,000 to build an adult workout space at the Robinson Road recreation area and $20,000 to maintain and "bird-proof" Memorial Wharf. Asked if the sign would be spruced up, harbor master Charles Blair nodded affirmatively. "Spruced," he said.
The $350,000 in interior improvements to town hall includes restoration of a plaster relief created by sculptor Enid Yandell, which formerly hung in the Old Edgartown School.
A series of zoning changes, including one that would allow a marijuana dispensary to apply for a special permit in the B-II Upper Main street district, were approved by the necessary two-thirds majority.
Discussion of the fertilizer regulations occupied a significant portion of the meeting. Edgartown health agent Matt Poole, who was part of an Islandwide working group that drafted the regulations, said the Vineyard has a narrow window under legislation sponsored by Sen. Dan Wolf and Rep. Timothy Madden to enact regulations that are stricter than those the state is likely to promulgate.
The regulations "take the Vineyard environmental situation into account," Mr. Poole said. "It think it's important to address this before it is a crisis. All the environmental indicators are trending in the wrong direction. This is an opportunity to get ahead of something."
After Edgartown real estate agent James Joyce said he was disappointed that the regulations did not cover farmers, Mr. Donaroma offered an amendment that would eliminate an exemption for horticulture and agriculture, noting that nitrogen from farming is a far larger source of pond pollution than landscaping.
"I've mentioned my concern about this many times, at an all-Island selectmen's meeting and I've talked to Matt Poole about it," he said. "It keeps getting dropped, dropped, dropped."
Mr. Athearn, who owns Morning Glory Farm, countered that the regulations were carefully crafted to address turf, not food production, and that agricultural regulations could be considered later. "People who grow food using this kind of fertilizer may not be ready to switch over without a gradual process," he said.
After Mr. Donaroma's amendment passed 70-51, the proposed regulations were approved 150-1.