She has served as auxiliary vessel and consort to the Charles W. Morgan since the whaler began her sea trials off New London a few weeks ago, and though she hasn't gotten the press the Charles W. Morgan has earned, the fishing vessel Roann can claim as deep a Vineyard pedigree. It is altogether fitting that the two vessels should have arrived together in Vineyard Haven on Tuesday afternoon. Like the Morgan, Roann serves as a waterfront exhibit at Mystic Seaport, saved by the museum because she represents the type of vessel that led from the Gloucester fishing schooner to the modern-day trawler. Known as an eastern-rig dragger, Roann was designed by Albert E. Condon of the Pierce and Colburn Shipyard in Fairhaven.
Unlike the schooners before them, eastern-rig vessels had engines and fished with nets rather than sending out men in dories to fish by hook and line. These advances reduced the need for a large crew. The pilothouse on an eastern rigger was set aft to protect them from rough seas, and they raised and lowered their nets from the side. Western-rig fishing boats, which came later, kept the pilothouse forward and worked their nets from the stern.
Newbert and Wallace, a yard with long experience in the rig at Thomaston, Me., built Roann in 1947 for Roy M. Campbell of Vineyard Haven, who dragged with her for haddock, flounder and cod for many years. Two other fishermen on the mainland owned her before Mystic Seaport acquired the vessel in 1997. Roann was rebuilt in 2008, and she is among the first vessels visitors see when they arrive at Mystic Seaport.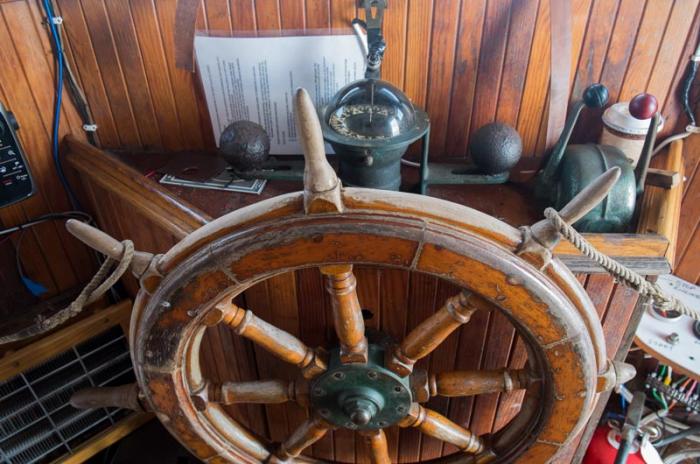 On Tuesday, as the Morgan made her maiden voyage to the Vineyard, Roann rocked merrily alongside her with a crew of eight officers and volunteers who have looked after her at the seaport. She carried fenders, paint, tools and other gear that the Morgan might need as she cruises from Newport to Boston and back this summer. Along with Sirius and Thuban, tugs owned by Tisbury Towing and Transportation, Roann is one of three Vineyard vessels attending to the Morgan on her valedictory 38th cruise.
Before departing with the whaler early Tuesday morning, Walt Ansel, the mate, said that Roann had been running beautifully since the voyage began. "The boat handles like a dream," he said. "She turns very easily and she'll steam at eight knots and doesn't burn much fuel. Got a wonderful roll to her. Very, very comfortable."
Though the Morgan is plainly the star of this cruise, Mr. Ansel said that Roann attracts attention all on her own. On the voyage down Vineyard Sound, the fishing boat Little Lady of Menemsha, owned by Dennis Jason Jr. of Menemsha, fell alongside Roann and the two traditional fishing boats rocked their way on a following sea toward West Chop, with cameras on other boats trained on both all the way.
"We expect quite a bit of interest when we get there," said Richard Burke, a Mystic volunteer who has worked aboard Roann for years. "We hope we can live up to it."