Flags were hung and picnics prepared, but many Fourth of July festivities, including the centerpiece Edgartown parade and fireworks, had been postponed by a day as the first hurricane of the season approached the northeast.
Hurricane Arthur, a category one storm that was off the North Carolina coast on Thursday, was expected to pass about 71 miles from the most southern part of Edgartown, according to a Thursday evening press release from Dukes County emergency manager Chuck Cotnoir. He said the hurricane was expected to pass the southernmost part of Dukes County at about 9 p.m. on Friday.
Mr. Cotnoir said windspeeds on Martha's Vineyard are forecasted to be 25 miles per hour to 35 miles per hour.
If the storm stays on its projected course it will bring heavy rain and high seas to the region beginning Friday afternoon and extending into early Saturday. The Vineyard was expected to receive between two and four inches of rain as the storm moves past.
In light of the forecast, the annual Edgartown Fourth of July parade and fireworks show were both postponed to Saturday. The parade will begin at 5 p.m. Fireworks start at dusk.
The town barbecue, hosted by the Martha's Vineyard Preservation Trust at the Dr. Daniel Fisher House, was also rescheduled to Saturday.
The decision to reschedule the events was reached Wednesday morning after a meeting of Edgartown officials and parade grand marshal Joseph E. Sollitto Jr.
"[The forecast] looks much, much better for Saturday than it did for Friday, so I think by doing it early people have a chance to prepare," Edgartown fire chief Peter Shemeth said Thursday. "It was good having the whole group sit down and discuss it."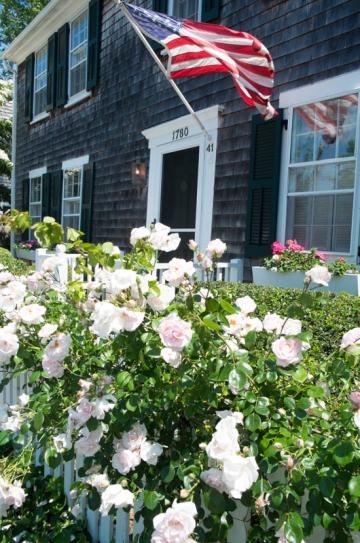 "We decided that it was not right for fireworks," Mr. Sollitto said. "And we didn't want people coming with their floats and having their nice cars out there in bad weather."
He said that in more than 40 years of being in the parade he had never seen it postponed. It was, however, completely called off once about 20 years ago because of rain.
"It was cancelled at four o'clock the day of," Mr. Sollitto said. "Col. [Ted] Morgan and I were talking about that." Mr. Morgan was grand marshal of the parade for 43 years before stepping down in 2013 and handing the baton to Mr. Sollitto.
The date change means that the Bay State Band and the Colonial Navy of Massachusetts Band will not be able to participate, as both groups had previous Saturday commitments.
"It's too bad, but that's what happens," Mr. Sollitto said. The Vineyard Haven Band will still perform, he said, as will the Sutherland Pipe Band. The pipe band marches with the Martha's Vineyard Scottish Society.
The Old South Road Association's annual children's parade in Aquinnah was also rescheduled to July 5. Aquinnah police chief Randhi Belhain said in an email that the parade will begin at 11 a.m. on Saturday.
At press time, one parade was still set to step off as scheduled. Martha's Vineyard Camp Meeting Association's parade is planned for 10 a.m. today. Association receptionist Linda Mazzotta said that any changes would be posted to the group's Facebook page.
In Edgartown, a potential problem surfaced regarding when fireworks could be set off.
"Fortunately, everyone else is dealing with the same issues, so the state fire marshal has extended the permits," Chief Shemeth said. He said he considered waiting until Saturday to bring the fireworks over to the Vineyard but ultimately decided to keep to the original plan — and original Friday ferry reservation.
"I would much rather have them here and know that they're here just in case the boats are delayed or they can't get a reservation," he said.
Once the fireworks are here they will be stored at a secure location before being loaded onto a barge in Tisbury and brought to Edgartown.
"We'll just do our regular routine," Chief Shemeth said.
In another storm-related matter, it was announced late Thursday that East Chop Drive in Oak Bluffs will be closed from 6 p.m. Friday to noon on Saturday. Highway superintendent Richard Combra Jr. said the closure is a precaution in anticipation of heavy rainfall. The road is already restricted to one lane due to erosion along the bluff.