Veterans of every American war since World War II, along with members of the Coast Guard, local police departments and other groups, marched in the annual Veterans Day Parade in Oak Bluffs on Tuesday.
A group of about 50 people, including about 20 veterans in uniform, gathered at Nancy's Restaurant on an otherwise quiet morning on Oak Bluffs Harbor. An overcast sky eventually gave way to patches of blue behind the clouds.
Martin V. (Skip) Tomassian, a Viet Nam War veteran who lives in Edgartown, said the strong turnout this year was likely due to the weather. "It's usually rainy, cold, wind whipping off the water, miserable," he said. "Today's a good day. That's why I think they have a lot of people here."
Viet Nam-era veteran Herbert Combra agreed. "This is one of the nicer days," he said.
At around 10:45 a.m., U.S. Army veteran Michael Blake mustered the parade group and kept time during the short march to Ocean Park. Mr. Blake returned to the Vineyard last year from his 16-year service in the U.S. Army, including four tours in Iraq. He now works in the county sheriff's department.
Along the way, adults and kids gathered at the sides of the road holding flags and applauding.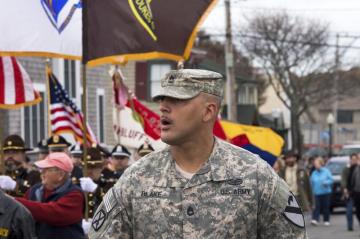 Coast Guard members Amanda Haverkamp and Rupica Singh led the parade, each carrying an American flag. They were followed by the veterans, members of the Dukes County Sheriff's Department, police officers from Oak Bluffs, Edgartown and Tisbury, Boy Scout Troop 93 and Cub Scout Pack 93. Each group carried its own flags.
A large crowd was gathered at Ocean Park, where the procession stopped, facing the memorial to the two World Wars. Behind them, the statue on the the Civil War memorial looked out to sea. Onlookers surrounded the marchers, who stood in the street facing the empty park.
This was the fourth year in a row that Oak Bluffs was recognized as a Veterans Day Regional Site by the federal Department of Veterans Affairs. Parade organizer Peter Herrmann offered some welcoming words, and Emily Hewson sang the National Anthem.
Dukes County veterans' service officer Jo Ann Murphy read a letter from Secretary of Veterans Affairs Robert A. McDonald, who offered special thanks to the organizers of events at regional sites nationwide.
"We know we can rely on you to continue being an example of how all Americans should honor those who have defended our everyday freedoms," the letter read. "Not only do we support and applaud your efforts, we hope you realize the importance of your voice."
Ms. Murphy was further recognized as veterans' services officer of the year in Massachusetts.
The tradition of laying a wreath at the World War memorial was continued this year by Kristen Pucino and her son Aiden. Ms. Pucino's cousin, staff Sgt. Matthew Pucino, was killed in action in Afghanistan. Following the wreath laying, Viet Nam veteran Conrad Kurth and Iraq veteran Randy Dull fired three shots above the park.
Ms. Hewson closed the ceremony by singing of Amazing Grace, and the parade headed back to Nancy's, with Mr. Blake walking alongside and keeping time.
Photo gallery: Short Parade, Lots of Thanks for Veterans