Balls rolling, pins toppling, signs aglow and custom shoes. These are a few of Daniel Cassidy's favorite things.
Mr. Cassidy's earliest memories of bowling date back to when he was three years old and rolled balls down lanes in Norwood. As a student at the regional high school in the 1990s, Mr. Cassidy spent weekends with his buddies at Spinnaker Lanes in Vineyard Haven before it closed.
"I love bowling," he said. "I'm really into it."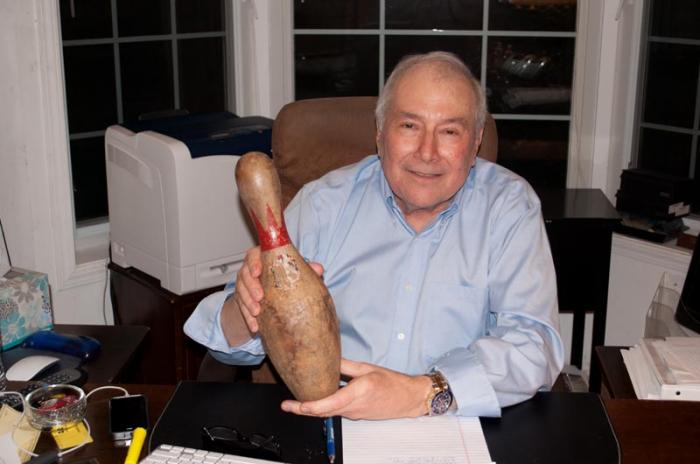 It's been some years since the Vineyard had a bowling alley, and Mr. Cassidy is one of many Islanders eagerly anticipating the opening of The Barn, Bowl and Bistro, a new bowling alley, bar and restaurant on Uncas avenue in Oak Bluffs. The lanes are scheduled to open in March. Mr. Cassidy and others are practicing their forms and organizing teams.
Once the bowling alley was approved, "The first thing I did was I went online and looked up custom bowling balls," Mr. Cassidy said. "I haven't bought one yet but I have it preordered. I have to find a proshop to make the custom finger holes."
Then he started thinking of a team.
"A lot of people want to form teams," he said. Mr. Cassidy, an Oak Bluffs police officer, said there is a lot of hype inside the police station about the new bowling center, including talk of a department team. But he isn't sure he's sold on that idea. "I also want to bowl with my dad . . . and I want to get my stepson involved," he said.
"I just can't wait until there's a place to do this on the Island," he said.
The two-story, 13,500-square-foot barn complex includes 10 lanes for 10-pin bowling, a 62-seat restaurant and bar, a ping pong area, private function rooms and two indoor golf simulators. The building also will house two affordable apartments. The owners are Robert Sawyer, a real estate consultant and broker, Barry Reeves, the landowner, and architect Reid (Sam) Dunn, who developed the project. The Martha's Vineyard Commission approved the project early this year.
Walls and windows went up in October and a galvanized metal roof was added this week. Vertical siding and wood shingles will complete the outside barn design, which includes two old barn doors from the yellow building that used to occupy the property.
A logo is in the works and a website where people will be able to make online reservations will be up and running sometime early next year.
"We are right on schedule," Mr. Sawyer said this week. "This community has been screaming loud for a bowling center and we're excited for what's coming.
Mr. Sawyer said he and his business partners had a lot of fun doing research for the bowling center. Part of that included trips off-Island to visit other bowling establishments.
"We realized that the old bowling alleys we remember as kids aren't happening anymore. Now there are bowling centers, places to eat and drink and participate in action," he said.
Burgers, fries, chowder, lobster rolls, salads, soups, sandwiches, fried chicken and pizza are some of the menu items planned. The restaurant will offer a full bar, but last call will be earlier than bar closing on Circuit avenue. "If someone is looking to have a beer at midnight, this isn't the place," Mr. Sawyer said.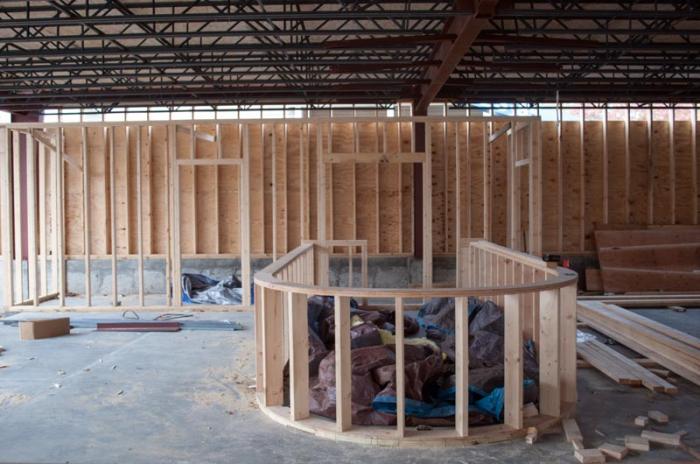 But the most anticipated element is the bowling league.
"I can't tell you how many times someone has told me they're starting a team," Mr. Sawyer said. "There are insurance agencies starting teams to play other insurance agencies on the Island . . . There are a lot of retirees who used to work at the schools who are talking about forming a team. There are so many different people interested in getting together to bowl, it's unbelievable."
Complete details are not final, but the Martha's Vineyard Bowling League will premiere in the fall of 2015, he said. Bob Tankard has been named the first Martha's Vineyard bowling commissioner. "He'll be known as the Roger Goodell of bowling for the Island," Mr. Sawyer said. "I don't know anyone more suited for that role."
But no one has to join a league to go bowling.
"We think this is going to change downtown Oak Bluffs," said Mr. Sawyer. "It'll be an economic engine for the town. The end of Circuit avenue will become a lot more active, I predict . . . and a lot more fun."