Vineyarders joined countless others this week in mourning the loss of Mike Nichols, the noted film director who died Wednesday in Manhattan at the age of 83. The cause was cardiac arrest. Mr. Nichols and his wife, broadcast journalist Diane Sawyer, were longtime seasonal residents of Vineyard Haven. They were married in 1988 at the Federated Church in Edgartown.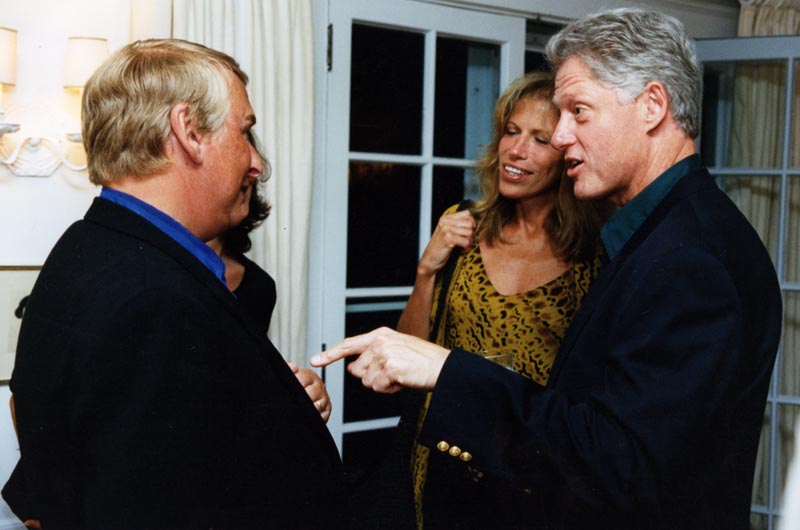 Perhaps best known as the Oscar-winning director of the 1967 film, The Graduate, Mr. Nichols began his career as a comic and went on to win Broadway's highest accolades as well as broad acclaim for his work in film and on television. His life and career were chronicled at length in obituaries carried by The New York Times and other publications.
Long active in the Vineyard arts community, Mr. Nichols and Ms. Sawyer bought Chip Chop, the Vineyard Haven home once owned by another Vineyard legend, the actress Katharine Cornell, in 1995. Mr. Nichols began coming to the Vineyard in the 1960s. "I remember that first summer he came," said Rose Styron, who was a longtime friend along with her husband the late William Styron. "We played a lot of games together. Word games. We walked and talked endlessly. I was so sad when I heard the news," she said.
"It's a great loss, he was a great friend and an extraordinary human being," said Jules Feiffer, the cartoonist and playwright who is a longtime summer resident of the Vineyard. "He was one of my oldest friends, and now gone, as seems to be happening the last few years. He gave a lot to me and to the world in general. It's a loss I'm going to mourn for a long, long time," Mr. Feiffer said by telephone Thursday.
For Mr. Nichols, the feeling was mutual. In 2010 at a benefit for Mr. Feiffer on a Broadway stage in New York, Mr. Nichols spoke movingly about Mr. Feiffer, calling him his oldest friend. "Talking about my love for Jules is as awkward as talking about my love for my wife, my children, my dog," he said at the time.
Speaking from her home in Vineyard Haven, singer-songwriter Carly Simon echoed the deep expressions of loss. "Mike was my closest friend for a long time. He was genuinely one of a kind," Ms. Simon said. "I knew him artistically, I've worked with him on three or four movies. He was always easy to work with, but also a perfectionist."
Ms. Simon did the score for Heartburn (Coming Around Again single), Working Girl (Let the River Run single) and Postcards from the Edge.
"Mike really gave me the greatest gift of my professional life. He inspired me to more than greatness, but to the real goodness inside of me."
When Mr. Nichols and Ms. Sawyer were married, they invited Ms. Simon and her husband at the time Jim Hart, and Rose and Bill Styron to join them in renewing their vows. "The six of us had a triple wedding," Mrs. Styron recalled. "Diane made wreaths of big white flowers for our hair. We all looked gorgeous, and then we went back to Carly's house and had a beautiful reception."
Ms. Simon recalled spending holidays together on the Island. "Mike would often call before a holiday and say, 'I'll see you soon and we'll eat everything,'" she said. She remembered one Thanksgiving when they were all sitting around and deciding what their real names were, the names that lived under their skins, if their souls had names.
But for all his fame, when on the Vineyard Mr. Nichols stayed out of the limelight. Like so many others, he came to unwind and have some down time. He made only occasional appearances, including at the Possible Dreams auction. This fall he made a brief speaking appearance at the Martha's Vineyard Film Center during a special screening of The Graduate.
And the year he bought Chip Chop, he chose to drive the point home about his desire for privacy. In August of 1995, the Gazette ran a story on its front page about the sale of the home and its new owners. That story was followed by a second story about the impact of the $5.3 million sale on the bubbling real estate market. The newspaper also published an editorial to mark the moment. In a crisply worded letter to the editor, Mike Nichols let the Gazette — and the world — know that he'd had enough of the ink.
"What a lesson in irony," he wrote. "You have seen fit to put the purchase of Chip Chop on the front page of two issues and cap it with an editorial in a third. It will seem hilarious when I tell you that I have always cherished the Vineyard, to which I have been coming for 30 years, because of its New England restraint and sense of privacy.
"I suppose I should thank you since, partly because of your efforts, we have in recent days received offers for the property that far exceed what we paid. But we love the Island and look forward to becoming part of its community.
"We even love the Gazette. But if you don't stop yapping about this soon, I will turn the land into a beachfront parking lot and sell the house to Taco Bell. You have been warned."
Bill Eville contributed reporting.