In August, Home & Garden Television named the Vineyard as its Dream Home location for 2015. Construction had already begun on the house at 15 Crocker Drive in Edgartown at the time of the announcement, and it was completed in September. But it still had to be furnished. On Wednesday, representatives from the show conducted a two hour open house for local media.
The house was designed by Island architect Patrick Ahearn, and built by Tim McHugh, a local contractor. Mr. Ahearn also designed a replica home dubbed a "doggy dream home" in the backyard.
The official entry period opens Dec. 29 and runs through Feb. 17. Anyone 21 or older can enter the sweepstakes. The winner of the house also gets a yearlong membership to the Field Club, a 2015 red GMC Acadia Denali and $250,000.
Standing inside the kitchen of the 3,200-square-foot Cape style house, Jack Thomasson, the official house planner for the Home & Garden Television Dream Home, pointed to artwork on the walls surrounding him.
"All of the artwork in this home was sourced locally," he said. In October, the design team, which includes Linda Woodrum, the HGTV Dream Home designer for the past 19 years, toured galleries around the Island to hand-pick the art. But they didn't stop there. In addition to an Alison Shaw photograph that hangs inside the guest bathroom (one of four Shaw photographs hung in the house), there is a murder mystery by Cynthia Riggs arranged on a side table in front of the fireplace in the living room.
There are also bars of soap and jars of bath salts purchased from Rainy Day in Vineyard Haven stocked inside the bathrooms. The kitchen is equipped with a bottle of olive oil from LeRoux at Home, cookbooks from Morning Glory Farm and a couple of growlers of Bad Martha Beer.
The table settings are from Juliska and many furnishings are from Tracker Home Decor in Edgartown. HGTV also hired local filmmakers Dan and Greg Martino, who run Martha's Vineyard Productions, to film the progress of the show, which is set to premiere on Jan. 1.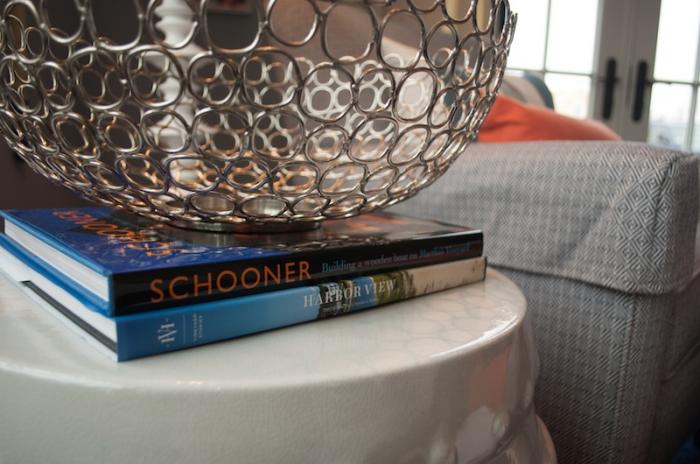 "We like to source locally," Mr. Thomasson said.
"Everything seen today is how the winner will see it," added Gary McCormick, director of corporate marketing and public relations for Scripps Networks, the parent company of HGTV.
"We don't sit on furniture," said Ms. Woodrum. "When a person wins this house, it's new."
"But when we are working on this house and installing furniture, after 10 days, it's hard not to sit down," she added.
According to Mr. Thomasson, the only appliance that's been used "once or twice" was the dryer, to fluff towels for filming.
For more information and to enter the contest, visit hgtv.com/design/hgtv-dream-home.