The January storm that brought near-record snowfall and powerful wind gusts to the Vineyard has toppled a historic stone chimney at Cape Pogue.
Rachel Self took her terrier for a walk around the Cape Pogue elbow late last week and discovered the destruction of the iconic structure, which now lies in pieces on the beach.
The chimney was once attached to a cottage there, where Ms. Self's grandfather, Dr. Edward B. Self, spent summers in the early part of the last century.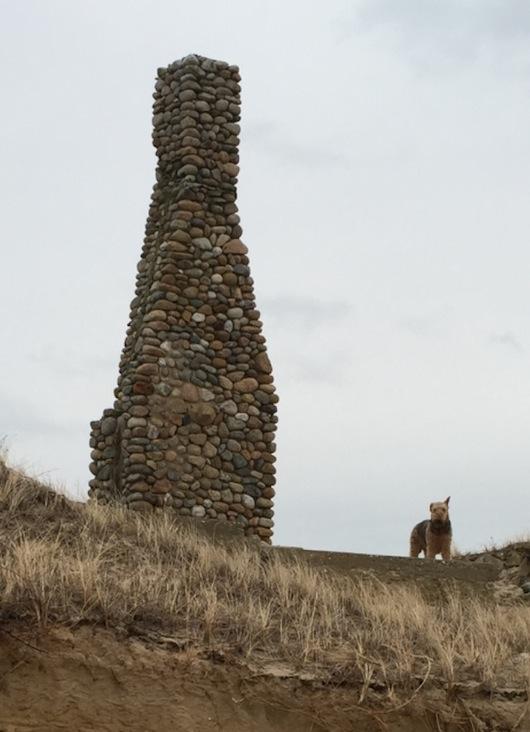 Built in the 1920s, there were two cottages that stood near the outer bank of the elbow, north northwest of where the Cape Pogue Lighthouse stands today.
Over time, the cottages disappeared — one burned down and the other was dismantled — but the pair of beach stone chimneys were left standing because they were thought to help anchor the bluff.
"They left the chimneys intact because they were very close to the edge of the bank, and they felt that if they were taken down, it would destabilize the bank," said Chris Kennedy, Martha's Vineyard superintendent for The Trustees of Reservations, which owns Cape Pogue Wildlife Refuge.
Over the decades the chimneys have become landmarks for mariners, surf fishermen, birders and others who frequent the remote reaches of Cape Pogue by land and by sea.
Now, only one of the stone landmarks survives.
"You'd always say, let's meet by the chimneys, we're going fishing by the chimneys ... now you can't say 'chimneys' anymore," said Ms. Self, who grew up traversing Cape Pogue and now lives there year round.
The chimney, which was about 20 feet tall, stood at the edge of a cliff, exposed to high winds. The remaining chimney still stands several feet away from the bank, though it too will succumb to the forces of nature, Mr. Kennedy said.
"Let's not kid ourselves; eventually it will also fall over," he said.
The Cape Pogue elbow is now inaccessible to Mr. Kennedy and his staff with high snow banks blocking the way. He learned of the chimney's fate from Ms. Self.
"You mix a little bit of snow in with sand and it's almost like mud and you just can't drive through it," Mr. Kennedy said.
Ms. Self, who works as an attorney in Edgartown, Falmouth and Boston, has been commuting by snowmobile.
Fortunately, Mr. Kennedy has not discovered other significant damage to Trustees properties as a result of the storm.
"As far as we can tell, this was the most serious thing that happened during the blizzard," he said, adding that a complete survey of the properties was forthcoming.
Still, the slower forces of erosion are always at work, wreaking particular havoc to the south, at Wasque Point, in recent years.
Though he lamented the loss of the landmark, Mr. Kennedy said change like this is expected at Wasque and Cape Pogue.
"These lands are forever changing," he said. "The structures we build are ephemeral. They are not going to stay there forever."