In a decision that weighed environmental concerns against business interests, the town of Oak Bluffs will allow developers of a new bowling alley to hook up to the town sewer.
Following heated deliberations Thursday afternoon, the wastewater commission voted 2-1 to extend sewer lines to Uncas avenue, a street off Circuit avenue that was not approved for sewering.
"It was always part of our mandate to give preference for commercial applications," said commissioner Robert Iadicicco said. "On that basis, I tend to favor the project."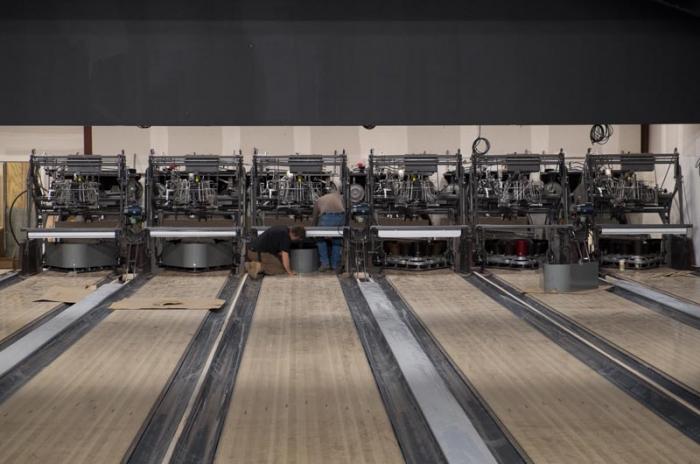 Before casting the dissenting vote, commissioner Gail Barmakian pleaded with her colleagues to reserve sewer capacity for houses in the Lagoon Pond watershed, where excess nitrogen leaching from residential septic systems threatens the health of the pond.
"The landscape has changed," Ms. Barmakian said. "Our priority should not necessarily be hooking up new businesses on unapproved streets."
She said the decision represented an unprecedented departure from wastewater policy that would "open up a can of worms."
The Martha's Vineyard Commission still has to sign off on the change, having approved the project as a development of regional impact with different wastewater conditions. The original plan included advanced de-nitrification treatment, a costly septic system designed to reduce nitrogen discharge. But after developers won approval from the MVC, they went back to the town for the less expensive alternative in the form of a town sewer hook-up.
On Monday this week the commission land use planning subcommittee voted to recommend allowing the change with no new public hearing. The full commission is expected to vote on the matter at its meeting on Thursday this week.
Speaking before the board last Wednesday, bowling alley developer Sam Dunn said sewering the Lagoon was a laudable goal, but questioned the relevance of his project to that effort.
"I don't think this project jeopardizes that plan one whit," he said. "It's just one small drop in the ocean."
In all, the town wastewater plant is set up to treat as much as 370,000 gallons of wastewater per day.
Reserving 3,200 gallons per day for the bowling alley, as well as enough capacity for buildings on approved streets that are not yet hooked up to the sewer, the plant is left with about 38,580 gallons per day in capacity for other projects.
But those calculations rely on the addition of two new effluent beds adjacent to the treatment plant, a project still pending approval. Absent that approval, the town sewer's excess capacity falls to 10,500 gallons.
In testimony that echoed Ms. Barmakian's remarks, Oak Bluffs shellfish committee member Bill Alwardt said the town shouldn't be giving away any excess wastewater capacity.
"I would hope you commissioners would start thinking about the future of the ponds," Mr. Alwardt said. "In my lifetime, I think we are going to lose the Lagoon."
But Mr. Iadicicco said he wasn't convinced that Lagoon residents would opt to sewer, considering the limitations it poses for home expansion.
"I don't see people storming our gates for permission to build and connect," he said.
Ms. Barmakian said soon, homeowners would not have a choice of whether or not to sewer, rather it will be a matter of compliance with studies that have shown that sewering is required to limit nitrogen pollution.
"It's not going to be a choice of whether somebody wants to hook in," she said.
But her fellow board members pointed to a lack of data and cost estimates.
"Quite frankly, I would love to have the capacity with which to sewer the Lagoon and Sengekontacket, and do all of those things, they need to be done, there is no question about it," said commission chairman Hans Von Steiger. "The question is, where do we spend the dollars and where do we get the dollars."
The Barn Bowl & Bistro, is expected to open for business this spring.