Jan Buhrman has long been an ambassador for whole foods, realizing the benefits of eating something found in her own backyard as opposed to food that logs thousands of miles before reaching the table. Ms. Buhrman's catering and culinary business, Kitchen Porch, fills her summers, leaving the off-season for creative collaborations with friend and nutritionist John Bagnulo. Together they have developed workshops and retreats that connect body, mind, spirit and food.
On April 19 through 24, they are offering Finding Your Food Map, a five-day retreat with lectures and hands-on cooking classes. The workshop will also go a step further and asks attendees to consider bringing an overview of their blood work so that Mr. Bagnulo can help direct them to the proper nutrients needed to improve their overall health. By learning what foods affect your body in specific ways, whether it be trans fats that affect cholesterol or processed sugar that impacts blood sugar levels, the knowledge helps each person develop their own food map.
Mr. Bagnulo has a doctorate in nutrition and food science and he says that by taking a look at symptoms like how you feel after you consume a lot of carbohydrates or how you sleep at night, he can help determine what types of foods might help improve your digestion or overall health.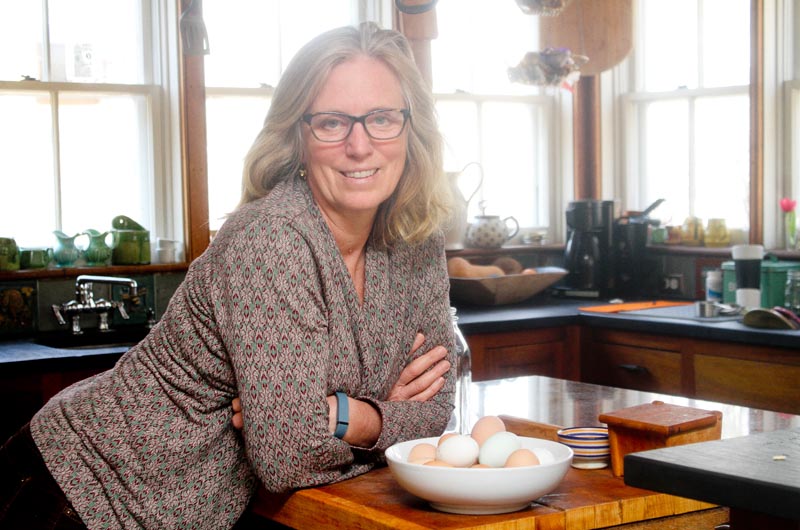 "I look at what has repeatedly and consistently been reported to support and improve your health, whether it's improving your immune system or lowering inflammation," Mr. Bagnulo said. "It's about finding your food biochemical individuality. If people went into a store that sold clothing that was only one size fits all, people wouldn't go back. Yet, most people are used to a diet plan that is one size fits all, and that's just not the way it works."
"It's about balance and finding what works for you," Ms. Buhrman added.
The food cooked and served at Finding Your Food Map will include fresh, farm-raised local meats and poultry as well as garden vegetables. "We don't say eat vegan or eat paleo," Ms. Buhrman said. "It's all about whole foods and why eating organic is important. John explains the science behind it."
Taking time for the details, slowing down to figure out what works and focusing on nutrient-dense foods can make a big difference in the way one feels day to day. And Ms. Buhrman makes the balance seem doable.
"It takes setting yourself up and some planning," she said. "Stop running to the store after work every day. Eat eggs for dinner every once in a while. Try canned wild salmon or mackerel. These foods can be cost effective and full of nutrients."
Getting back to basics and realizing where food comes from can also make a big difference in what you put on your table. When Ms. Buhrman was growing up the dinner portions were not as large as they are today, she said. In part, this could be because she grew up in a family of 10 siblings, but times have also changed.
"Our center was vegetables, potatoes and salad with just a couple slices of meat," Ms. Buhrman said. "And we weren't deprived, in fact we were more likely to fight over the wishbone, not the meat."
Ms. Buhrman and Mr. Bagnulo have developed a website for their latest ventures, diaeta-way.com, and it contains resources from how to participate in a monthly online cleanse to what foods should be in your pantry. Diaeta comes from a Greek word meaning way of life, or covering the earth, the website explains. The goal is to bring life into balance by getting plenty of exercise, eating a variety of plants, working to eliminate stress, buying food grown close to home and incorporating all of the above into a way of life. The Diaeta Way programs don't necessarily offer a diet designed to help people lose weight, although Ms. Buhrman said that can be a natural outcome. There are those who take the workshops and classes more than once and some have made real lifestyle changes.
"We usually have six or eight people in our classes who have been with us before," Ms. Buhrman said. "It's great when they say how much better they feel. They say 'I never knew my aching bones or my headaches could go away.' That's the success that drives me. I love to hear stories like that."
For more information about the Diaeta Way or to sign up for upcoming workshops, visit diaeta-way.com or call 508-645-5000.
Quick Green Soup
1 tablespoon of coconut oil
1 medium onion cut in half and sliced
2 cloves of garlic
4 cups of organic dark leafy greens (such as kale, baby spinach, chard)
2 cups of grass-fed beef broth or organic chicken bone broth (or vegetable broth)
the flesh of 1 ripe avocado
juice from 1/2 of a lemon
2 tablespoons shelled pumpkin seeds (plus extra for topping)
coconut cream
for a little heat add aleppo peppers or cayenne to taste
Heat coconut oil in pan on medium, add onion and sauté for 2 minutes. Then add the garlic and saute for 2 minutes. Add the greens, lemon juice and sea salt. Sauté the greens until just wilted, but still bright green. Place the greens in a Vitamix. Heat the broth in the pan. As soon as the broth is hot, add the broth to the green mixture and blend well. Add avocado and celery into the Vitamix and blend well. Taste and add salt and peppers as needed. Pour the soup into bowls and swirl some coconut milk and top with pumpkin seeds.