Each of the five traditional public school districts on Martha's Vineyard has its own budget, school committee and administrative support. The schools manage their own facilities and operate their own lunch programs.
In short, they all do their own thing.
Right down to the toilet paper.
"No two schools use the same thing," said schools superintendent Dr. James H. Weiss this week. "They come in different sizes, colors and shapes, and they go into different holders in the bathrooms."
The remarks came Wednesday during the first of five stops on a farewell tour Mr. Weiss is giving before the summer, sponsored by the League of Women Voters. After a decade in office, he will retire June 30.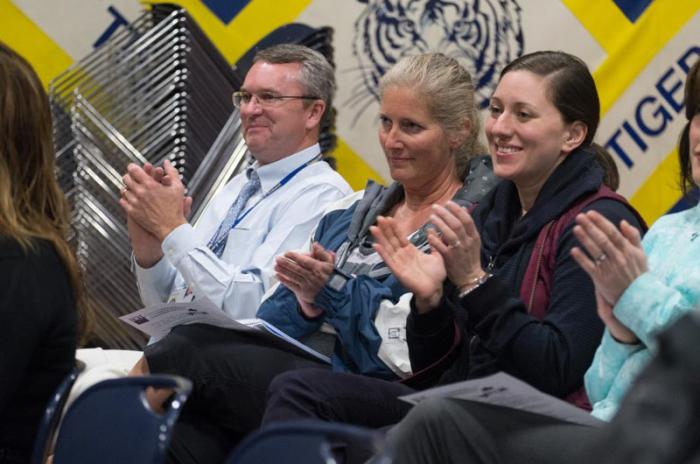 Before he goes, he's delivering a swan song to each of the towns he's served.
On May 7, he will speak to Oak Bluffs residents at 7 p.m. at the Oak Bluffs school cafeteria.
Last Wednesday, he spoke at the Tisbury School gymnasium.
In an hour-long speech to a crowd of 20 community members, Mr. Weiss praised the schools' academic achievements, extracurricular opportunities and ability to accommodate learners of all types.
He also pointed to some deficiencies. For one, he said the school buildings have not been properly maintained and have fallen into disrepair.
The Chilmark School, built in 1999, has already cost the district more than $1 million in repairs."It wasn't built properly, it wasn't maintained properly, and shame on us for not doing that," he said.
He also said there was room for improvement in the area of school safety. Currently, three out of five schools have dedicated police officers, who "help hold our students a little safer," Mr. Weiss said. "I am not advocating a police state, but I am saying that if it can happen in Newtown, Conn., it can happen here," he said.
Later, he added that the foreign language program was outdated. The current program offers French, Spanish, German and Portuguese, but Mr. Weiss said he'd like to see Mandarin and Russian taught in the schools. "The world has broadened and we have not," he said.
Finally, he broached the subject of regionalization, always a controversial topic on the Island, where few services are regionalized and six towns maintain six independent governments.
There are two regional school systems — the regional high school and the up-Island regional school district, which serves Aquinnah, West Tisbury, and Chilmark. The other schools are independent entities.
Mr. Weiss started by acknowledging the barriers to regionalizing the schools.
For one, each school has its own identity and loyal alumni, who have deep-seated personal ties to their alma mater, he said. "There's that community connection that makes it difficult to talk about regionalization," he said. In addition, regionalizing would present a loss of control for the towns and would necessitate compromise.
But Mr. Weiss sees regionalizing the schools as a way to save money and eliminate overhead.
A concrete area of savings, he said, would be bulk purchasing for all five districts.
In rough terms, the schools spend about 80 per cent on people and 20 per cent on "stuff," he said.
"We could save money on that stuff if we all decided to order the same thing, in bulk, and share it," he said.
For example, toilet paper.
During the facilitated conversations that followed, community members discussed the possible benefits of sharing resources between school districts.
Some suggested a move toward regionalizing school library resources and cafeteria food purchasing. Others said regionalizing the curriculum across the Island might resolve inequities between the districts.
When the tour is over, the League will release a report summarizing Islanders' thoughts and opinions on the state of the schools.
The schedule for the superintendent's tour is as follows:
Mr. Weiss will appear Thursday, May 7, at the Oak Bluffs school cafeteria, and Tuesday, May 19, at the Edgartown school cafeteria. He will be at the West Tisbury school cafeteria on Thursday, May 21, and he will address Chilmark and Aquinnah audiences on Tuesday, June 9, at the Chilmark Community Center. All events will take place from 7 to 9 p.m.
For more information contact local school PTO chairmen or League of Women Voters member Lolly Hand at 508-687-9955.