Tisbury and Oak Bluffs firefighters extinguished a fire that destroyed a guest house at a home off Border Road in Vineyard Haven late Tuesday. Fire officials said it appeared no one was in the home at the time of the fire, but a dog died in the fire. Other pets were rescued from the guest house and main house.
The home at 115 Border Road is owned by Jon Zeeman, according to town assessors records.
A dog was rescued from the main house, and a dog and a cat were also rescued from the guest house, but another dog owned by tenant Rose Guerin was missing after the fire. Friends organized a search for the missing dog, Boomer, utilizing social media and walking throughout the remote wooded neighborhood near the head of Lagoon Pond. The search ended in bad news Friday morning, when the dog's remains were discovered in the burned out guest house, according to search organizers.
Numerous firefighters were treated at the scene for dehydration and heat exhaustion, and at least one was transported to the Martha's Vineyard Hospital as a precaution. EMTs were called from across the Island to help treat the firefighters on a warm and humid night.
Tisbury fire chief John Schilling said that by the time firefighters responded to the fire at about 9 p.m. Tuesday, the guest house was completely involved in flames and firefighters focused on saving the main house. "The fire was reported by someone on the opposite side of the Lagoon," Chief Schilling said. "They were unsure of the location so both Tisbury and Oak Bluffs responded." Border Road is near the town line between Oak Bluffs and Vineyard Haven.
While the guest house was a total loss, the fire was extinguished without causing heavy structural damage to the main house. There was external damage to the outside siding of the home.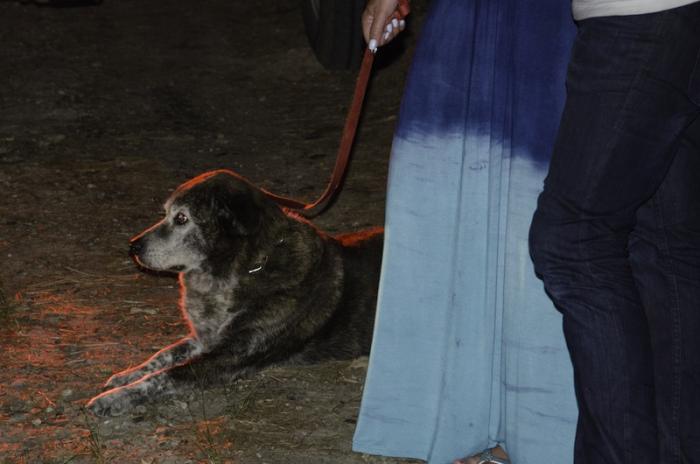 West Tisbury and Edgartown firefighters provided mutual aid and backed up the responding fire stations. Getting water to the scene of the fire was difficult. Two pumper trucks arrived on the scene but fire officials then had to relay water to the scene using three fire trucks.
Once the water line was established down Border Road, responders could not get more equipment down the road and had to find another way to access the fire. Edgartown-Vineyard Haven Road was closed between Carroll's Way and the roundabout from about 9 p.m. until after 11 p.m.
The cause of the fire is under investigation.
On Wednesday Anna Hill, a friend of guest house tenant Ms. Guerin, said a search is underway for Ms. Guerin's missing dog. He is a medium-sized mixed-breed dog named Boomer, black with tan markings. Ms. Hill said the dog is shy and anyone who sees him should not approach him but instead call 401-575-0146 or 508-930-0672 to report his location.