The wake-up call came for Jeannie Wright (Jeannie Pierson before her recent marriage) when her doctor sat her down for a talk. At first she was oblivious to her increasingly debilitating diabetes, then once diagnosed, she ignored most medical advice on treating and controlling the disease.
"It didn't occur to me that being on a first name basis with everyone in the emergency room was not normal, and that I was eating myself into an early grave," she said.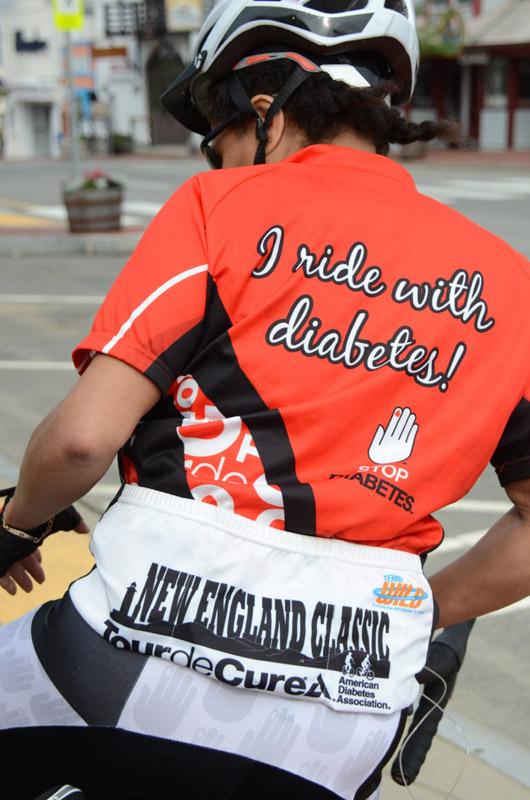 Many medical professionals sounded alarms, but that one doctor finally broke through to her. She remembers the conversation vividly.
"He said 'Jeannie, denial is not a river in Egypt.' He told me that he could help me manage and monitor my diabetes, but if I didn't care about my own health, or whether I lived or died, there was nothing he could do for me."
With a new attitude, an insulin pump and a remarkable determination to lose weight, she is now healthy and happy, living a full, normal life.
"It's a miracle," Mrs. Wright said. "I was so sick at one point, if I hadn't got may act together, I would have been on dialysis."
Mrs. Wright is using her experience to educate others, and using her newfound fitness to raise money for the American Diabetes Association.
At 8:30 a.m. on July 11, she will don a Red Rider jersey with other people who have diabetes, and begin a bicycle trek from Woburn to Durham, N.H. The next day she will ride from Durham to Biddeford, Me. The two-day Tour de Cure charity ride covers a distance of 150 miles. This is the third year Ms. Wright will participate. She has already collected pledges of more than $1,100 and hopes to raise much more for her cause.
The American Diabetes Association funds research, raises awareness and advocates for federal research dollars and better insurance coverage for those with diabetes.
According to the association, 29 million Americans have diabetes, and another 86 million people are at risk of developing the condition.
Mrs. Wright handles firearms licensing applications, helps coordinate the town's 911 system and cheerfully fields thousands of calls and inquiries from the public in her job as clerk to the Oak Bluffs police department.
"It was the guys here that inspired me to get on a bike," she said. "I work part-time at the Martha's Vineyard Hospital, they also have been a big part of me getting healthy."
She talks about riding 150 miles in two days like it is a walk around the block.
"I don't try to keep up with anybody" she said. "I just keep going at it."
At the age of 25, Mrs. Wright suffered from poor eyesight, tingling toes and other classic symptoms of diabetes. She was doing nothing to get healthier. The hope that she can help someone else avoid that experience is all the motivation she needs to keep pedaling.
"What pushes me, is the fact that I'm healthy enough to do 150 miles," she said. "I just think about the cause. That's what keeps me going."
Donations to Ms. Wright's fund raising goal can be made online at tour.diabetes.org.