Her name said it all — Joy Flanders — for joy was certainly felt all around on Saturday, July 25 as family, friends, co-workers, and students gathered for the inaugural Party by the Pond event at Chilmark Chocolates to raise money for a new scholarship fund created in her name.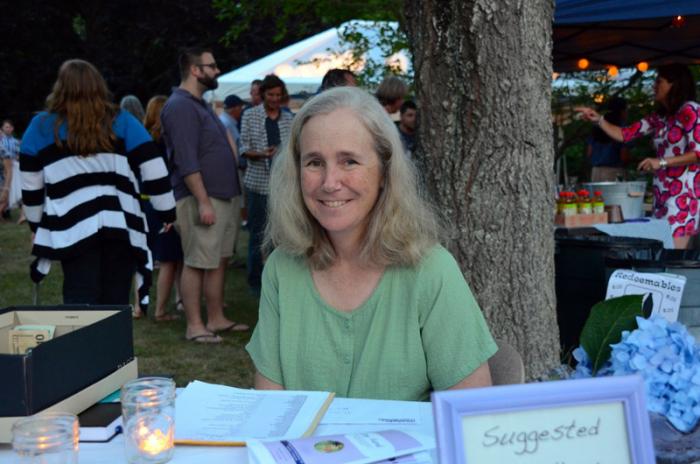 Wanting to honor her mother, who died four years ago, Sarah Flanders, Joy's youngest daughter, sought out the help of the Permanent Endowment Fund for Martha's Vineyard to create a scholarship in her mother's name. "I just wanted something permanent to continue on my mom's memory," she said.
With the help of her older sisters, Genevieve and Allison, the Joy Fund was created this past spring. It's the first fund on the Island that is solely focused on students with special needs, or for those pursuing special education coursework. In addition, the Joy Fund will also grant awards to Island nonprofits that provide disability services.
Joy Flanders had made a name for herself through teaching children all over the Island, from the Oak Bluffs, Chilmark and Tisbury schools to working at the Martha's Vineyard Regional High School before retiring. She made a difference in many students' lives, and with this fund her daughters hope to continue to foster the knowledge and drive that their mother was so passionate about.
On Saturday, as twilight faded into night, partygoers bid on myriad silent auction and raffle items, munched on tasty treats from Chilmark Chocolates and Back Door Donuts, and danced to the smooth rhythms of the Dock Band.
Carol Frances, Joy's sister, thanked the crowd for attending. "My sister would be blown away right now," she said, gesturing toward the magically-lit evening and crowd of guests. Everything for the event had been donated, "from the tents to the food. It's amazing," Ms. Frances said, acknowledging more than 75 businesses and individuals who had donated to the cause.
Silent auction items included a Peter Simon print, golf lessons at Farm Neck, a dinner party catered by Kitchen Porch, and a week in an Oak Bluffs cottage. Raffle items ranged from jewelry, artwork and gift cards from Island establishments.
Dr. Paula Karol, a dermatologist from Vineyard Dermatology, was also in attendance. She presented advice to guests on how to protect themselves from melanoma, the cancer that Joy died from. "We wanted the event to also be sort of a melanoma awareness thing," Sarah explained. Dr. Karol distributed chapstick and other goodies and another raffle for a gift basket full of items to help further protect from the sun.
With a minimum of $20,000 needed for Permanent Endowment Fund to establish the scholarship, Sarah reported later that the event raised about $10,000. Thanks to another $10,000 raised through a GoFundMe account and appeal letters that had gone out in the community, the goal has now been met. "We officially have a scholarship," she said. The Joy Fund will be added to the scholarship list high school students receive in the spring of 2016.
Though next year's party might not be as extravagant, Sarah said she hopes to continue to have some sort of gathering each year. "Mom's specialty was gathering people," she said. So it only seems fitting to continue with the tradition.
As guests melted into the Chilmark summer night last Saturday night, the words of thanks from Joy's sister still echoed about: "Your presence here is just amazing. Thank you so much."
The legacy of Joy Flanders lives on.
To contribute to the Joy Fund, send donation checks directly to Permanent Endowment for Martha's Vineyard, P.O. Box 1182, Oak Bluffs, MA 02557. Please note in the memo section that it's for the Joy Fund.