Under a clear blue sky Saturday morning, runners from across the Island and elsewhere gathered for this year's annual Chilmark Road Race, celebrating a tradition entering its 37th year on Martha's Vineyard.
Once the firing pistol sounded just after 10:30 a.m., the runners were off, sprinting, jogging, and in some cases walking down Middle Road. Along the way, they were greeted by cheering passersby and residents, many of whom came down to the end of their streets to shout encouragements or call out to participants they knew.
Registration closed this year after the maximum of 1,600 runners entered the race.
There were several water stations placed along the 3.1-mile route, where volunteers handed out water to those running. In some cases, however, the speed of those coming by required a more proactive approach.
"Just throw it on me!" shouted one runner as he passed by.
The two top winners the race , and recipients of lobster prizes, were Hugh Parker, 25, in the men's division with a time of 15:38.69 and Sheridan Wilbur, 18 with a time of 18:04.76 in the women's division.
Mr. Parker, who is from New York city, narrowly edged out Ben Bosworth of Dorchester Center, who finished about five seconds behind him,
Mr. Parker said he did interval workouts every Saturday in preparation, having last won the race in 2012.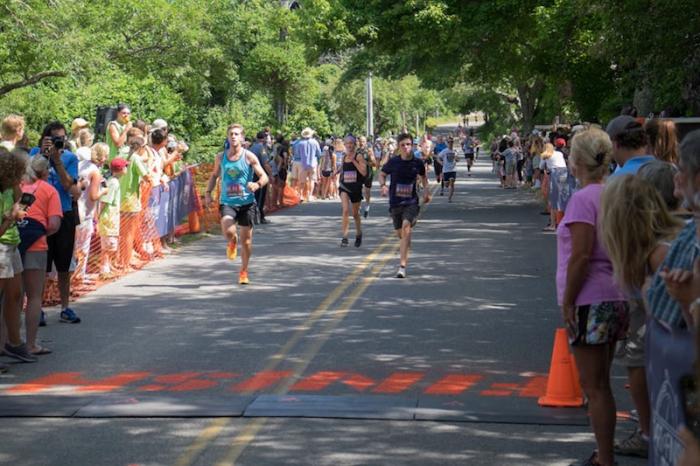 "It was a bit of a drought," he said about the years since then. "But it feels good to come back and win this year."
Ms. Wilbur, who originally hails from Rhode Island, was up before dawn to get to the Woods Hole ferry with her family, who ran the race with her.
"I've been doing it since I was going into freshman year," she said. "The first time I ran it, I did it in like 26 minutes or something, so it's kind of cool to come back every year and see a little bit of improvement."
Aside from her family, Ms. Wilbur also cited the scenic route and nice sense of community as reasons for making the run worth it.
"It's challenging, too, with the hills," she added.
Throughout the race a sense of camaraderie pervaded among friends and family.
"I have some friends I run with every year," said Mr. Parker. "So it's a nice community thing."