The Martha's Vineyard Museum honored three Vineyarders this week with the 2015 Martha's Vineyard medal. This year's recipients of the award, which honors local leadership in historic preservation, fine and performing arts, literature, community activism and education, were writer Cynthia Riggs, Beagary Charitable Trust head Pat Morgan and the late West Tisbury town moderator Pat Gregory.
The awards were given during the museum's 93rd annual meeting, which took place on the lawn of the Marine Hospital, the future home of the museum.
Museum executive director David Nathans outlined some of the past year's highlights before opening the presentation of the medals. He named the restoration of the Marine Hospital roof, the expansion of educational outreach to include pre-kindergarten and elder populations, and the establishment of the Vineyard Haven Harbor cultural district as milestones worth celebrating. Most notably, he recognized the museum's largest donation to date, a challenge grant of $500,000 from the National Endowment for the Humanities to build a $2 million endowment for education.
The medal recipients were introduced by close friends or colleagues.
Murder mystery writer, innkeeper, and former boat captain Cynthia Riggs was introduced by Martha's Vineyard Museum development director Dan Waters.
"Introducing Cynthia Riggs feels like one of the more pointless things you could ever try to do. If there is anybody on Martha's Vineyard who needs no introduction it is Cynthia," he said.
"I think of her as inseparable from West Tisbury," Mr. Waters continued. "She is really as much a part of the town as Mill Pond or Grange Hall."
Ms. Riggs runs the Cleaveland House Bed and Breakfast, a cozy retreat where poets, fiction writers and other creative types gather summer after summer. She was instrumental in creating a West Tisbury Poet Laureate position.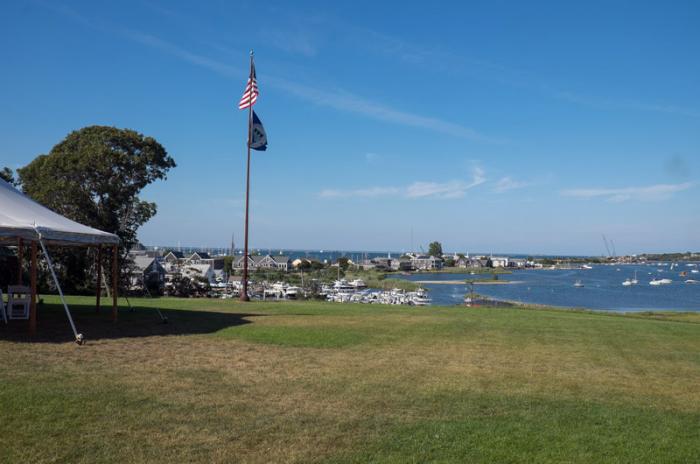 Ms. Riggs accepted the award graciously and down-played her distinguished role in shaping and contributing to the Vineyard's cultural fabric. "My parents would be pleased to know I have been awarded the honor of the Martha's Vineyard medal. But I am not sure they would agree that I am the one who deserves it," she said. "It belongs to all the people who have made the Island what it is and I just want to thank you for selecting me as the one to represent them and I accept this on their behalf."
YMCA executive director Jill Robie-Axtell introduced Pat Morgan, head of the Beagary Charitable Trust, an initiative supporting diverse forms of learning for both children and adults.
"Art programs, performing art programs, music programs and sports programs are usually the subjects that the board of education cuts out of their budgets every year. But to have a well-rounded student is important to me, and you have to teach these things," she said.
Ms. Robie-Axtell also told a story about Ms. Morgan contributing a wheelchair to the YMCA during one of its summer camps after a lithe counselor had trouble supporting the weight of a sick camper.
Pat Gregory, the West Tisbury town moderator for 23 years, was the posthumous recipient of the third medal. West Tisbury selectman Cynthia Mitchell held back tears as she presented the medal to Pat's son-in-law, Dan Carbon.
Ms. Mitchell delivered a revised version of the eulogy she gave at Mr. Gregory's memorial service in May 2014, after he was killed while hiking in Northern California. She spoke of his vibrancy at town meetings, his approach to teaching at the West Tisbury school, and his balanced judgment. She joked that when special town meetings were called, he moved through them swiftly, in 45 minutes, allowing him to arrive home in time to watch the Red Sox on television.
"The community still struggles to reconcile the vibrant, life-enhancing soul they knew with the sudden end to his life," she said. "Of course his example has and will live on — this is the fourth honor I have personally participated in so I represent all of the town of West Tisbury, staff departments, committees, boards, as well as the larger community when I present the MV museum medal to Pat Gregory, a fine public servant, and true friend. We will always deeply miss him."