Eight scholars from the University of Massachusetts Medical School and the Graduate School of Nursing in Worcester spent the past two weeks on the Island studying homelessness and the housing shortage here. For over a decade, the program has visited each year and studied an issue relating to the Vineyard. In the past, the scholars' findings have led to the creation of the Youth Task Force, Mass in Motion and the Healthy Aging Task Force.
This year's project was sponsored by a coalition of Dukes County, the All-Island Clergy Association and the Dukes County Regional Housing Authority. The results were presented on Thursday evening at the West Tisbury library.
Using numbers from a Martha's Vineyard Commission report done in 2008, the scholars noted that the off season population was 16,460 and there were 16,973 housing units, more than enough to go around.
"There's really not a housing shortage on the Vineyard," said scholar Kristin Bevingon, to resulting laughter. "In fact there's enough housing that everyone could live by themselves in an individual unit and everyone would be housed year round."
However, only 43 per cent of those units are occupied year round, Ms. Bevingon said. And only 5.2 per cent of available units are considered affordable.
Statewide, homelessness is at an all time high, having doubled since 1990. During a January 2014 point-in-time survey by the Department of Housing and Urban Development, 21,237 people were reported as homeless in the state of Massachusetts. A point-in-time survey is a count on a single day of the year. An Island point-in-time survey done during the winter of 2015 indicated there were 15 people experiencing homelessness. However, being homeless doesn't necessarily mean sleeping on the street. People sleeping on couches, in tents, in their cars and places unsuitable for human habitation all count as experiencing homelessness, the group reported.
The scholars suggested the Island do a point-in-time survey during a summer month, which may have a different result. They said locking down the number would help the Island respond to the issue appropriately.
They also reported that the average age of a homeless person in Massachusetts is eight years old. "This may not be the face of homelessness to you," said scholar Rebecca Kasper. "And so one of the things we're challenged by is to open our eyes and minds to who is homeless in our community...and how can we help them."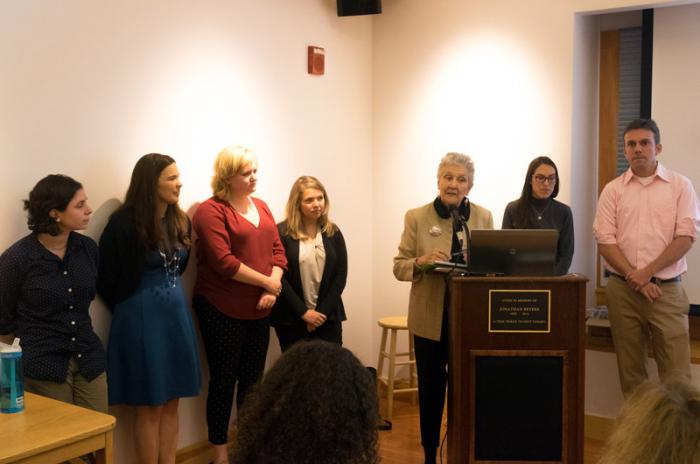 Though homelessness is a problem across the state, the Vineyard faces a few unique problems. Seasonality of both employment and rental units can be a major contributor to homelessness, in addition to a lack of detox and mental health facilities here. Housing insecurity affects families, women and children, especially single mothers, youths between 16 and 25, and older single men, the scholars reported.
In their interviews, the scholars found that the school system loses nearly one fifth of its teaching population every year because of housing issues. They asked the attendees, who filled the seats and even stood at the back of the room, to think about who exactly is leaving the Island.
Scholar Jessica Fortin said that in addition to a communication gap between agencies and resources, Islanders sometimes take a hard line. "We had plenty of people who said, if you can't cut it, get off," Ms. Fortin said. "We heard that often."
Ms. Kasper added that the stigma surrounding affordable housing also affects the Island.
"A lot of people think of affordable housing as these tall cement slabs 1960s soviet buildings and they're ugly and you don't want them there, and that's not true," she said. "You can build affordable buildings that fit into the decor and Island appearance."
In addition to looking at the causes, the scholars identified some solutions.
One of the major problems, they said, is that there is no number to call when a person is in a desperate situation. The scholars recommended forming a homelessness coalition.
"There is the question of who do you call if you find a person on a cold February night," said Ms. Fortin. She recommended a case worker head the coalition.
They also suggested providing police and EMTs with pamphlets they could hand out when encountering a person or family in need. This pamphlet would outline options and provide a number to call.
Right now, the biggest mover on the ground floor of homelessness is the clergy, the scholars said. "They're the ones who are there that night to help," said Ms. Fortin. "They are that phone call."
Rev. Chip Seadale, homelessness taskforce member, said they need to help support all the people in the community.
"I'm going ground up, if somebody needs a place to stay and it's 10 degrees out, they're getting a place, I don't care." Reverend Seadale said. "If everybody else can't get the job done, they're going to have a warm place so that tomorrow morning I can get up, look myself in the mirror and say I know that person out there is not suffering."
After immediate assistance for those who need it, Mr. Seadale said the community needs to take decisive action on the broader issues so they don't keep circling the same questions.
The scholars also suggested transitional housing for homeless people that would have low costs and long term benefits. For youths, they suggested respite homes which could be fielded through the Island Youth Task Force. It could be as immediate as community members opening up their spare bedroom to a youth in need for a few weeks. On the legislative end, they discussed pushing for a housing court to be established in the county. This could streamline renter/landlord cases and small claims issues. Landlord round tables would help facilitate discussions between renters and landlords airing concerns and opening up the conversation.
"You hear one bad story and then you're never going to rent your home," said Ms. Kasper. "But maybe that one story happened four years ago and is not relevant anymore."
The scholars urged the Island community to be more communicative with the Cape about available resources. As peripheral suggestions, they touched on tiny houses, relocatable houses and barrack housing. Though the scholars pointed to the lack of regionalization as an issue when communicating between agencies on the Island, they also saw some benefits of the six towns.
"The democratic process is more accessible, it's easier to have a bigger voice," said scholar Luke Latario. "You have a great vehicle throughout the local politics."
Ms. Kasper said she hoped their research and suggestions would be able to create positive changes in the community.
"We're here to start the conversation and hopefully you can carry it on in the ways you see fit," Ms. Kasper said.