When Yann Meersseman arrived in Paris on Nov. 18, his hotel was already booked and a chauffeur was waiting for him at the airport. But he wasn't there for business or for pleasure. His oldest son, Arnaud, 34, was recovering after the deadliest terror attack in France's history.
During the attacks, Mr. Meersseman heard the news on the Vineyard in bits and pieces over a few tense hours on Nov. 13.
"I got a call from one of my other sons, who said you gotta check the news, something is going on in Paris and we're pretty sure Arnaud is there," Mr. Meersseman said this week, after returning from Paris. A call from one of Arnaud's colleagues at a music production company later confirmed the shooting. But it took another five hours for the family to learn where he was and what had happened.
A bullet had passed through Arnaud's right lung, but the damage could have been much worse, Mr. Meersseman said. The day after the attack, Arnaud was placed in an induced coma and later underwent surgery. Last Tuesday, he left the hospital on his own feet and returned to his apartment in Paris.
"All things considered, he's been very, very lucky," Mr. Meersseman said.
Based on conversations with Arnaud and others involved in the attack, Mr. Meersseman provided a chilling account of what likely happened at the Bataclan music hall on Nov. 13, when 130 people were killed and more than 350 injured by gunmen associated with the terrorist group Isis. But even in the midst of what some later described as a battlefield were acts of kindness and humanity.
Arnaud was visiting with friends at a bar just outside the concert hall when he heard gunfire. He instinctively dropped to the floor, looking around to see what had happened. When he saw one of the gunmen approaching, he stood up and briefly locked eyes with him before turning to run into the concert hall. He was shot in the back, but kept running, and then took cover in a bathroom stall with a friend who was uninjured.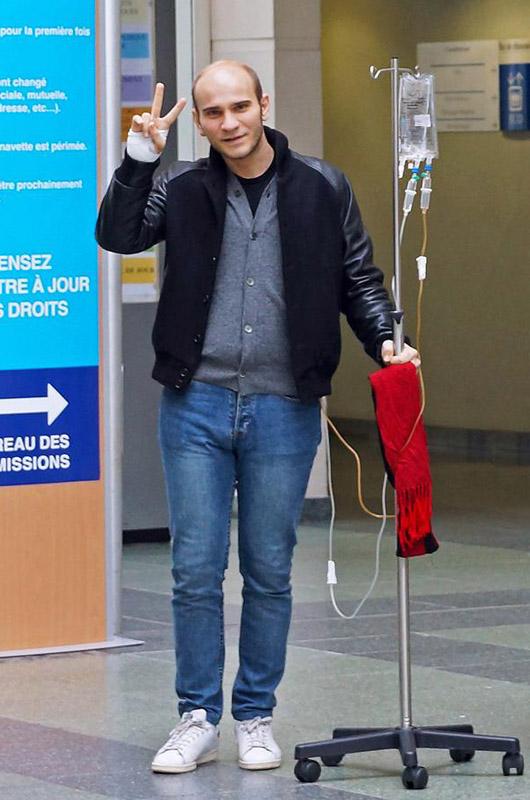 Some time later, when the friend went outside to seek help, she was swept away by the police, who were trying to clear the streets. Meanwhile, Arnaud was slipping in and out of consciousness, but there was still someone by his side. "Somebody he doesn't know seemed to have stayed with him until they picked him up," Mr. Meersseman said.
Arnaud briefly regained consciousness in the ambulance, where emergency workers assured him he was going to make it. Two days later, he woke up, surrounded by family members in the hospital.
While in Paris visiting his son, Mr. Meersseman continued posting daily photographs to Vineyard Colors, the popular Facebook page he and his current wife, Moira Fitzgerald, created. But now the pictures shifted from blazing sunrises over Lucy Vincent Beach and other iconic Vineyard scenes to images of Paris and the Eiffel Tower, taken during morning walks near the hotel.
"The reaction, the support there has been overwhelming," Mr. Meersseman said of the Vineyard Colors community. "That was such a help to feel all these people pulling together and rooting for Arnaud."
The support in Paris was also overwhelming, he said, with friends and colleagues constantly arriving at the hospital. The French healthcare system and policies related to the victims of terrorist attacks were an added blessing. All of the medical bills were covered, Mr. Meersseman said, and Arnaud's employer, a French subsidiary of Warner Music Group, provided transportation and a hotel room free of charge.
Cape Air had recently published an article about a photo exhibit Mr. Meersseman organized at the Kelley House in Edgartown. When the company heard about Arnaud, it provided a free flight from the Vineyard to Boston.
But with the flood of support also came a flood of inquiries from local and national news media. After the shootings, a few interviews soon turned into a circus, Mr. Meersseman said. "I'm still telling them that we're not going to do this," he added. "I basically told everybody, 'Look, I will talk to the local papers.'"
In addition to Vineyard Colors, Mr. Meersseman and Ms. Fitzgerald deliver newspapers from the mainland to the Vineyard every morning. In the days immediately following the shooting, Mr. Meersseman recalls the many front page headlines coming over on the ferry. But the real news, he said, was coming over the phone from people in contact with his son.
Mr. Meersseman's former wife, Francoise Pages (Arnaud's mother), and his twin sons, Mathieu and Clement, also traveled to Paris. Over the course of about 10 days, someone was almost always at Arnaud's side. The unknown person who had stayed with him in the concert hall also paid a visit to the hospital, but Arnaud hadn't been available.
"They will probably hook up at some point," Mr. Meersseman said.
Back on the Vineyard, Mr. Meersseman continues to check in on Arnaud who is steadily recovering and even taking daily walks outside his apartment. And as usual, a new Vineyard Colors photograph shows up in almost 2,500 inboxes every morning. One post this week depicted a rain-soaked Main street in Vineyard Haven before dawn, with holiday lights reflected in the puddles.
"Now that I think about it, it's been more than five years," Mr. Meersseman said, recalling the first Vineyard Colors post, on September 15, 2010. "We didn't miss too many days."