As the Army Corps of Engineers works to dredge Menemsha Channel for the first time in more than 40 years, officials in Chilmark and Aquinnah are taking steps to protect Menemsha Pond from an expected surge in boat traffic.
The federal channel was last dredged in 1973, according to the Army Corps, which received about $5.08 billion in federal recovery funds after Hurricane Sandy in 2012. The $2.16 million project began taking shape in October.
Selectmen from Chilmark and Aquinnah, along with the natural resources director for the Wampanoag Tribe of Gay Head (Aquinnah) and both of the town harbormasters, met Tuesday in Chilmark to prepare for the expected influx of boats.
The federal government considers the pond a harbor of refuge, so it must remain open to vessels. But the two towns, which share the pond, plan to exercise their local authority by designating small anchorage areas with no overnight stays allowed, and clearly marking their shellfish aquaculture areas.
Chilmark harbormaster Dennis Jason said Tuesday that at least one charter company has already shown an interest in anchoring in the pond. "Word is out there," he said. "Menemsha is going to be open." He noted the likelihood of some boaters running aground in the shallow pond.
But the primary concern was for the health of aquaculture areas on both sides of the town line.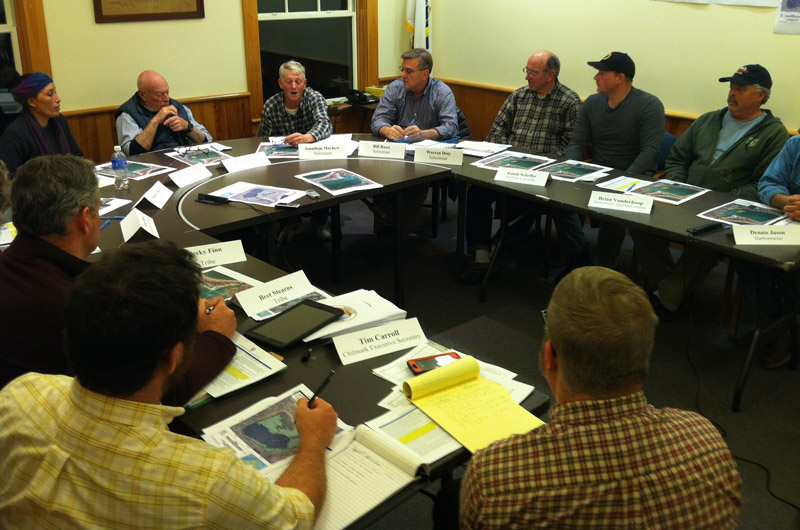 "We are eager to protect the shellfish habitat in Menemsha Pond from pollution and other threats posed by over use," according to a statement by the Aquinnah selectmen that accompanied their meeting agenda for Tuesday. The statement also noted a survey this summer showing that Cuttyhunk, Lake Tashmoo and Hadley Harbor on Naushon each had between 45 and 100 visiting boats per day.
It was a clear shift for the Aquinnah selectmen, who generally have supported the dredging project as a way to improve water flow for shellfish and navigation for mariners. (A study by the Woods Hole Group last year found that the dredging would have little to no effect on shellfish in the pond.)
Aquinnah selectmen Jim Newman and Juli Vanderhoop were mostly silent during the discussion on Tuesday, although Aquinnah harbor master Brian (Chip) Vanderhoop was open to working with Chilmark and designating a second anchorage on his side of the pond.
There was some disagreement as to how the last dredging, in the 1970s, affected boat traffic in the pond. Chilmark executive secretary Tim Carroll said there had been between 30 and 35 boats per night after the dredging, and he expected that many more per day as a result of the current dredging.
But Aquinnah charter captain Buddy Vanderhoop remembered it differently. "In 1976 there were only three boats up in Herring Creek," he said. "I was quahaugging every day in 1976. There were never any more than those three boats."
Chilmark selectman Jonathan Mayhew questioned Mr. Vanderhoop's memory, but also pointed to New Harbor on Block Island, which he called a "ridiculous" situation with the number of boats. "There is no more shellfishing there," he added, "and that's what we're trying to stop."
Selectman Warren Doty of Chilmark noted an upward trend in oyster farming in the state, and his goal to cultivate one million oysters per year in Chilmark. Mr. Doty also noted the pond's relative health compared to others on the Vineyard, and its importance to the community.
"It's a beautiful pond," he said. "We've worked so hard on our shellfish programs, we've worked so hard on having our sailboat races for small boats that are just 18 feet, and we just don't want that to change."
Last year's scallop harvest in Chilmark was worth about $530,000. But a sudden disappearance of eelgrass in Nashaquitsa Pond, just south of Menemsha Pond, has raised concerns about future harvests. A federal biologist this summer pointed to geese and crabs as the likely cause of the decline.
Mr. Jason has proposed an anchorage site just south of where the dredging is expected to end, and west of the town's shellfish propagation area. Aquinnah has yet to select a site of its own, but Mr. Jason argued that boats should be directed south of Chilmark's oyster grant area near the middle of the pond before crossing over into Aquinnah.
Chilmark resident Jim Malkin suggested having a single anchorage for both towns, but Mr. Carroll said the only suitable site was now being used for the oyster grants.
The entire channel, along with the anchorages and shellfish areas, will likely be marked by buoys next year.
The towns already share many of the same regulations for the waterway, and officials agreed that allowing town agents to do enforcement in both towns might make sense. "As long as rules are being enforced, and they are consistent, I don't see any problem with that," Chilmark selectman Bill Rossi said.
Violators of the harbor rules currently pay a $50 fine for a first offense, followed by $100 and $200 for subsequent offenses. Officials discussed raising the fines on Tuesday, although no action was taken.
Bret Stearns, director of natural resources for the tribe, offered to produce a simple pamphlet with harbor rules, phone numbers and other information for boaters, that could be distributed in both towns. "We can work on making a document that would be usable for all three parties," he said.
The town harbormasters, along with Mr. Carroll and Aquinnah town administrator Adam Wilson, will work together to formalize the new rules and anchorage areas. Mr. Wilson will also draw up a memorandum of understanding between the towns.
The Army Corps of Engineers is under a Jan. 31 deadline to finish the dredging before the spawning of winter flounder.