More than 100 people gathered for the annual Hanukkah party at the Martha's Vineyard Hebrew Center on Friday, the sixth night of Hanukkah and the eve of the new month in the Hebrew calendar.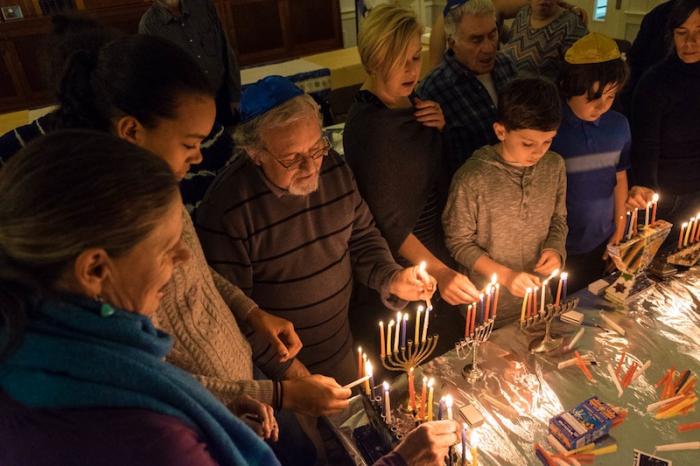 Long tables were set up in the main hall, where friends and families enjoyed a casual evening of song and fellowship.
In the center of the room, three smaller tables held about 30 menorahs of many shapes, sizes and colors, along with hundreds of colorful candles.
The evening opened with the song Hanukkah Chag Yafeh, after which people gathered around the smaller tables and arranged the candles. The overhead lights dimmed as the menorahs lit up one candle at a time, illuminating the faces in the crowd.
Rabbi Caryn Broitman, who led the celebration, invited people to think of each flame as a miracle. As the candles continued lighting up, people called out the miracles in their lives: health, family, a new grandson, moving to the Vineyard.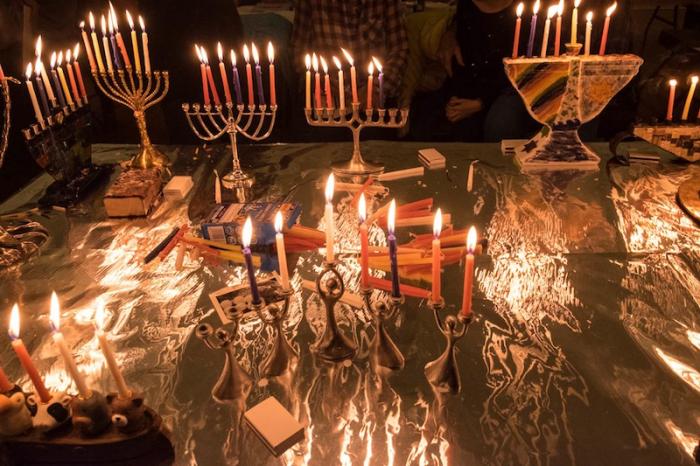 The Bart Weisman Klezmer Swing Group, a trio from the Cape, provided accompaniment for a number of traditional songs, including Sevivon, Sov, Sov, Sov, during which Mateo Darack and Alana Nevin — among the many children in attendance — volunteered as human dreidels, spinning in place and then falling to the ground.
Jaiden Edelman, who will celebrate his bar mitzvah at the Hebrew Center on Saturday, had the honor of lighting the white shabbat candles to mark the week's end.
Singing continued with Shabbat Shalom, Hanukkah, Oh Hanukkah and other classics. Roberta Kirn led a singing of Ella's Song, written by Bernice Johnson Reagon in honor of civil rights activist Ella Baker, who died 29 years ago this week.
After one final song, people settled in for a latkes and a potluck dinner and warm conversation filled the room. Live music continued into the evening.