While Edgartown post office customers were trekking to Vineyard Haven to gather their mail, tension and frustration marked the selectmen's meeting Monday over the situation at the Triangle, where the main post office has been closed since Friday due to water damage.
A partially finished construction project to add five second floor apartments to the building complex is blamed.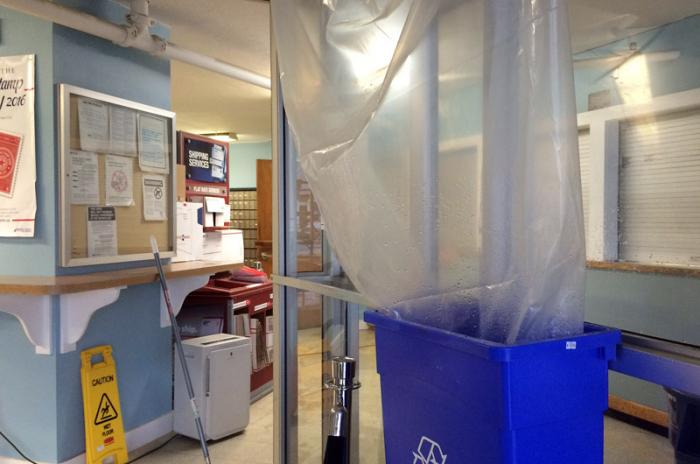 "It's a situation you usually try to avoid," Edgartown building inspector Leonard Jason Jr. told the Gazette Monday. "Left wide open to the weather, things don't go well."
Mr. Jason said he and the town wiring inspector visited the post office Friday. "The ceiling was saturated and parts of it were coming down," he said. "I advised the powers that be, the [post office] regional supervisor . . . I told him if it was me I would close the building."
As heavy rain fell Friday and through the weekend, the postal service announced that operations would be temporarily transferred to the Vineyard Haven Post Office. Edgartown box holders will be able to retrieve their mail at a dedicated space in the Vineyard Haven post office lobby; box holders are advised to bring identification.
There are more than 3,000 postal box holders in Edgartown; most town residents and businesses do not have rural mail delivery and must use a post office box.
U.S. Postal Service spokesman Steven Doherty told the Gazette Monday he is not aware of any damaged mail because of the water leaks.
Mr. Jason said he and the town have no official role in deciding when the post office will reopen, but he anticipated it would take awhile.
Reached by telephone Monday, Charles Hajjar, the commercial real estate developer and part-time resident who owns the building, downplayed the extent of the problem.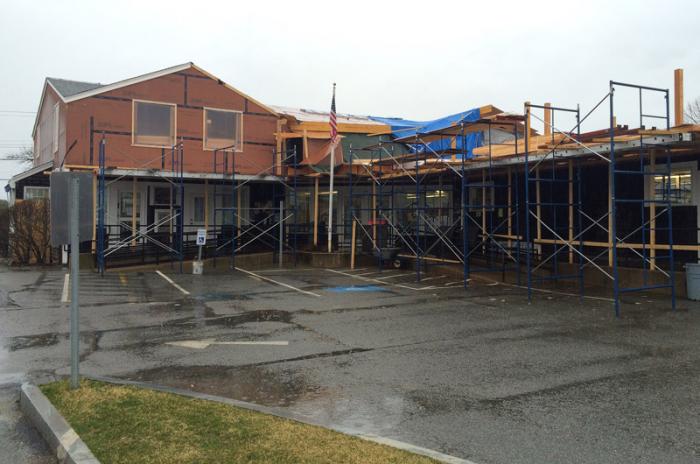 "It's just been poor timing with all the precipitation," he said. "Who would ever think we'd get this much rain and wind in April." Mr. Hajjar said contractors need about four or five more days of work to finish framing the roof and making the building water tight.
He said there is no significant damage to the building. "Nothing that can't be fixed in a day or two. It's not a disaster in there, some drips coming through," Mr. Hajjar said. "I know the post office can't have mail getting wet . . . and we're going to be basically working around the clock when the snow stops. We'll jump right in and get on the framing."
He apologized to Edgartown postal customers.
"We apologize for the inconvenience to the folks that use the post office," he said. "We're doing everything we can and hopefully it'll be weather tight shortly and the post office will reopen."
At the selectmen's meeting the problems were the main topic of discussion.
Town administrator Pamela Dolby said the temporary transfer of mail to Vineyard Haven already was not working well.
"It's horrific," Mrs. Dolby said. "There are parking issues, there are traffic lines, it's not a good solution." She reported that the post office was still transferring mail and packages scheduled for delivery last Friday and Saturday to the Vineyard Haven post office.
She said she is trying to convince postal officials to establish a temporary post office on town owned land behind the fire station using portable trailers
"There's plenty of room there, there's plenty of room for parking," Mrs. Dolby said. "They could stay there as long as they need to."
Mrs. Dolby said Mr. Jason and the town health agent believe the interior of the post office will have to be gutted and completely rebuilt.
"Ceilings and walls are going to have to come down, insulation is going to have to come out," she told the selectmen. "It's totally saturated. Fixtures are going to have to be rewired and replaced. There could be more wiring that has to be done."
Town accountant Kimberly Kane noted the season at hand, with a good deal of official town business going out in the mail.
"There's a lot going on right now, with absentee ballots out, tax bills, sewer bills," she said.
Meanwhile, the scene at the Vineyard Haven Post Office Monday included lots of customers from Edgartown.
One was Edgartown box holder Dave Brewer, who sorted through a handful of mail, noting he is still waiting for some that may have been delivered at the end of last week.
He said he had to come to Vineyard Haven anyway so it wasn't out of the way, but he missed the convenience of having the bank and the post office right next to each other in Edgartown.
"That project over there, as far as I'm concerned it wasn't done right," he said of the construction work on the post office building.