President Obama and his family will vacation on Martha's Vineyard again this year, the Gazette has learned.
The August visit will mark Mr. Obama's seventh and final Vineyard summer vacation during his sitting presidency.
The vacation has not yet been officially confirmed by the White House. But it is understood that the Obamas will again rent the family home owned by Joanne Hubschman overlooking the Chilmark north shore, a home they have rented for their past two summer vacations. The vacation dates are known to be in August, likely during the early to middle weeks of the month. The Obamas traditionally are on the Vineyard during the week of the Agricultural Fair and the Oak Bluffs fireworks, iconic Vineyard summer events. Past vacation stays have ranged from eight to 16 days.
The White House typically does not announce Mr. Obama's vacation plans until around mid July each year. Early this week a White House official told the Gazette there were no travel plans to announce at that point.
But advance preparations are already well under way for the presidential visit on the Vineyard.
Secret Service and members of the national press corps have been booking rooms, and the Coast Guard and Martha's Vineyard Airport are preparing for the visit, among others.
At the Martha's Vineyard Airport this week, general manager Ann Crook, who took the helm in May, said advance work is well underway.
"We have been working with the Department of Homeland Security and the Secret Service and the Coast Guard for about a month already, so we've already been working on the process," Ms. Crook said Thursday. While commercial airline passengers won't notice much of a difference flying in and out of the Vineyard, those flying private planes will face air space restrictions and are advised plan well in advance to receive proper clearance.
Ms. Crook is beginning her first summer as airport manager, but this is not her first presidential visit. "It's one of those things that happens at almost every airport from time to time, not only presidents but other candidates or VIPs, so I have worked with Secret Service and done all that before," she said. "But never for this kind of extended stay, so that will be different and interesting." She added:
"Everybody that lives on the Vineyard, whether seasonal or year round, knows that this is a beautiful place and having important people that want to enjoy the beauty, that's part of why it's cool here."
Coast Guard officials also are readying for the Commander in Chief's vacation.
"We're making preparations to provide 24/7 waterside support for the president during his visit," Sector Southeastern New England Coast Guard Lieut. Jarrod Pomajzl told the Gazette this week, adding that multiple Coast Guard units will be involved with small boats that provide protection and security. "We're looking at the same level of involvement that we had last year," he said.
Since he was elected in 2008, the President and his family have come every August except in 2012, when he was in the midst of a reelection campaign. The family also visited the Island before, including when he was a Senator from Illinois.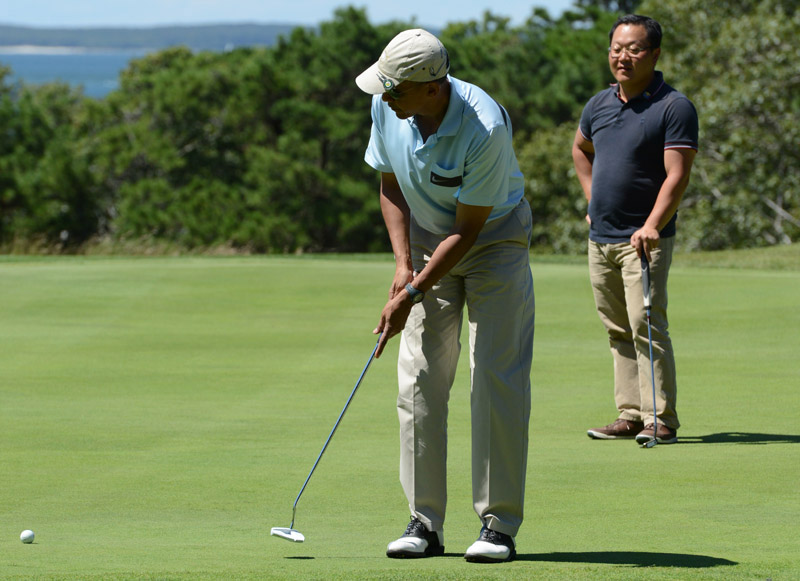 In the summer of 2007 he came to the Vineyard for a private fundraiser at an Oak Bluffs home as he prepared to be a presidential contender. The event was closed to the press but a tape recording of a speech he gave obtained by the Gazette revealed the nascent ideology of the man who later would become the first African American President in U.S. history.
"America's back and we're ready to lead, but not just with our military but our ideas and values and lead by example and deed," he said at the time. In other remarks that would later become well-quoted, he also spoke with warm affection about the Vineyard, calling it "one of those magical places where people of all different walks of life come together. Where they take each other at face value. I can wander around in shorts and not shave in the morning and no one talks about it."
The Obama family follows what is by now a familiar low-key vacation routine that includes trips to the beach, watching the Oak Bluffs fireworks, eating out with friends and family — and for the President, round after round of golf on Island courses. Farm Neck and the Vineyard Golf Club are his favorite links.
Although officially unscheduled, the President tends to business as needed, making press statements from Chilmark or the Edgartown School and receiving briefings.
For the first three summers the First Family rented Blue Heron Farm, a Chilmark estate that sold in 2011 for $21.9 million. In 2013, the family rented a private home just off South Road in Chilmark; the location required last-minute road closures that caused a small commotion among residents. That home is now on the market.
The presidential motorcade rushing down Island roads or temporary road closures and Secret Service officers stationed in downtown Edgartown or Oak Bluffs during dinnertime are often the closest glimpses Islanders have of the famous vacationer. With the President also come members of the media and Secret Service, which rent private homes and rooms in Island hotels — and often, notably better cell service up-Island.