Oak Bluffs artist Harry Seymour is no stranger to problem solving. In fact, he sees art as "just multiple problems to solve."
From achieving the perfect brush stoke to combatting his allergies to oils, acrylics and watercolors, Mr. Seymour has harnessed unique methods to create his intricate collections, the latest of which will be showcased at the Martha's Vineyard Playhouse from July 15 to August 4.
Mr. Seymour's collection, The Vineyard in Black and White, is a retrospective of his work over the past 10 years in the mediums of egg tempera, scratch painting and wax pastels. Each piece is labor-intensive, as the artist typically spends at least a month creating an aesthetically pleasing and dynamic picture. The pieces are each derived from giclee prints that represent their originals, but present small alterations.
"The pieces are different in that I didn't simply replicate the original," Mr. Seymour said. "I did some manipulation in most of them, and to me manipulation is simply a continuation in the process of creating."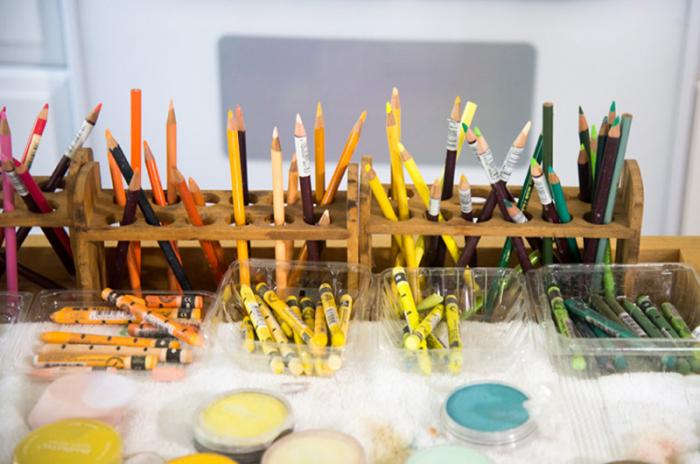 In keeping with the theme of the collection, each recreation has been done solely in black and white. Mr. Seymour likens this concept to a "metaphorical trilogy" referencing his own perspectives as a black artist whose art often contains black subject matter which is now being represented without color.
"As an African American in our society, my upbringing, my exposure, my experiences are different from yours," Mr. Seymour said. "When I was growing up I was denied access to certain things. I couldn't go to certain golf courses. My father, my mother, their opportunities were considerably limited . . . so these are experiences that shape what I paint, and in respects why I paint."
While the pieces selected for display were completed on the Island, not all of them capture subject matter from the Vineyard. However, Mr. Seymour says he is continually inspired by the uniqueness that each on-Island town has to offer.
"I get great joy out of the diversity of the Island," he said. "Not only the diversity in people, but there's so much beauty, contextual beauty, and textures and colors that I find very alluring and attractive as an artist."
Mr. Seymour's show is set to run alongside the playhouse's production of Lynn Nottage's Crumbs from the Table of Joy, an African American play set in 1950s Brooklyn. The vibrancy of both art forms coming together excites him, as does the prospect of how audiences' emotions will be affected after viewing both shows.
"She [Lynn Nottage] is producing something that is colorful through words and through thoughts and emotions," he said. "I'm producing something that is also colorful, but in black and white."
A reception for The Vineyard in Black and White will be held on Saturday, July 16, from 4 to 6 p.m. at the Martha's Vineyard Playhouse, 24 Church Street, Vineyard Haven. Lynn Nottage's play Crumbs from the Table of Joy will run at the playhouse until July 30. To view more of Mr. Seymour's art visit hseymour.artspan.com.