Death, Jim Crow and communism — it's a full meal for one play to tackle. But Crumbs from the Table of Joy, which opens on Thursday, July 7, at the Martha's Vineyard Playhouse, delivers the goods by focusing on the heart of each issue rather than just the anger.
"I thought that sometimes when you deal with big issues and you sort of preach to people, they don't hear you," explained director Adrienne D. Williams. "But when you can deliver it to them with humanity and humor, somehow they seem to hear the story in a different way."
Written by Pulitzer Prize winning playwright Lynn Nottage, the production follows the Crump family's move from Florida to Brooklyn. After his wife dies, Godfrey Crump raises his two children with help from his sister in law Lilly and, later, his new German wife Gerte.
The play takes place in the midst of the McCarthy hearings, a time of Communist suspicion in America. Racial undertones follow the Crump family throughout the play, highlighting the institutional barriers created by urban poverty and prejudice.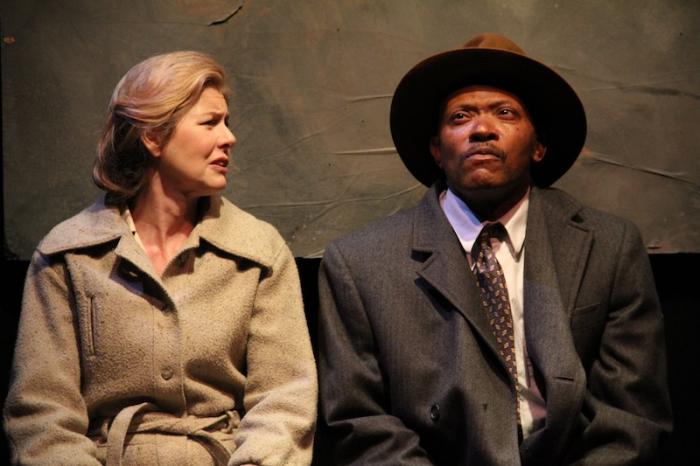 Ms. Williams said she chose Lynn Nottage's play in part because of the way the playwright encourages discussion while utilizing a sharp sense of humor into her scripts.
"I'm always thinking, whenever I direct a play, that I just want to reach out to people's humanity and send people out of the theatre talking," said Ms. Williams. "We live in a world where sometimes we go days and days without having real conversations because we stare at our computer screen. I think the wonderful thing about the theatre is it brings people together."
A New York native, Ms. Williams teaches theatre at New York University's MFA graduate acting program.
Most of the play's five-person cast originates from New York, except for Danielle Hopkins. A rising senior at MVRHS, Miss Hopkins played leading roles in past MV Playhouse productions of My Mom is Trying to Ruin My Life and The Graduation of Grace. Miss Hopkins plays younger sister Ermina Crump and earned high praise from MV Playhouse's artistic and executive director MJ Bruder Munafo.
"I am very proud of Danielle and thrilled she is the youngest member of the cast," said Ms. Bruder Munafo. "She is a stellar young woman."
Ms. Bruder Munafo reiterated the director's sentiment for Lynn Nottage and her work.
"I've wanted to do a play by Lynn Nottage for awhile," she said. "I think she is a terrific dramatist and Crumbs is a good story and a relevant one that should resonate with audience members of all ages."
Ms. Williams has high hopes for her production's success on Martha's Vineyard, due in part because of the community's intellectual curiosity, she said. "I feel like the community is a very smart community," she said. "When I've met people here, the conversation is always stimulating and there's always a lot of well traveled, worldly people."
Crumbs from the Table of Joy opens on Thursday, July 7, at the Martha's Vineyard Playhouse, and runs through July 30. Tickets can be purchased at mvplayhouse.org.