For the second straight year, the Martha's Vineyard Sharks ended their summer season with a game against the Worcester Bravehearts. Dillon Nelson's two-run home run in the bottom of the ninth inning nearly rallied the Sharks from a five-run deficit during Saturday's Fan Appreciation Night at the Shark Tank. But then a strikeout sealed the 7-4 loss to the Bravehearts in the final game of their FCBL schedule.
Ballgame over. Season over.
The Sharks ended the 2016 season in last place, and failed to earn a playoff birth for the first time in team history. Injuries and roster inconsistency plagued the team through much of its campaign, resulting in a 21-35 record.
"They never quit, they played for the name on the front of their shirts way more than they played for themselves," said first-year Sharks head coach Mike Cassidy. "We had guys with injuries. We had guys not wanting to go home that were being called home. We had new guys coming in. They accepted them instantly."
Only six of the Sharks' starters on Saturday night appeared on the team's opening day roster, Coach Cassidy said.
"I've never seen a team have so many injuries, it was crazy."
The Sharks honored veterans Ryan Callahan, Christian Bahlinger and Ricky Surum before the sixth inning began. All three teammates played their final game for the Sharks on Saturday. They played for the team from 2015 to 2016 and now enter their senior years of college.
A pitcher at Spring Hill College, Bahlinger recorded the lowest ERA among Sharks starting pitchers. After suffering a late-season injury, he asked Coach Cassidy for a move to the team's bullpen.
"His exact words were, 'I'd rather be in the bullpen and stay here and try to help in some way than just sit there and watch all the time,'" Coach Cassidy said.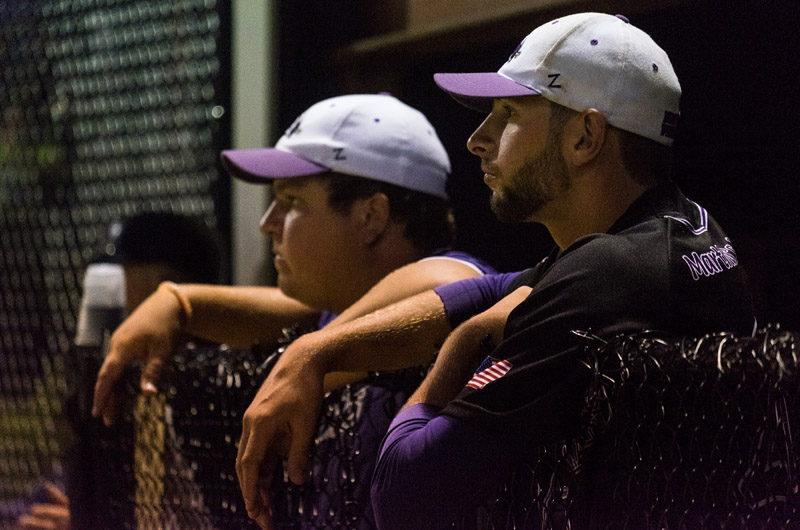 Ricky Surum joined the Sharks after his temporary contract with the Cape Cod League's Cotuit Kettleers expired. Surum plays for Mount Olive College during the school year. For the Sharks he played outfield, second base and shortstop. His .348 batting average and two triples ranked highest on the team.
Frostburg State University's Ryan Callahan served a limited role for this year's Sharks team. He pitched in only four games but added vital depth to a bullpen in much need of it.
Looking back on the season, Coach Cassidy wants his team defined by the family they built over a short, three-month span.
"We started talking about family and this is our summer family," he said. "That was one of the things they really bought in to."
A deep fog rolled over the Shark Tank just as the team posed for their final "family" picture. One by one, the players left the ballpark, disappearing into the fog.
Another summer, another season. See you next June, Sharks baseball.