Island fishing tournaments often come with emotion and suspense. Last casts, all-night adventures, bragging rights.
The Martha's Vineyard Rod and Gun Club catch and release tournament, held over the weekend, is a bit different. Those who catch and release the most fish or the biggest fish get a simple plaque. Prizes donated by area merchants are drawn at random.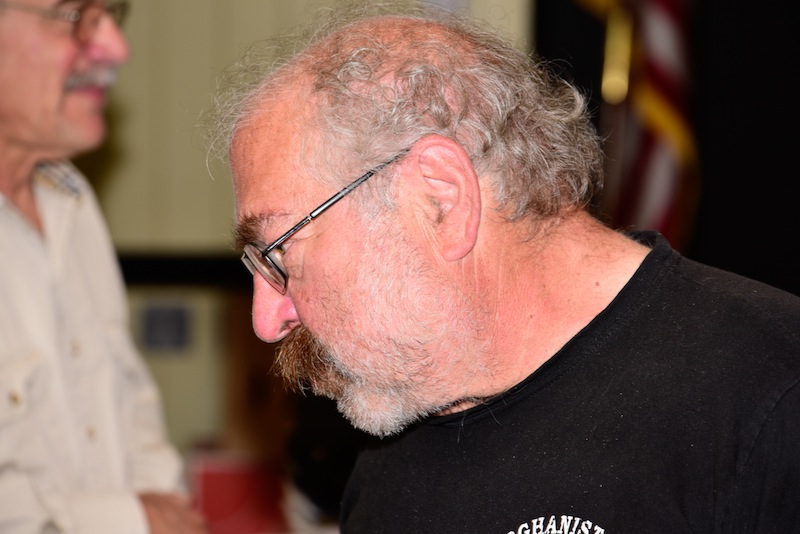 The breakfast awards ceremony held Sunday at the Edgartown School included a much-loved custom. If a name is drawn from the hat and the person named is not present, the crowd is asked if they should hold the prizes. The question is always answered with a loud and lusty chorus of "No, no, no." The idea is to reward camaraderie and participation, not prizes.
So that's the way it went when Matthew Blair's name came out of the hat, to win a gift certificate to Coop's Bait and Tackle, a belt buckle, and a couple of baseball caps.
"No, no, no," yelled the crowd.
Master of ceremonies Nelson Sigelman asked the crowd to hold on a bit before passing judgment.
Magically, through the technical wizardry of Skype and Edgartown School information technology specialist Darren Belisle, a screen lowered in the front of the room, with Matthew Blair and his brother Nick, larger than life.
Both are captains the U.S. Army, both on active duty this year.
Their father Jim Blair sat in the audience. And if he was lamenting the fact that he was unable to fish the tournament with one or both of his sons, as he usually does — Skype turned out to be the next best thing.
Matthew, just home from a tour in Afghanistan, spoke from his base stateside. Nick was in a forward base in the Middle East where communications channels are at a premium, so he was without audio. Matthew explained his brother's mission.
"Nick commands a quick action force whose job is to provide support of operations in Iraq," Matthew said. "They're next up for decisive action. They're staged and ready."
Jim Blair stood in front of the screen, speechless and hanging on every word.
"I fly an Apache attack helicopter," Matthew continued. "We just spent six months down in Kandahar, Helmand province. We've had a very busy six months."
And just when all the emotion seemed to peak, somewhere between the third and four standing ovation, there was yet another surprise. Jim Blair presented Cooper Gilkes with a flag flown during battle in Afghanistan to display in his Edgartown shop, Coop's Bait and Tackle.
There was not a dry eye in the house.
The competition seemed almost anticlimactic after that, but for the record, Team Crab Cakes took the honors for most fish caught and released. Team members Kyle Colter and Benjamin Stimson hauled in a total of 92 fish.
Will Sideman won for the largest fish, a 38-inch striped bass.
Money raised by the tournament supports the Kid's Trout Derby, sends two youngsters to conservation camp and supports a day of fishing for Camp Jabberwocky campers.