The Martha's Vineyard Regional High School football team opens the season Friday evening with a home game against Carver High School. Ryan Kent, the first year coach of the Vineyarders, has been waiting a long time for this 6 p.m. kickoff.
"I've been waiting for this weekend and this coming week since November," Coach Ryan said. "It's been a long time coming."
He refers, of course, to perhaps the lowest point in Vineyard football history, a 42-0 walloping at the hands of the rival Nantucket Whalers on Thanksgiving weekend last year. It was the most one-sided loss in the long history of the season-ending rivalry, and the bitterness remains.
"Nantucket was a hard hit," Coach Kent said. "The Monday after, we started building. We were in the weight room three to four days a week all winter long. I think these guys have taken on a new vision and a new mission."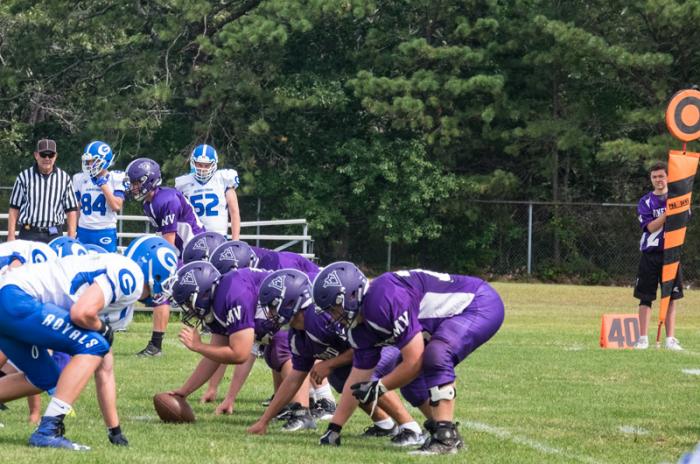 Coach Kent moved to the Vineyard in 2010. He teaches special education and physical education at the high school. But his path crossed with Vineyard football long before he arrived on the Island. He played high school football in Bellingham, where he played on two state championship winners. One of those Super Bowl victories came against the Vineyard, a 35-6 victory in the 2000 Division 5 South championship game.
Coach Kent was a standout center and defensive lineman in high school, and named the Tri-Valley League lineman of the year in his senior season. He took his football skills to Division 1-AA Wagner College in New York city. He played there for one year before transferring to Assumption College in Worcester, where he completed his undergraduate degree in English.
It was only last year that Coach Kent returned to football, signing on as an assistant with the Vineyarders. Last year's team won only one game, but he sees few similarities between that team and this year's squad.
"This is a new team," Coach Kent said.
The roster may have plenty of new players, but the team will rely on returning veterans for leadership. Four players will share co-captain duties this season.
John Morris is a senior who will see time at linebacker on defense, and running back on offense. "Just a great all-around kid," Coach Kent said. "Solid football player, he looks after his younger players. We love having him around."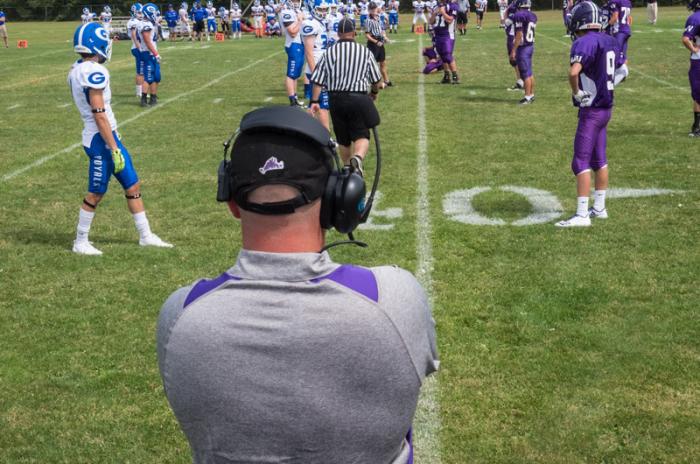 Tristan Scheller is a junior who spent his off-season getting stronger. Way stronger. "He really bought into the power lifting program this year, went to three competitions, never missed a day, won every competition that he competed in."
Sam Rollins, a senior, shared captain's duties last year, and returns to a leadership role this season. "He's been a mainstay for us on the line. Just another great, great kid."
The fourth co-captain is senior Cooper Bennett, who will see plenty of time at wide receiver and defensive back this season. "He's the kind of a kid who leads by example," Coach Kent said. "Not a rah-rah guy, but the first one to the field, and the last one to leave."
Call this club inexperienced if you must, but don't call this a rebuilding effort.
"People ask if we're having a rebuilding year, I say no we're not having a rebuilding year, we're having a re-establishing year. We're trying to put Vineyard football back on the map. I never lose. Either I win, or I learn. We've taken the word lose or losing completely out of our vocabulary. We're focusing on winning, and if we gotta learn, we gotta learn."
One thing that has been rebuilt is the offense. Assistant coaches Jeff Trudel and Tim Millerick went to work last winter designing new formations and new plays.
"They've been, probably since December, rebuilding the offense, putting together a fresh look," Coach Kent said. "It's something new conceptually. All the kids get it, they're buying into it. They seem to be having fun with it."
Coach Kent is looking forward to showing off the new offense in the season opener against the Carver Crusaders.
"It's a big game for us. We had a strong chance to beat them last year. They ended up making a nearly impossible catch in the final seconds that was perfectly defended. That put them over the top for the victory. This is one that I've been looking forward to for a year, looking to take another shot at them."
The team will be careful to pay attention to each game at hand through the 11-game season, but it will be impossible not to be thinking of Nov. 18, the date they travel to Nantucket for the annual rivalry game, looking to avenge last year's embarrassment.
"It's always there," Coach Kent said. "It's always there."