The Martha's Vineyard Regional High School football team opened the season Friday night with a 27-14 home loss to Carver High School.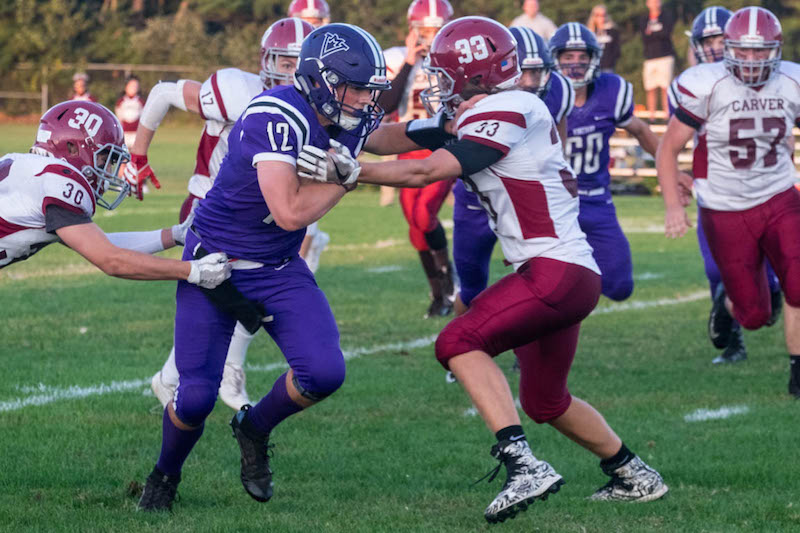 The Vineyarders scored first and scored last but couldn't overcome a size and speed advantage enjoyed by the Carver Crusaders.
First-year coach Ryan Kent doesn't accept the word losing. He calls it learning.
"I think we still took a number of steps forward tonight," Coach Kent said after the game. "I think in the past it would have looked a lot different. The kids did not give up tonight. They kept fighting through the end. We had some big defensive stands in the end there, some huge offensive plays. There's room for improvement, but we know where we need to improve."
The Vineyarders scored on the first drive of the game on a gutsy fourth down call, when junior quarterback Ivan Shepherd connected with senior receiver Zach Moreis for a 52-yard touchdown pass.
"We just set up everyone outside," Moreis said. "They did a good job blocking on the inside, left it wide open for me, clear path right down the edge."
The home team led 6-0 after the two-point attempt was stopped short.
Moreis finished the game with 94 yards on nine rushes, and two catches for 70 yards including the first quarter touchdown.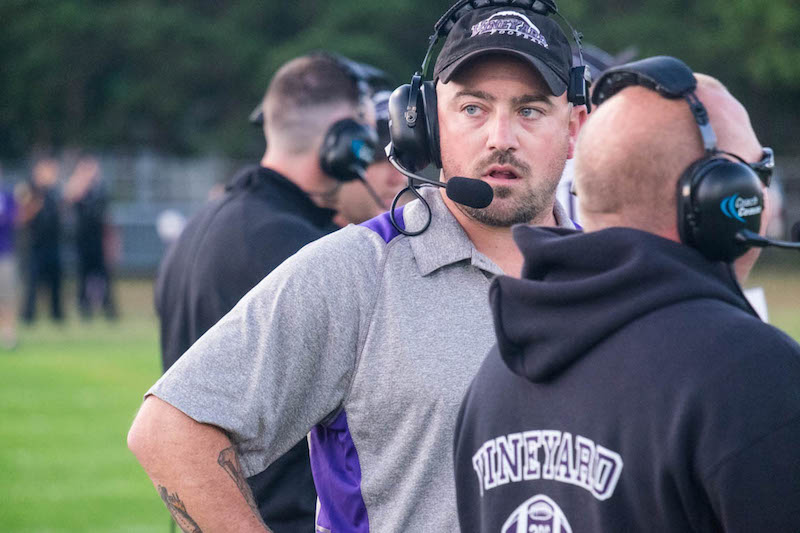 "The kid runs all over the field," Coach Kent said. "He's definitely a weapon."
Carver took the lead late in the first quarter on a short run and controlled the clock in the second and third quarters with a powerful ground game.
Carver's junior running back Casey Fernandez scored on a short run in the second quarter to give Crusaders a 14-6 lead at halftime.
The visitors made it 21-7 on a 14-yard run by Sawyer Shaw, then on their next possession stretched the lead with a 25-yard touchdown rush from sophomore running back Trevor Drakakis.
The Vineyarders most impressive drive came in the fourth quarter. Zach Moreis found the end zone on a long pass from Ivan Shepherd, but the score was called back because of a holding penalty.
On the next play, facing what seemed like third down and the better part of a mile, Shepherd found senior co-captain John Morris down the sideline for a 70-yard touchdown pass."
"I looked up and saw the ball coming, made the catch and wanted to keep going," Morris said. "I felt them behind me, but I just kept running to the end zone."
The final score was 27-14.
"They kept their chins up and they kept fighting," said Coach Kent. "I was so proud of the way they kept their heads in it, kept going for it. That's all I ever ask."
The Vineyarders are on the road next week, facing the Nauset Warriors in North Eastham on Friday, Sept. 15. Kickoff is scheduled for 6 p.m.