Island veterans, their families, and members of the community paid tribute to the valor and sacrifice of those who served in America's armed forces at a Veterans Day ceremony on Saturday at the Oak Bluffs School gymnasium.
With the temperature outside at 32 degrees, and a stiff wind making it feel even colder, ceremony organizers decided to shift the traditional parade to an indoor observance.
VFW Post 9261 quartermaster Peter Herrmann led the solemn ceremony. It began with VFW post chaplain Jason Cray leading a prayer.
"Bless them abundantly for the hardships they faced, for the sacrifices they made," said Chaplain Cray. "We respect them. We thank them. We honor them. We are proud of them."
The veterans saluted crisply as the crowd recited the pledge of allegiance, which was followed by a moment of silence to honor all those missing in action, and those who never returned home.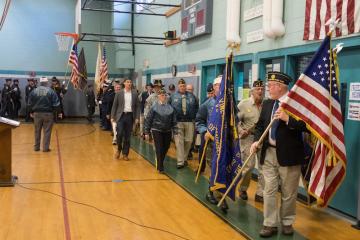 Emily Hewson sang a stirring a cappella version of the national anthem. Later in the ceremony she sang an equally stirring version of Amazing Grace.
For the seventh year in a row, Oak Bluffs was named a regional site for Veterans Day ceremonies by Secretary of Veterans Affairs David J. Shulkin. The honor goes to a number of regional sites around the nation considered examples of honorable and respected observances.
Dukes County Veterans Agent Jo Ann Murphy read a letter sent to Oak Bluffs from Sec. Shulkin.
"On Veterans Day, we pause to express our gratitude for those who have served our country and to remember the sacrifices they have made, large and small, physical and emotional," Sec. Shulkin wrote in his letter. "These veterans truly placed service to their country over themselves."
State representative Dylan Fernandes thanked the veterans and their families.
"It's an honor to be with you here today," Rep. Fernandes said. "I want to take a moment to thank all of our veterans for their service and commitment to our country, protecting our freedom."
Then he read a proclamation from Governor Charlie Baker.
"There are approximately 388,000 veterans living in Massachusetts," Rep. Fernandes read from the proclamation. "Today we are reminded of the great sacrifices and contributions our veterans have made to our country. We honor and salute those who served our country throughout the generations. It is appropriate that all Massachusetts citizens remember the bravery of those who served their country, so that their dedication and sacrifices serve as a reminder of the cost of our freedom."
Members of the U.S. Coast Guard then marched outside the school and fired a three-volley salute, followed by the solemn playing of Taps by Tisbury fire chief John Schilling.
The ceremony ended with the Island veterans, led by a Dukes County Sheriffs honor guard, marching in formation out of the gym, to the sustained applause of the crowd.