It was an estimated not-so-balmy six degrees Monday morning when an extra-hardy group of 11 people took a polar plunge into Vineyard Sound to celebrate the New Year. The National Weather Service didn't record an official temperature for 11 a.m. on New Year's Day, but the weather service did post a wind speed of 20 miles per hour and a wind chill of 22 degrees below zero.
The event is organized annually by the Woodland Variety and Grill in Vineyard Haven as a benefit to help Martha's Vineyard veterans.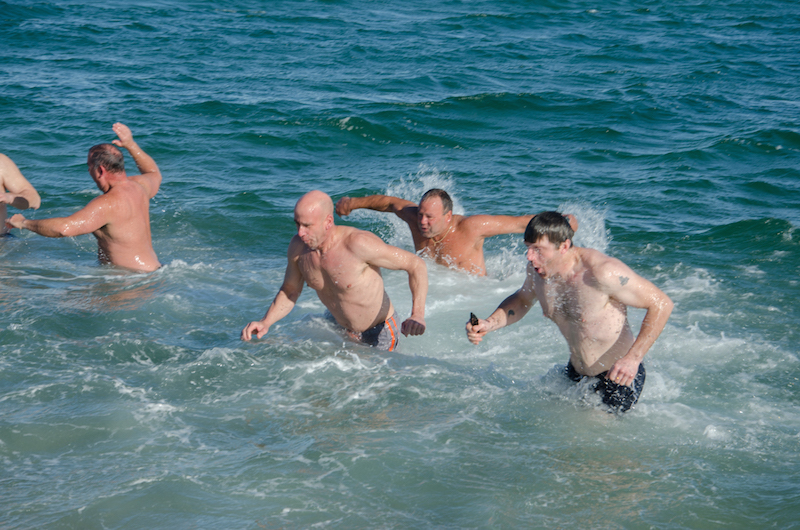 Navy veteran Tom Rancich took a fatalist approach to diving into the icy water. He said he had no second thoughts.
"Nah, worst I could do is die," Mr. Rancich said. "Forty seconds of my life, is no big deal."
For Justin Lucas, diving into the water off Joseph A. Sylvia State Beach was personal.
"It's good to do things that you know are going to be painful, push yourself," said Mr. Lucas. "You'll know you can still do things that are going to be tough, difficult in your life, and help some people along the way."
Michelle Colberg took no easy route into the New Year, she skipped down the snow covered sand and plunged into the surf wearing a two-piece swimsuit.
"You have to, less is more," said Ms. Colberg, as she hustled to get back into her winter clothes. "It was good, it was fun."
Donations collected at the frigid scene, as well as the days leading up to the event, go to the Dukes County Veterans Affairs department, to help Island veterans in need.